Ajman Ruler awards : 14th Gulf Medical University Convocation Ceremony
Mangalore Today News Network
Ajman, Nov 23, 2017: Under the patronage of His Highness Sheikh Humaid Bin Rashid Al Nuaimi, Member of the Supreme Council, UAE and Ruler of Ajman, Gulf Medical University (GMU) honored the achievements of 204 graduates at the 14thConvocation Ceremony held on Wednesday,22ndNovember 2017at the Emirates Hospitality Centre, Al Jurf, Ajman.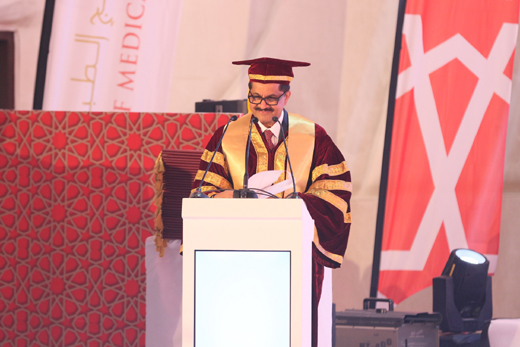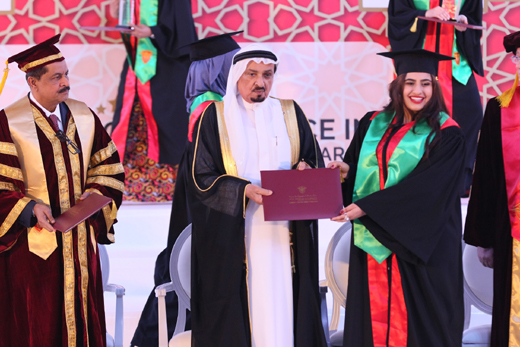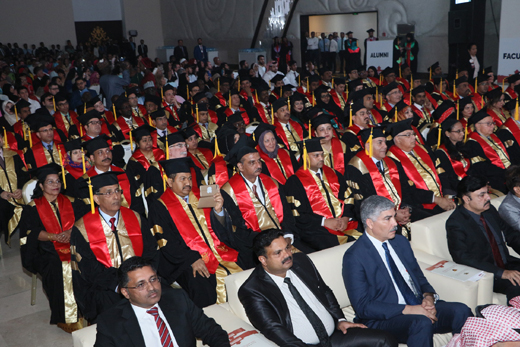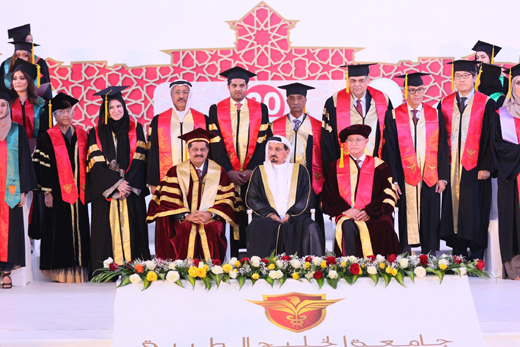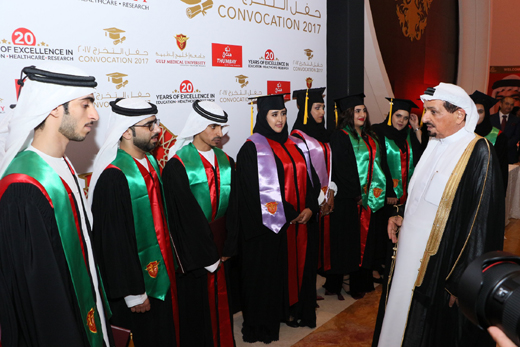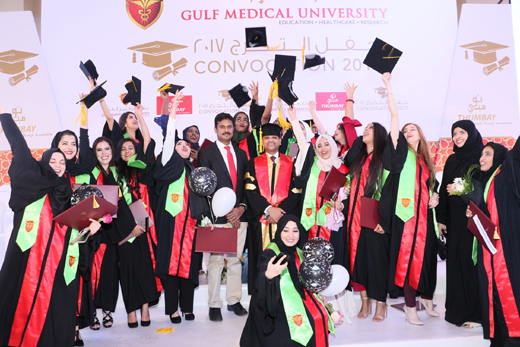 Congratulating the graduates on their achievement, H.H. Sheikh Humaid Bin Rashid Al NuaimiMember of the Supreme Council, UAE and Ruler of Ajman urged them to continue their specialized studies and excel in their careers, and advised them to utilize the knowledge acquired from GMU to help the society and the nation. Addressing the Emirati graduates, His Highness said that they were a source of honor to the country, and promised them continued support.



A total of 204 graduates of the University; 128 MBBS, 31 Dentistry, 19 Pharmacy, 21 Physiotherapy, 2 each from Clinical Pathology and Public Health courses and one Toxicology graduate, received their graduation certificates this year. The outgoing students belonged to 38 different nationalities: UAE (10), GCC (11), other Arab nations (35), Asia (68), Africa (45) and others (35 – including students from USA, UK, Australia, Canada, France, Germany, Italy, New Zealand, Poland, Russia, Sweden and Belize).



Addressing the gathering, Dr.ThumbayMoideen, Founder, President Board of Trustees, Gulf Medical University (GMU) said, "GMU is now into its 20th year of operation and we are now among the most in demand private medical university in the region. Our network of THUMBAY Academic Hospital is one among the biggest healthcare providers in the country, treating patients from around 175 nationalities. The Gulf Medical University now collaborates with over 45 institutions across the world and has taken steps to include innovative and path breaking educational initiatives."


Dr.ThumbayMoideen also thanked H.H. Sheikh Humaid Bin Rashid Al Nuaimi for the government's unconditional support to the institution and said that GMU was on track to emerge as a leading full-fledged and research-based university in the region. Congratulating the graduates, he assured them of GMU's support always.


The Chancellor of GMU, Prof. HossamHamdy said, "During this year, the university has established three new institutes. New academic programs will be introduced in Health Economics, Healthcare Management, Environmental Engineering, Biomedical Engineering and Post Graduate programs in Clinical Sciences, Pharmacy, Nursing, Physiotherapy and Dentistry." He elaborated on the upcoming healthcare projects which would support and provide training for students. He added that this year, GMU had signed and activated more than 10 international agreements with major international universities.



About Gulf Medical University

The Gulf Medical University (GMU), Ajman is one of the leading private medical universities in the Gulf region, and has become the preferred-choice for medical education to students of 80 nationalities. The University offers various highly sought-after courses including Medicine, Dentistry, Pharmacy, Nursing, Physiotherapy, Laboratory Technologist, Anesthesia & Surgical Technologist, Imaging Technologist, Public Health and the Transnational Collaboration –Preclinical Sciences program.


GMU has taken its training, teaching and research facilities to the next level with the recent launch of its world-class facilities: The Thumbay Institute of Precision Medicine and Translational Research (TIPM&TR), the Thumbay Institute of Population Health and the Thumbay Institute of Healthcare Workforce Development and Leadership. GMU's superior curriculum, international outlook and state-of-the-art facilities has enabled it to enter into transnational collaboration with universities in Poland, USA, Japan, Egypt and Ghana.


Founded in 1998, GMU is owned and operated by Thumbay Group, the Dubai-based global conglomerate. With the group's network of academic hospitals (Thumbay Hospital), multispecialty daycare centers (Thumbay Hospital Day Care), clinics (Thumbay Clinics), pharmacies (Thumbay Pharmacy), diagnostic labs (Thumbay Labs) etc., which provide training facilities for its students, GMU is on course to becoming the first Academic Health System in the Middle East region, in the private sector. Moreover, a new 500-bed academic hospital, a 60-chair dental hospital, and a high-tech rehabilitation center, all nearing completion within the GMU campus will take the University's training facilities several notches higher in terms of infrastructure and state-of-the-art equipment, as well as unparalleled exposure for the students.