Abu Dhabi: Embassy of Bangladesh assigns UAE Exchange to collect consular fees
Mangalore Today News Network
Abu Dhabi, May 29, 2014: UAE Exchange will be the access point for all expatriates from Bangladesh to make payment for various consular services including Machine Readable Passport (MRP). This is an initiative from the Embassy of Bangladesh in the UAE and UAE Exchange, the leading global remittance and foreign exchange brand, has been chosen to be the touch point for thousands of Bangladeshi expatriates, to make payment to get their MRPs.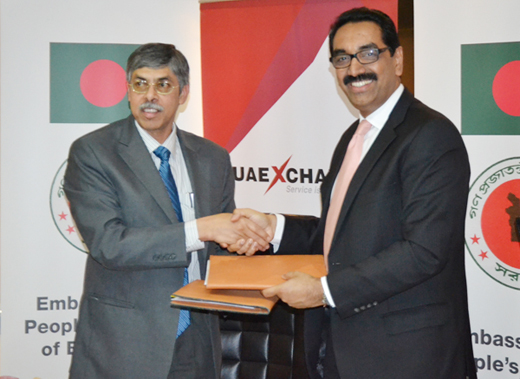 This association was announced in a formal ceremony graced by the Ambassador of Bangladesh to the UAE, His Excellency Mr. Muhammad Imran and other senior officials from the Bangladesh Embassy. The Ambassador called upon all his countrymen to follow the local rules and uphold the image of their motherland in the UAE.


Speaking on the occasion Ambassador of Bangladesh to the UAE, H.E. Mr. Muhammad Imran said, "Government of Bangladesh is coming up with various measures for the convenience of the expatriates from Bangladesh. The issuance of Machine Readable Passports is one such step. We are glad to associate with UAE Exchange for the payment collection for this initiative. The goodwill, which the remittance brand enjoys among the Bangladeshi expatriate community, shows the quality delivered at its widely networked branches. Hence UAE Exchange was an ideal choice for the task. I am sure the applicants will find this facility truly convenient and reliable."

Mr. Y. Sudhir Kumar Shetty, COO – Global Operations, UAE Exchange, said, "Trust is the prerequisite for any partnership to sustain. We are honoured that Bangladesh Embassy has chosen us for this initiative. Our special bond with the Bangladeshi community and the network of 132 branches, across the UAE, will play significant roles in its success. In 2013, UAE Exchange alone handled more than USD 1.2 billion in remittances to Bangladesh, which stands testimony to the trust, this community bestows on us. This unwavering trust of the community is also the basis for the authorities to choose us for the initiative. Meanwhile, we will align ourselves with the embassy's instructions and ensure convenience to Bangladeshi expatriates in getting their machine readable passports processed easily."


UAE Exchange is the widest globally networked remittance brand with over 700 branches across 31 countries. Its strong correspondent banking relationship with over 150 global banks, of which 20 are from Bangladesh, adds to the might. More than 9000 professionals representing over 40 nationalities, including Bangladeshis, strive to achieve excellence and bring delight to customers, worldwide. This penchant for quality has won the ISO certified brand, many global awards for quality & business excellence, and earned the trust of customers, partners and regulators alike, thus earning the acclaim 'World's Trusted Money Transferrer'.


The event was attended by top officials from Bangladesh Embassy, UAE Exchange, special invitees and the Media.