'Humiliating': Saudi oil firm Aramco uses man as human hand sanitiser dispenser
Mangalore Today News Network / Yahoo
Riyadh, March 12, 2020: Saudi Arabia's state oil company has apologised after a worker was dressed up as a human hand gel dispenser amid the global coronavirus outbreak.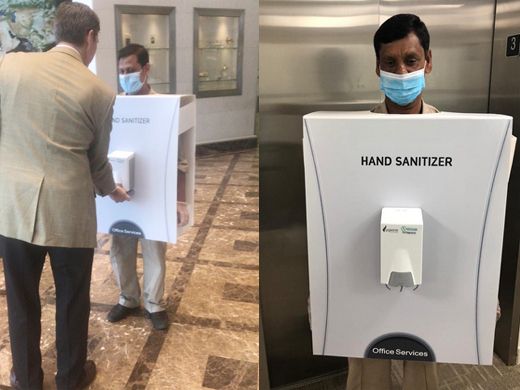 Images shared on social media show people taking hand sanitiser from a box which a man is standing inside.

The worker is also dressed in a face mask and gloves, as people take extra hygiene measures to limit the spread and avoid catching Covid-19, which has infected over 100,000 people across the globe.

Saudi Aramco said they had ended the practice after the pictures sparked outrage online.

"With regard to the images circulated on the social media of a colleague wearing what seems to be a sanitiser bottle inside one of our facilities," the company said in a statement.

"Aramco would like to express its strong dissatisfaction towards the behaviour that intended to emphasise the importance of hygiene."

Saudi Aramco said company approval was not sought beforehand.

Social media users had called the practice "humiliating" and "disgusting", after the images showing the man dressed in a box labelled "hand sanitiser" standing in the middle of a room were shared widely.

"This act was immediately stopped and strict procedures were taken to prevent it from happening again," Saudi Aramco said.

Health authorities have been advising people to use hand gel amid the coronavirus outbreak, which gives patients flu-like symptoms and can develop into pneumonia.

Over 4,200 people who have tested positive for Covid-19 have died to date, according to a Reuters tally.

As of Wednesday, 20 people have been diagnosed with the new coronavirus in Saudi Arabia.