Hero in the sky - Mangaluru AI Pilot Capt. Michael Saldanha
Mangalore Today News Network
I J Saldanha-Shet.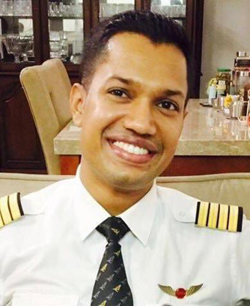 Mangaluru, May 22, 2020: Mangaluru seems to have found an icon in the sky - AI Commander/Pilot, Capt.Michael Saldanha....a true blue young man dyed in the wool Kudlagar. Managed to catch him just before take-off from MIA on May 20 morning, with an empty aircraft as he said 'to keep a patriotic tryst to rescue around 180 expats (about 114 for B'lore & 68 for M'lore) from Muscat, Oman'. His interview with AIR Managlore, by Ms. Ushalata Sarapady , was a good source of information to be passed on to our esteemed readers. So, lets take to the skies with our Captain.

Capt Michael Saldanha, has been an AI pilot for 12 years of which 8 lucky years in Mangalore, after he trained in the US and earned his commercial pilot licence endorsed in India. As far as flying is concerned he is the Base Manager for AI in Mangalore and has around 30 pilots on the roster, apart from a line flyer. He is well rooted in Mangalore and is with his parents and a brother at Valencia, on both sides he has deep roots of local Konkani origins. Talking of flying and aircraft he says, "God's gift to man is to produce a machine and fly in the sky." He is a person hitched to God, no doubt confirmed by a renowned priest here.

Going by what the capt said today, May 20, would be his second 'Vande Bharat Mission' rescue flight from the gulf, the last one was from Dubai to Kozhikode a few days back, it was the first flight to India from Gulf in the corona pandemic. He said "We had many uncertainties and were a bit unfamiliar on the first flight, but along with the similar crew, confidence levels are high. I take off from MIA forenoon for Muscat, we board the waiting passengers in about 2 hrs on the ground following all the Omani requirements for these special flights. We then fly to Bangalore deplane the passengers and fly to MIA, hope to be back here around 8 PM provided weather holds. All of us on these missions feel very good to see the happiness on the faces of our compatriots when the get to homeland. This corona Virus is indeed a tough one and all care is needed. I always feel grateful to the Airlines, the many kind officials involved and definitely to God above" He mentioned that necessarily he and his crew have volunteered on this mission as none can be called. It gives us all associated, a patriotic pride unlike a normal commercial flight. Virus tests are conducted before and after the flights, quarantines on medical norms are maintained for all members of crew. On the last flight one crew member developed symptoms later and is undergoing treatment - so risk is ever present.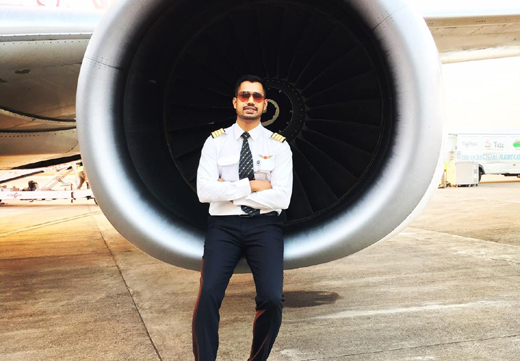 These flights have built-in risks of several types for the passengers too and following the regulations and discipline are vital for all concerned. There are bound to be very ill people in wheel chairs bound for treatment at home, aged folk, pregnant ladies, small children and many kinds of workers. After, strict protocol is followed, there will be no much contact within the aircraft, no meal services; food and drink in a box will be on each seat for the passenger, with sanitizing stuff. Under the circumstances there are many people who need to urgently return to their native land now, no seats will be left vacant on the plane, but, all medical safety precautions will be strict and safe. One has to be conscious and safe considering that the same air is recycled by the atmospheric systems of the plane and supplied in the cabin all through the flight. Mangalore airport is very safe now with advanced landing and communications equipment and there are no issues, the management is fine. Air craft are fully sanitized after each round trip by experts in the field and fear is to be excluded.

Capt Michael Saldanha, a young man was very specific that he got all encouragement and support from his family and folk at all times for these operations, his Mom, Ms.Freida who's father col J W Soares held a special post as a Commandant in Cannanore, in his time is his close confidant. His father Mr. Placides is the scion of an ancient Saldanha family here and takes pride in running his estates in Chickamagaluru.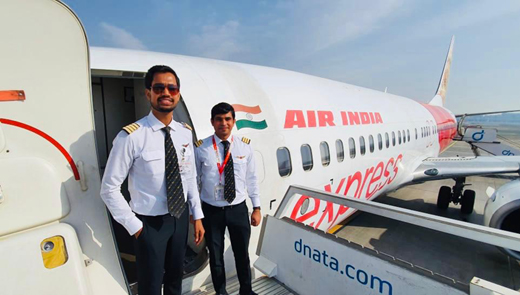 It may be mentioned here that another Kudla pilot has made a grand mark ferrying medical equipment to Singapore recently, he is Capt Sarfaraz Zakir a senior Commander with indiGo. Incidentally it is noted his father former Rajya Sabha member (MP) B Ibrahim a resident of Vas Lane in the city. His mission has been shared extensively on social media. Both these aviators have done our city of Mangaluru proud and there are many more aviators of the past and present who can be named. Let us always laud our great achievers everywhere and cheer all in these times of peril and test - A supreme power cares for all.