Can Business Survive Covid-19 Crisis: Interview with Pradeep G. Pai
Mangalore Today News Network
Mangaluru, Ocober 17, 2020: Coronavirus pandemic has posed the biggest challenge in history to the survival of economy and business globally. Mangalore Today spoke to leading lights of business and industry to analyse the situation and gain their unique perspectives on the way back to recovery and growth. Excerpts from the Interview with Pradeep G. Pai, Managing Director, Hangyo Ice Creams Pvt. Ltd.: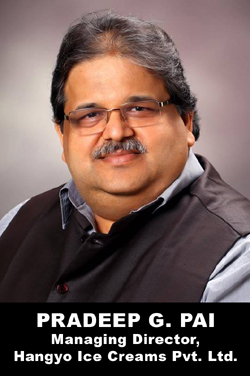 How do you assess the Covid-19 pandemic impact on business, especially Small and Medium Enterprises (SME)?
With the pandemic causing the entire world to stop and rethink everything, businesses and livelihoods of billions are in danger. There are millions of small and medium enterprises that have been hit in India as sales have been reduced to almost nil in April and a little less in May and June, which in turn hit a lot of people. This is a cascading effect we have observed. While the health crisis is being seen by everyone, another issue that will hold on for longer is the economic crises. We haven't had the time to think about this because our health is more important and the government is doing all it can to battle this pandemic. However, I believe that the economic crisis will have long lasting impact that may take much longer time to recover from.

How can we survive the crisis brought by the Covid-19 pandemic? What are the steps you have taken in your business to overcome hurdles?
During tough times everyone will start thinking and reinventing themselves. This year survival for all enterprises is the key. We also had time to think and reinvent ourselves and explore new opportunities which we didn't have otherwise.

Hangyo is a household name when it comes ice cream, but we also have a dairy division wherein we were processing milk and manufacturing milk products. The recent addition to the product line expansion of the brand is "Tuppa" the pure ghee! This is cooked from milk fat sourced from the cows that have grazed grasslands. The milk fat is skimmed and the butter is churned in huge hot furnaces and cooked over the traditional firewood. The smoke from the firewood gives a distinct flavour to our Tuppa. We have started selling this in our marketing territories and the response in the last two months is really good.

During Lockdown, we also started a call centre in Mangalore, Hubballi, Goa, Pune, Bangalore Hyderabad and Mumbai and began to deliver ice cream at doorstep of the customers during lockdown period. Slowly we started community sales in Mangalore, Hubballi, Bangalore, Pune and in Mumbai. In the community sales, our distributor and two employees with masks and hand gloves go to every apartment with prior appointment and co-ordinate with the apartment secretaries, covering two apartments every day and waiting upon the occupants for them to come down and form a queue and buy high quality Hangyo ice cream.

This unique way of selling has given a big 'U' turn to our business. With this today at Hangyo, customers are buying high quality ice cream and not just Rs.10 or Rs.15 or Rs.20 ice cream. So the brand penetration of the company also has gone up. In Mumbai, no matter what time of the day or night, our team has co-ordinated with the apartment secretaries. Residences of a very elite societies including Hiranandani in Powai, all tried Hangyo ice cream for the first time. They all gave Hangyo Ice Creams a great response.

Since there is a huge drop in movement in physical markets, online platforms are gaining more traction in these times. We at Hangyo also have tried to adapt to this and have successfully implemented online delivery platform last week called 'shop.hangyo.in'. To start with, we are currently operating in three towns on online delivery, but we envision to take this across our marketing territories in seven states where we presently have a presence. This difficult period has also given us vision to diversify into other business opportunities and take it up rigorously. The ones who survive this year will come out stronger when market conditions return to normal.

What is your advice to people in general and businessmen to survive the pandemic and take life forward?
Always when problems come, people will come up with ideas, just like after the Hiroshima bombing and earthquakes, Japan has emerged as a developed country in the world. So whenever there are problems people will work and think in their minds for solutions. Everybody will start thinking and reinventing themselves. So my advice is that we have to learn to adapt. One positive thing that this pandemic has taught us is to rethink the idea of 'time'. We always have to learn new things and explore opportunities. We have to do this keeping in mind that we have to adapt to the times that we live in.