The Angry Himalayas-Part 7: Will Modi make Xi's 'China Dream' into a 'China Nightmare'?
Mangalore Today News Network
By Dr. G. Shreekumar Menon

Mangaluru, October 2, 2020: Xi Jinping has vowed to make China great again. The Opium Wars had delivered a critical blow to the Chinese psyche, and, since then, reviving the ancient glory of China has been a secret ambition of all Chinese leaders. Military modernization and building "world class forces" is an integral component in the strategy to make China great again. Land borders and coastlines are being redrawn aggressively to boost the geostrategic status. The Indo-Tibetan border (China occupied Tibet – COT) has been activated to trigger significant tensions. Xi Jinping is opiated with delusions of a grand 'China Dream', and redrawing the Indo-Tibetan border is a priority ambition. The hectic military preparations never anticipated the 'Modi Storm' at the other end, that threatens to convert the 'China Dream' into a 'China Nightmare' This will doubtless be a challenging time, Xi's greedy vision encountering Modi's resolute defiance. This encounter can define the world of the next few decades, as also the strategic visions of two leaders on either side of the Himalayas.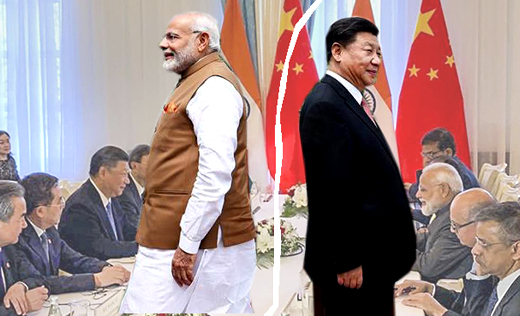 While India is a chaotic democracy, China is desperately hiding their internal instabilities and uncertainties. That the control of borderlands should determine the future of two paramount leaders living on either side of the Himalayas, appears strange and interesting.

The progressive radiating of power and prestige of both Modi and Xi should not culminate in a military conflict. This COVID pandemic time is most inappropriate to threaten each other regarding self-defined vital interests. Further both nations being nuclear powers any conflict carries the risk of escalating into a nuclear showdown. It has also to be borne in mind that Beijing has recently revealed that it has built 3,000 miles of deep tunnels to protect and hide its ground based, dual capable missiles and related nuclear warhead systems.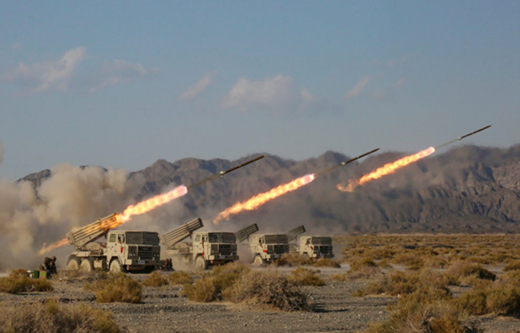 China possesses dual capable ballistic and cruise missiles more than any other country. Asia is targeted by more such missiles than any other region. Unlike air and sea based missiles, ground launched systems can be securely communicated with and fired instantly upon command. As such, they are ideal for use in a first strike. These accurate, dual capable missiles can inflict strategic harm against major bases and naval operations when carrying conventional warheads.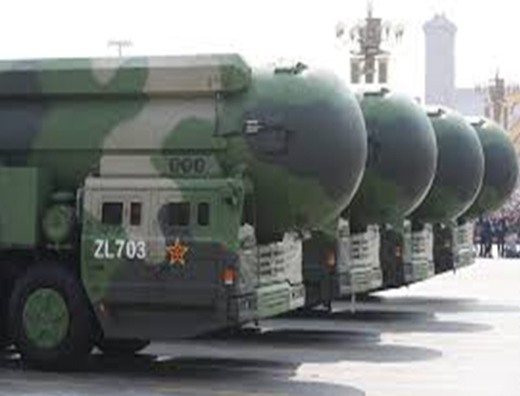 But, if in the event of a collision course becoming inevitable, as formidable weapons have been readied on either side, India needs to remind China of its bete noire – Opium.Till China reprioritizes policies toward peacefulness, India can use a grand strategy to unleash the power of Opium once again on China. There is a subconscious fear within the Chinese leadership that a relapse of the debilitating Opium addiction among Chinese people can imperil their grandiose aggression plans. Bitter memories of the Opium Wars still linger in the minds of millions of Chinese, assiduously nurtured by text books that fuel feelings of victimhood and vengeance. In the Opium Wars, though China had advantages over the British in terms of strategic depth, numerical superiority in troop strength, familiarity with battle terrain, and excellent coastal fortifications at the entrances to the Pearl and Yangtze Rivers, it lost miserably to the unrivalled power of Opium, which the combined British and Indian armies took advantage of. The chronic Chinese addiction to Opium ensured the overwhelming success of the combined Indian and British forces. An utterly emaciated and Opium addicted Chinese population could offer no resistance, for, Indian Opium had rendered them totally incompetent and cowardly. This weapon only needs to be reactivated to give China its next brush with devastation and humiliation.

Today there is a far wider array of plant based and chemical based illicit drugs, far superior to Opium, that can be used as weapons to cause social destruction. Not only in China but also in Vietnam War and Afghanistan Wars, Opium has accredited itself well as a potent weapon. There is no reason why it need not be resuscitated and utilized once again against the Chinese.

Today, China itself uses drugs to destabilize rival countries. Fentanyl, a synthetic Opioid, manufactured by China, is behind the ongoing American public health crisis. Also known as the Doomsday Drug, Fentanyl has stunning efficiency in its addictive property. China White or China Girlan illicit analogue of the analgesic Fentanyl, is a Heroin like drug, manufactured in bulk by China and flooding the world markets. Is it not a covert, offensive war? Why not use the same strategy to counter the Chinese? No doubt, India is a signatory to various international treaties that expressly prohibit the cultivation, distribution and transportation of all kinds of Narcotic substances, but it should also be borne in mind that drug production and trafficking are entrepreneurial in nature and fragmented in practice. Between drug manufacturers and end users are multiple and often overlapping layers of transportation and distribution networks, each involving only a few private traders. This entire trade, organizationally and operationally is controlled by private businesses and freelancers. The government and its enforcement agencies remain mute spectators, in this game monopolized by traders. This arrangement has been in existence since the time of the Opium Wars and functions with enviable speed and efficiency around the globe. Terror organizations are heavily dependent on the Narcotics trade to finance their activities. Fortunately, China has a festering separatist problem in the Xinjiang region, known as Uyghur–Chinese conflict. This conflict, brewing for long, in China's far-northwest autonomous region of Xinjiang centred on the Uyghurs, and Kazakhs who are Muslim minority ethnic groups and who make up the largest population in the region.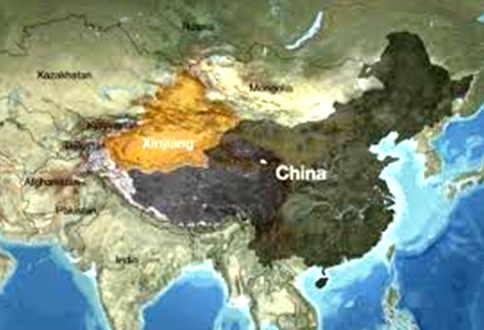 The Chinese repression of the Uyghurs involves forcible sterilizations, detention in centres for what is known as re-education, and demolishing mosques.

Xinjiang is of particular concern, given recent geopolitical developments in the region and the construction of the Gwadar port in Pakistan, which aims to provide Xinjiang with a road link through Pakistan and possibly Afghanistan. China's 'War on Terror' is focussed on Uyghurs of Xinjiang. The broader Chinese counterterrorism narrative in Xinjiang includes drug interdiction measures.

Another potential region that can be exploited is Zhangmu Port in the Tibet Autonomous Region (TAR) and located on the Nepal border, which witnesses a lot of drug trafficking. The 110-kilometre-long TAR-Nepal border has more than 128 locations which are used by traffickers for movement of contraband goods.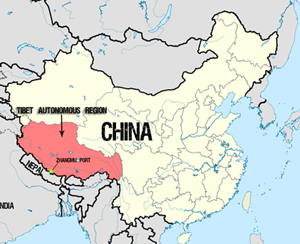 Tibet has a rich history of Cannabis consumption. It was particularly valued as it was used in many Tibetan Buddhist Tantric rites.In the Tantric sex rites, Cannabis was used to heighten awareness. Also, Mahayana Buddhists believed that in the six years preceding his enlightenment, Buddha survived on just one Hemp seed per day. Buddha is sometimes depicted with a begging bowl containing Cannabis leaves. Tibetan Hashish is known for its superior quality and dark colour, unlike the Indian and Pakistani varieties that are greenish inside.

If India were to encourage by way of tacit connivance, drug-trafficking via Tibet and the Xinjiang region, the Chinese will have to confront the spectre of their dark and humiliating past. India needs to keep its non-military options open at all times. Drug traffickers can make Xi's 'China Dream' into a 'China Nightmare'.
Related Article:
Part 1: THE ANGRY HIMALAYAS - String of pearls vs Garland of Opium

Part 2: The Angry Himalayas-Part II: Tibet Needs a Warrior - Monk or Dob-dobs

Part 3: The Angry Himalayas Part III: Opium Wars - How China Lost Vladivostok to Russia
Part 4: The Angry Himalayas - Part IV: Is It time for Opium War III?
Part 5: The Angry Himalayas: The Incredible Story of 'Looty' the Pekinese Toy - Dog

Part 6: The Angry Himalayas – Part VI: Eight Nation Alliance Crushes China in 1900
---

Dr. G. Shreekumar Menon IRS (Rtd) Ph.D: Former Director General of National Academy of Customs Indirect Taxes and Narcotics & Multi-Disciplinary School Of Economic Intelligence India; Fellow, James Martin Centre For Non Proliferation Studies, USA; Fellow, Centre for International Trade & Security, University of Georgia, USA; Public Administration, Maxwell School of Public Administration, Syracuse University, U.S.A.; AOTS Scholar, Japan. He can be contacted at shreemenon48@gmail.com