Santhosh Andrade's paintings: An ode to the everyday
Mangalore Today News Network
By NIKITA G. COUTINHO

Mangaluru, October 31, 2020: At first, he comes across as a quiet, timid individual while his paintings reflect the core of his personality. Deep within its countless layers lies the unnoticed slices of mundane life that are brought alive in great detail with an outstanding array of acrylic colours.

Born and raised in Mangalore, Santhosh Andrade's paintings are a nod to Indian traditional art, while he uses realism to depict the everyday scenes of a semi-urban town. What started as a childhood pastime has now transformed into several awards and recognitions received in the recent years. With his exhibition around the corner, I sat down with him to get an inside look into his life and art.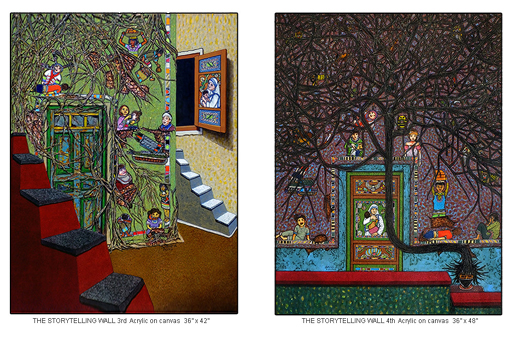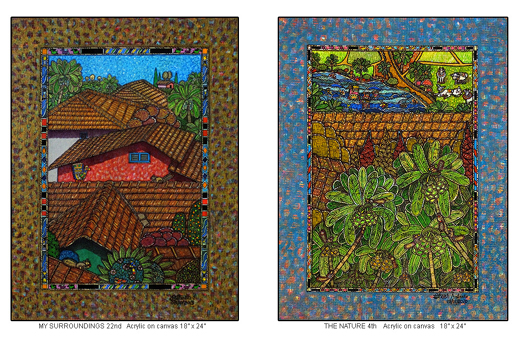 The more I understood Santhosh, the clearer his art became. His paintings invite you to take a trip with him, into places that are all too familiar. For us, it's like looking out of our windows, but this time we notice the little things that make our quaint town, a paradise on its own. I say on its own because as Santhosh very rightly depicts through his art, there lies an evident clash between nature and rapid urbanization.
As I type this down in my room - a shoebox fitted inside one of the many apartment complexes that tower over the slowly depleting green landscape - I relate to his call to observe this ever-changing haven we call home.

His art tries to draw a parallel between the old and the new, the urban and the rural, the everyday and the extraordinary. But at the same time, they aren't just a depiction of the countryside, but a snapshot of a moment in time that most of us tend to ignore. Or that often gets lost in the speed of our fast-paced lives.

Visiting Santhosh at Art Nest
When I visited his home cum art studio, I was not surprised that it was as vibrant and aesthetic as his paintings. It was like creativity took its brush and splashed it across its walls. I must say, it definitely lived up to its name: Art Nest. From the colourful exteriors to the beautifully carved door that leads you in, all of it reflects his skill and his fine eye for details.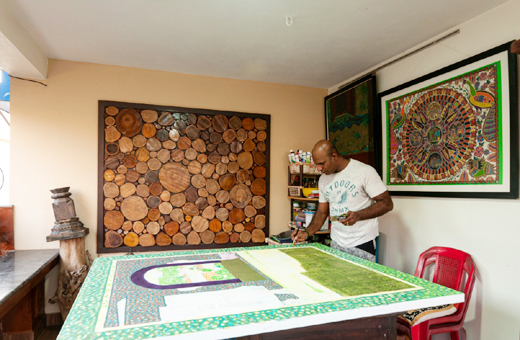 As I stepped into the hall, my gaze was met by a majestic, wooden, hand-made altar. Knowing Santhosh a little more than I did the first time we met, I knew, here too, there's much more than what meets the eye. And I was right. The broad, glorious, thick wood frame of a door, taken from a traditional Mangalorean home, arches over a blue hand-painted sky. Below stood the busts of Virgin Mary and Christ (which were also painted by Santhosh).

The wooden frame was painted with connections drawn to the Bible. They include fishes which represent Christ, the guardian angels, Raphael and Gabriel, and the Infant Jesus.
The walls of his home were also decorated with collages of discarded, broken pieces of brightly coloured tiles that perfectly fit together. That's what I admire in him; the knack to observe, find, and value the things that most of us wouldn't give a second thought to.

For instance, one wall had a mural made from church tiles, painted with opulent colours. He only mentions the process behind putting it together while his wife, Caroline, an architect and professor herself, explained how the tiles have a lot more significance than just how it's painted. The tiles were discarded by a church after it tore down its old architecture to make way for the new.

In a way, Santhosh saved a little bit of history. While he may seem humble about it, this kind of action separates a true artist from the rest; the ability to evolve without discarding the past.

As we talked over coffee, Caroline opens my eyes and ears to a much deeper understanding of why Santhosh is the way he is. His ability to see when others choose to look away transcends into his work.

Revelations of a Cow
Santhosh's potential to let us in on the insights of everyday life is drawn from his parents. Both of them are visually intelligent and come from humble beginnings. It is because of this and the fact that they're right-brained, gives Santhosh the gift to stop, look and capture moments of beauty out of the ordinary. A perfect example is a three-piece canvas (triptych) that was hung upstairs on his studio wall.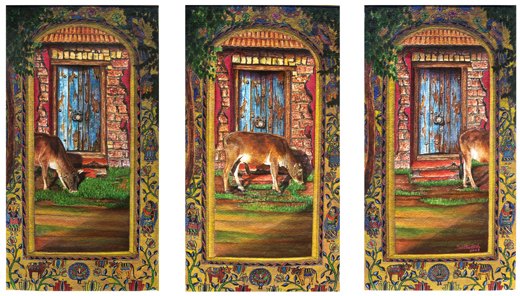 Titled 'Nenapina Angaladalli', it narrates a simple story of a cow that walks into the scene, grazes for a while, and then exits. The painting not only brings a sense of calm, but its simplistic nature takes you back to your roots. To your ancestral home in the village, surrounded by old, rustic-looking architecture, with cracked walls and washed-out paint. It gives you the feeling of a laid back afternoon, as you watch the sun's soft light fall upon the cows, which make their way back after a long day's work.
This painting struck me most for being a perfect culmination of his power of observation, his skill to narrate through art, and his relentless patience in creating three consistent paintings in succession.

Santhosh, as I've come to know, has always been self-reliant. From making his own tools to fine-tuning his own skills and bringing alive a unique style of art. He prides on the fact that he can create his own path and learn to fight his own currents. While destiny played its part in the form of a book which introduced him to Indian folk art and miniature paintings, it has only enhanced his already existing potential.

While I can go on and describe the brilliance that goes behind his creations, there are only so many words that can express its beauty. Only by experiencing his world yourself, can you begin to understand its uniqueness.

His paintings will be on display from the 31st of October to the 8th of November at Kodial Guthu House (West), Centre for Media, Art, and Design, organized by Art Kanara Trust in association with INTACH (Indian National Trust for Art and Cultural Heritage) Mangalore Chapter. The exhibition is supported by S-Cube Art Gallery and is open to visitors from 11:00 AM to 7:00 PM.


---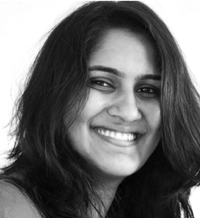 NIKITA G. COUTINHO is a budding writer for the Toer Magazine Collective (art group). She has previously ventured into advertising as a Copywriter. Apart from being an avid art enthusiast she dabbles into writing poetry as well. She's alumni of Nitte Institute of Communications, Mangalore and St. Xavier Institute of Communication, Mumbai. Feedback on this article may be directed to nikitacoutinho19@gmail.com

Write Comment
|

E-Mail
|

Facebook
|
Twitter
|

Print