National Science Day observed: "Learn to question everything," advices Prof. Narendra Nayak
Mangalore Today News Network
Photos: Dr. Krishna Mohan

Mangaluru, Mar 01, 2021: "Nothing is permanent in science. Science is a quest for truth. The scientific method relies on questioning every premise and revising our earlier conclusions based on facts gained from investigation and experimentation," said Prof. Narendra Nayak, President of Federation of Indian Rationalist Associations (FIRA), "Hence it is imperative for every individual to learn to ask questions and objectively seek out the truth."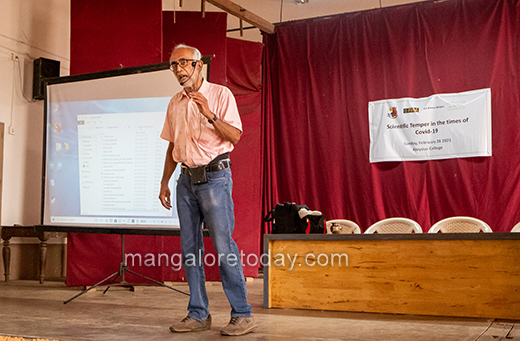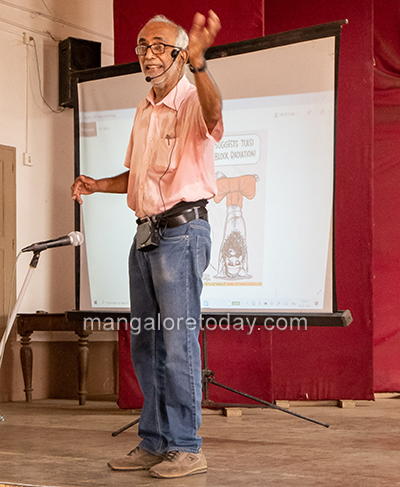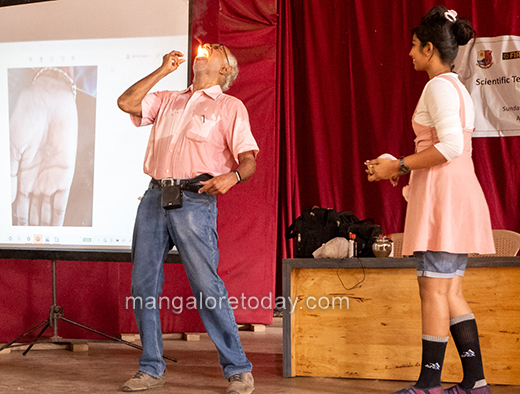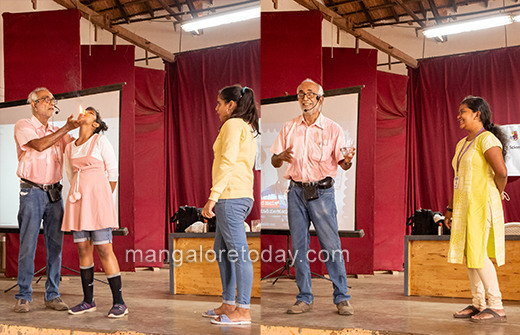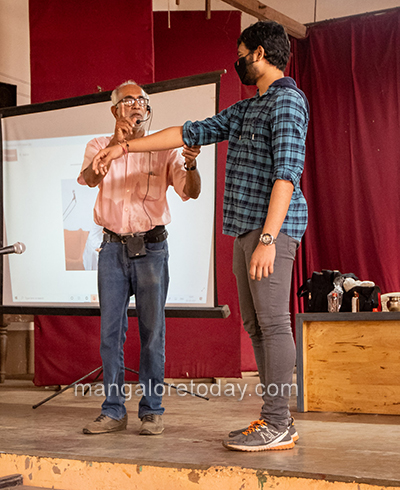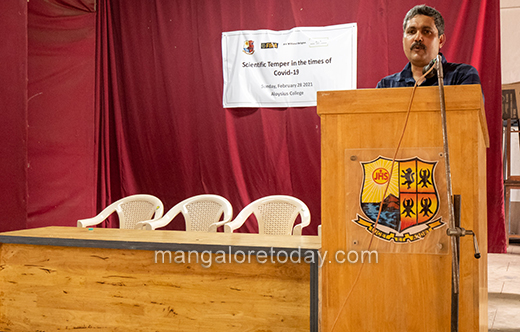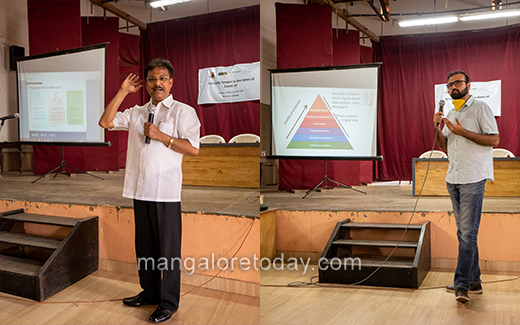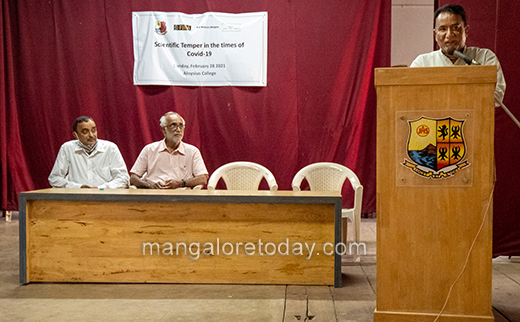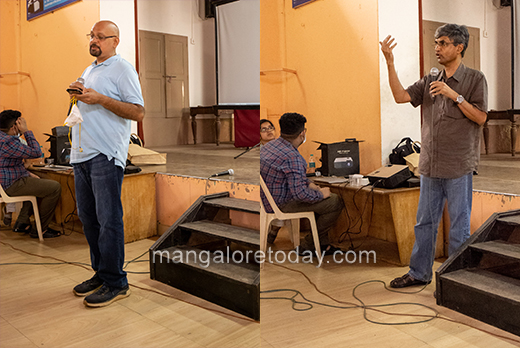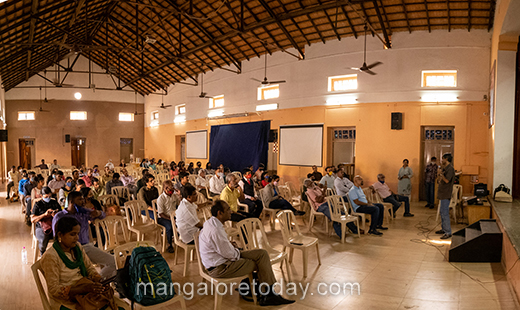 Prof. Nayak was addressing a seminar organized to observe National Science Day at St. Aloysius College Auditorium in the city on Sunday, February 28. It commemorates the discovery of the Raman Effect by Indian physicist Sir C. V. Raman on 28 February 1928. This discovery earned Sir C. V. Raman the Nobel Prize in Physics in 1930. The seminar, titled 'Scientific Temper in the times of Covid-19', was jointly organized by 51AH Trust, FIRA, Aid without Religion Trust and St. Aloysius College.

Apart from Prof. Narendra Nayak, the other speakers were Dr. Krishna Mohan, Eric Lobo, Dr. P. V. Bhandary, Dr. Rahul M. Rao and Dr. Srinivas Kakkilaya.

In his opening presentation Prof. Narendra Nayak gave a live demonstration of various fraudulent tricks used by charlatans to fool the gullible public. He gave scientific explanations for such feats and debunked many of the myths and superstitions prevailing in society. He urged the seminar participants to cultivate scientific temper and the spirit of enquiry as enshrined in Article 51A(h) of the Constitution of India.

"During Covid-19 pandemic, many concoctions had entered the market claiming to 'cure' corona virus, boost 'immunity' etc., even before a scientifically derived vaccine had been developed. These are fake products meant to commercially exploit the people's fears about Covid," he said and spoke at length about some of such products going by different brand names like Coronil. "They have all sorts of medicines for before, during and after Covid also," he said.

In his address, Dr. Krishna Mohan, a Moodabidri based surgeon, briefed the audience on the history of vaccines and gave an update on the latest information available regarding Covid vaccine. He enlightened the seminar participants regarding primitive vaccination attempts and culminating with the modern systems pioneered by stalwarts like Edward Jenner and Louis Pasteur. "If we look at the history of vaccination, there has always been fear, anxiety and opposition to vaccines. This is true not only of vaccines, but also of any important scientific discovery which leads to improvement and progress," he said.
He gave the example of Waldemar Haffkine, a Russian born bacteriologist who worked in India and made groundbreaking work in developing vaccines for Cholera, Bubonic plague and many other diseases. "Sadly Haffkine never got full credit for his work because of many social and professional prejudices," he said.
Eric Lobo, a biochemist, spoke on the various procedures for testing of Covid. There are many misconceptions about negative testing, but confirmatory second tests are actually mandated by the testing protocol, he said.

Dr. P. V. Bhandary, an Udupi based psychiatrist and Dr. Rahul M. Rao, a city based psychiatrist, spoke on the psychological issues that came up due to the stresses experienced by the people during the pandemic lockdown. Dr. P. V. Bhandary spoke about the work that he had undertaken during lockdown with his team of doctors and migrant relief work. Dr. Rahul Rao mentioned how suicide rate has gone up and how we can stay vigilant to help prevent suicides.
Dr. Srinivas Kakkilaya, a city based physician and a noted professional voice on Covid related issues gave a run down on the progression of Covid-19 from the time of its initial discovery in Wuhan in China to the lockdown, its rapid spread across the globe and the present status of pandemic. "The Covid pandemic clearly exposed our weakness in not following scientific principles. Much of the devastation and chaos caused by the lockdown could have been averted if governments and people had followed scientific systems," he said.

"Total lockdown was imposed on the country for 68 days when there were no Covid cases on the streets. The few live and suspected cases had already been quarantined and there was no need for such harsh measures. The prime minister resorted to gimmicks like beating vessels and lighting candles. All this could have been avoided if people had questioned the government's actions instead of blindly following what was told by the leader," Dr Kakkilaya said.

Speaking on the present status of the pandemic, he said according to reliable estimates, about 100 crore Indians had already contracted Covid, either symptomatically or asymptomatically. "From our known understanding of antiviral immunity, once-infected patients will not get a second infection," he said.
In his valedictory address, Dr Praveen Martis, Principal of St. Aloysius College, commended the organizers on hosting the seminar. "Scientific temper means having the courage to speak the truth and to do what is right. Without reasoning, there can be no progress," he said.

Several students and delegates narrated their experience and understanding of scientific temper.

Prof. Vivek Kumar gave the vote of thanks. Karthik, Kavana and Thejas compered the programme. Arun Shenoy, Mayoor Shetty and Sushma Prabhu coordinated the event. Shyam Sundar Rao was present on the dais.
Write Comment
|

E-Mail
|

Facebook
|
Twitter
|

Print