Day-2: FM, Nirmala Sitharaman's package break-up for farmers, migrants
mangaloretoday / NDTV
New Delhi, May 14, 2020: Finance Minister Nirmala Sitharaman is unveiling the second tranche of the government's Rs 20 lakh crore fiscal stimulus. Sources told NDTV it is likely to focus on the migrant issue, rural economy, and the situation of farmers.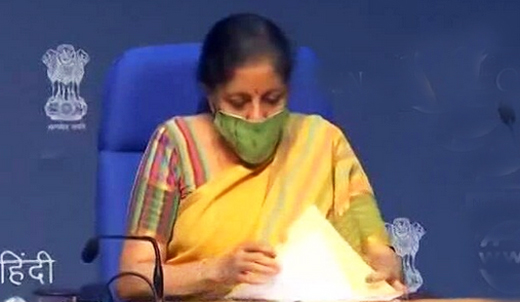 Private sector employees will get a boost to their take-home salaries and small and medium-sized will be offered Rs 3 lakh crore in collateral-free bank loans, Nirmala Sitharaman had announced on Wednesday, detailing parts of the government's Rs 20 lakh crore COVID-19 economic relief plan.

Here are the highlights of Nirmala Sitharaman's announcements on Day 2:

Today's announcements for small traders, small farmers, self-employed people, migrant workers, street vendors, tribals.

For farmers, today we will speak about 2 provisions. There are more, but that will be given in the next few days. Today is just 2. So, please don't think it is just two for farmers - there are more.

Three crore marginal farmers have already benefited from 4 lakh crores. They were also given a moratorium for 3 months not to pay EMIs. In the last 2 months, 25 lakh new kisan cards have been given. This is just to let you know that we have already reached out to marginal farmers.

In 2014, in first speech, PM Modi emphasized the need to help the poor. We have to focus on helping the poor of the poorest. The Modi government has helped the poor. More than 22 crore poor have insurance. The PM is always worried about the poor, the poorest; we helped the MSMEs which employs nearly 12 crore people, says Minister of State Anurag Thakur.

Liquidity support for farmers and rural economy has been happening for last 2 months i.e during coronavirus crisis. 63 lakh loans of 86,000 crore have been approved in agriculture area. NABARD has re-financed 29,500 crore only in march to rural banks only in march, support of 4,200 crore for rural infrastructure.

In the last two months, during COVID-19 period, what we have done for urban poor - Centre has given out Rs 11,000 crore. It was sent from Centre to states for temporary shellters to be made. At the shelter homes in urban areas, all 3 meals are being given to them. I am saying all this today because we want to inform you all that our government cares for the migrants.

12,000 self-help groups across India have produced over 3 crore masks, 1,20,000 litres sanitiser.

On Wednesday,May 13, the government also changed the definition of MSMEs, recognising a larger number of businesses under the segment that can avail the benefits.
Write Comment
|

E-Mail
|

Facebook
|
Twitter
|

Print