Polar Vortex 'Boiling Water Challenge' FAIL! Man Burns Himself after Making this DUMB Mistake
www.mangaloretoday.com
Feb 6, 2019 - A huge part of eastern US is battling with artic-chilled air from the polar vortex that brought scary, record-setting cold. Right from the Dakotas to Maine, Alabama and Georgia snow doesn't seem to stop. The extent of cold temperature is unfathomable. The temperatures have dropped so low that rail workers in Chicago are reportedly lighting train tracks on fire to keep them functioning. Amidst all this, people proving the freezing temperature with the Polar Vortex 'Boiling Water Challenge' that is going viral and HOW! Videos of Hot boiling Water Turning Into Ice in Seconds is jaw-dropping. Right from Noodles and wet hair freezing in seconds videos to Chicago Dubbed As Chiberia the videos and pictures from the US facing the Polar vertex haven't stopped. However, after about a week of chilled temperature, the polar vortex is finally easing its frozen grip over many parts of the US. While People and animals continue to stay indoors, 'Boiling Water Challenge' videos don't stop surfacing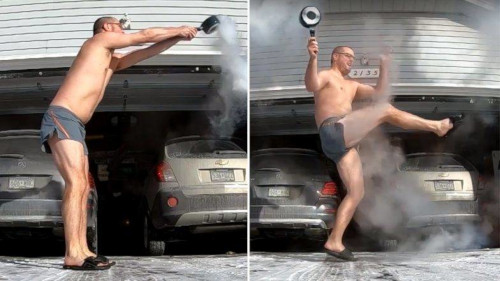 A proof that the polar vortex is finally easing down is a recent viral video of 'Boiling Water Challenge' which didn't go as expected for a man named Chris Kieger. Chris tried to make a 'Boiling Water Challenge' by throwing boiling water into the air and watch it turn into snow in no time. In his case, however, he had to face a burn both on the body and the comments section because of his attempt to transform boiling water into snow. While he was throwing the boiling water into the air in a 15-second slow-mo video, some part of the water did not turn into snow and ended up burning his calf area. Chris posted the video on YouTube after which it is going viral.

The description of his video titled 'Steamy Goodness' said, "the air was cold, my calf was scalding. (sic)"

The unforgiving comments section gave him another set burn. "Let those scars serve as a permanent reminder that being stupid comes with a cost," one said. Many even called him an "idiot."
courtesy - Latestly

Write Comment
|

E-Mail
|
Facebook
|

Twitter
|

Print