The 'Exes' Legal Battle: Hrithik Alleges Kangana of Sending Him 1439 Mails!
Mangalore Today News Network
Mar 17, 2016: Troubles in a lover's paradise are not part and parcel of a relationship. Many say a few tiffs and arguments make a relationship healthy. But then, each relationship also runs its course of time. And when it ends, this is unfair for both the parties involved, to wash their dirty linen in public. To bring skeletons out of the closest and make things personal, however, ironically on a public platform. Open for the world's scrutiny.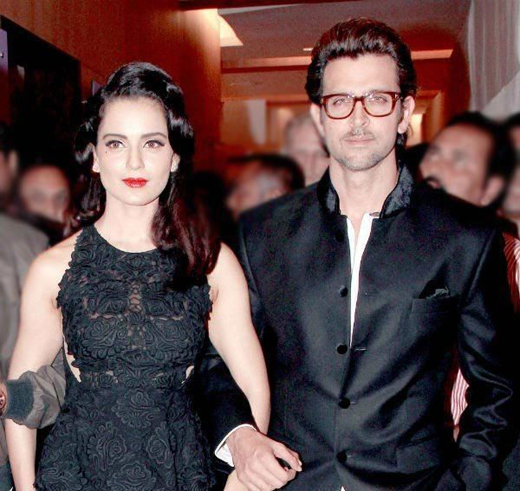 We reported to our readers that the B-Town high-profile 'exes' Hrithik Roshan and Kangana Ranaut have slapped each other with legal notices. And today, this saga took a nasty turn, when a popular daily made the revelations of what Kangana and Hrithik have accused of each other of in their legal notices. Reportedly, Hrithik has accused Kangana of stalking him online by sending up to 50 e-mails a day, some of them explicit in nature. The actress, striking back, alleged that HR had hacked into her email account to delete mails that could have complicated his divorce proceedings!

As per the newspaper, in the legal notice sent by Hrithik, through his lawyer Deepesh Mehta, the actor claims that he has a record of 1,439 mails from Kangana, most of them "senseless, personal, and absurd." The notice says that the actor tried to ignore the emails for the longest time and did not respond to even a single one of them. The notice at one point also suggests that Kangana seemed to have been communicating with an imposter thinking he was the real Hrithik. The notice says that Hrithik realised this when Kangana, at a party thrown by Karan Johar in May 2014, thanked him for appreciating her performance in Queen. When he told her he had not seen the movie, she gave him the email address on which she had been communicating with him. That's when Hrithik claims he gave her his real email address. And that's when he alleges, she started sending him a barrage of emails every day.

Kangana, however, has denied this and alleged that Hrithik had created a special e-mail ID to communicate with her. This, her notice says, was done to make sure his divorce proceedings with Sussanne Roshan were not impacted. She has claimed that the email ID on which she was communicating with Hrithik till May 2014 was given to her by him, and not by some third party. She has also claimed that her name was getting linked with Hrithik even before he divorced his wife, therefore, a desperate effort was made by him to hide everything, including hacking into her mail box to get rid of the incriminating exchanges.

It doesn't look like this war of words and allegations will end anytime soon!