Tanushree Dutta asks what happened to all the Feminists of Bollywood...
Manglore Today News Network
July 17, 2019 : One of the key women who gave an impetus to MeToo movement in India has been Tanushree Dutta. The actress accused her Horn Ok Please co-star Nana Patekar of misbehaving with her on the sets back in 2008 in an explosive interview. Tanushree's confession inspired several women to come forward with their accounts of undergoing sexual harassment which brought forth other big names such as the Vikas Bahl, Alok Nath, Sajid Khan, Anu Malik among others. Recently, Queen director Vikas Bahl was given a clean chit in the sexual harassment case, after which the director was credited for his film with Hrithik Roshan, Super 30. Tanushree Dutta Continues Fight With Nana Patekar in #MeToo Controversy; To File Protest Petition Against Him.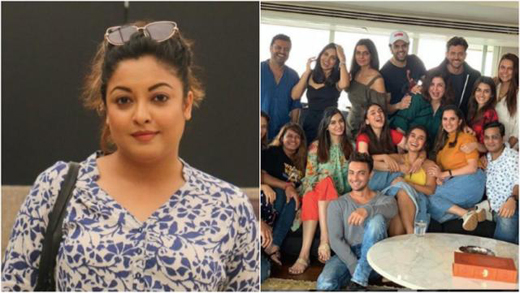 The film released in theatres recently has won Hrithik Roshan and director Vikas Bahl ample of praises. The director wasn't a part of the film's promotions but seems to be enjoying the success bash. Recently, Neha Dhupia took to Instagram to share a picture where Vikas Bahl was partying with Hrithik Roshan, Farah Khan, Kriti Sanon, Punit Malhotra, Manoj Bajpai, Sonu Sood, Aditi Rao Hyadari, Aayush Sharma, Sania Mirza, Angad Bedi and others.


It looks like this has not gone well with Tanushree Dutta. The actress in her recent interaction with in.com expressed her disappointment of Bollywood stars being so-called feminists. Speaking about actors not setting a good example by mingling with those accused, she said, "I don't understand why Bollywood in general with all it's so-called feminists and women empowerment supporters silent on this great camaraderie with molesters and harassers?? Why don't you take interviews of your top stars and see what they think of this atrocious behaviour?? So much for them being superstar role models having millions of followers but no guts to stand against what is clearly wrong (#MeToo accused getting rehabilitated and fraternised) In stark contrast, lo and behold here I am- a Bollywood dropout settled in USA living a simple life who is doing all the activism and heavy lifting on matters of social responsibility and conscience!! Only one calling out the bullshit still. Shouldn't these stars set a better example for their fans??" Super 30: Did Vikas Bahl Mock the #MeToo Sexual Harassment Allegations Against Him Through Hrithik Roshan's Film?

Is Tanushree Dutta's argument valid given that Bahl has now been given a clean chit from the internal complaints committee of Reliance Entertainment.? Well, let's see how the actors have to react to her recent comments about them.