Rihanna narrowly avoids flashing crowd as her gold dress slips down at Oceanís 8 premiere
Mangalore Today News Network
June 14, 2018: Rihanna narrowly avoided a rather embarrassing red carpet mishap as her gold dress slipped down on the Ocean's 8 premiere red carpet.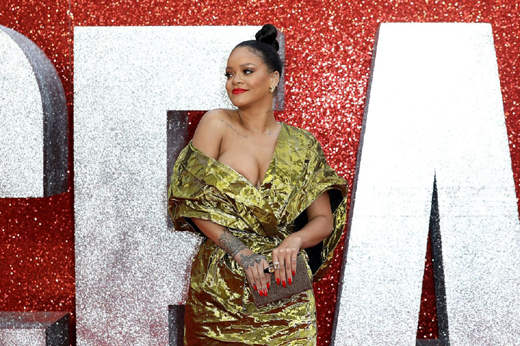 The singer and actress was left clutching at the low-cut neckline of her metallic gown as she arrived in Leicester Square on Wednesday night.

But while the rather risqué cut of the dress could have spelled disaster for Rude Boy singer, she pulled it off like a pro and managed to maintain her modesty.

The pop star was joined on the red carpet by her all-female co-stars, including Cate Blanchett, Sandra Bullock, Sarah Paulson and Helena Bonham Carter.

British actress Bonham Carter got in trouble for swearing during the live broadcast from the red carpet.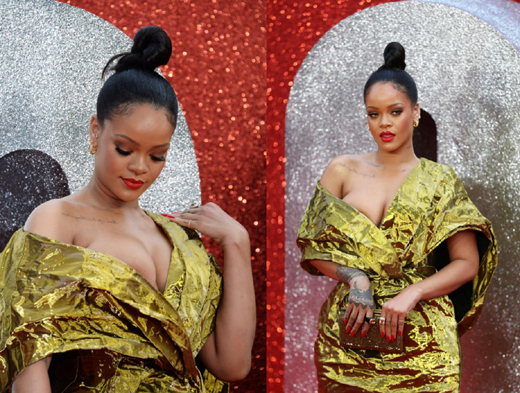 Edith Bowman asked the actress, who plays Rose Weil in the all-female installment, who she would want to bring on board for an Ocean's 9.

Racking her brains for a name she said "s***". Bowman quickly corrected her, saying: "Shoot."

She threw out Dame Judi Dench before adding: "So many thieves in this world. So many people that can steal things. It would be good to have somebody who doesn't chat as much as the rest of us."

The star-studded line-up play a gang of criminals who attempt to steal a $150 million necklace from the Met Gala, in a follow-up to the all-male original.

The American heist film also stars Mindy Kaling, Anne Hathaway, Awkwafina and Rihanna. It follows Debbie Ocean, played by Bullock, as she gathers an all-female group to attempt a heist at New York's Met Gala.

Ocean's 8 is slated for UK cinema release on June 18
Courtesy: Yahoo.com