Priyanka Chopra Gets Trolled For Disrespecting National Flag, Called Anti-National!
Mangalore Today News Network
Aug 18, 2017: Now the picture in itself looks harmless. It shows the 'Baywatch' star Priyanka Chopra holding tricolor dupatta/scarf wound around her neck. It supposedly indicates the Indian flag. The actress is smiling in the low light boomerang as she captioned it, "Independence Day #Vibes🇮🇳 #MyHeartBelongsToIndia #happyindependencedayindia #jaihind"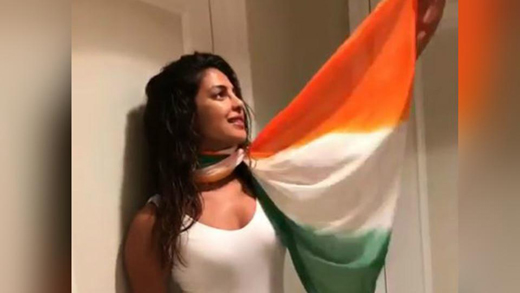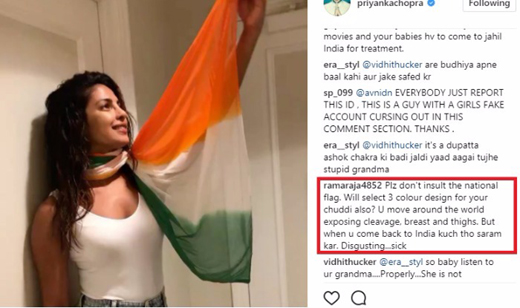 Trolls called her out for not dressing in a saree but rather in a western outfit of jeans and top. The actress was shamed for using the scarf as an excuse for her patriotism. Priyanka Chopra is currently abroad shooting and thus finds less time to come to the country other than for her pending movies.

In the legal sense, the 'Quantico' star isn't in trouble as she hasn't used an Indian flag but rather a piece of cloth with the same colors. Prevention of Insults To National Honour Act, 1971 Section 2 - Insults To Indian National Flag And Constitution Of India Explanation 4.--The disrespect to the Indian National Flag means and includes: 3[(e) using the Indian National Flag: (i) as a portion of costume, uniform or accessory of any description which is worn below the waist of any person; or (ii) by embroidering or printing it on cushions, handkerchiefs, napkins, undergarments or any dress material; or.] Trolls can get out of hand sometimes. Must we remind that our PM Narendra Modi has also used a similar scarf which could be seen as the tricolor flag and considered illegal? Many Bollywood celebrities like Shah Rukh Khan, Salman Khan, Amitabh Bachchan also took to wish Independence day to their fans and followers through social media, Priyanka Chopra is known for her love the country and is also the ambassador on the international level. She has also been part of the UN. The actress is popular both in our country as well internationally. She was last in the Hollywood movie 'Baywatch' with Dwayne Johnson and Zac Efron. She is currently shooting abroad for her two Hollywood cameos in 'Isn't It Romantic' and 'A Kid Like Jake' with stars like Jim Parsons, Claire Danes, Liam Hemsworth, and Rebel Wilson. Priyanka Chopra will also return with her Hollywood show 'Quantico' and is training hard to the next season.