Jennifer Lopez Goes Pantless! Steps Out in Nothing but a Crisp White Shirt and Thigh-High Versace De
Mangalore Today News Network
Guess who decided to give her jeans a day off? JLo! Hollywood sex bomb Jennifer Lopez was spotted on the NYC streets looking bomb AF! The pictures of the 49-year-old American actress-singer are plastered all over the internet as her quirky take on the over-the-knee high boots trends grabbed eyeballs. It is thigh-high Versace denim boots, or that's how the Italian fashion giant likes to describe, but a majority felt Jennifer was wearing a pair of jeans, scrunched with two black belts above knees. Netizens are certain Jennifer Lopez went pantless, swapping denims for boots.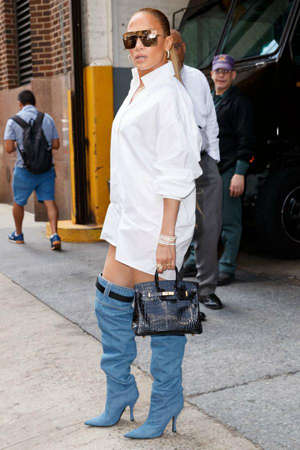 'No Pants' have become the latest fashion trend. And, joining the bandwagon of celebrities who are ditching their pants is everyone's favourite JLo. The mother-of-two has got the social media divided with her latest fashion outing in Manhattan. She wore an oversized white boyfriend shirt with a pair of thigh-high boots, which at first glance, looks like a pair of jeans complete with pockets and belts. Bet, you'll be seeing it twice just to be sure.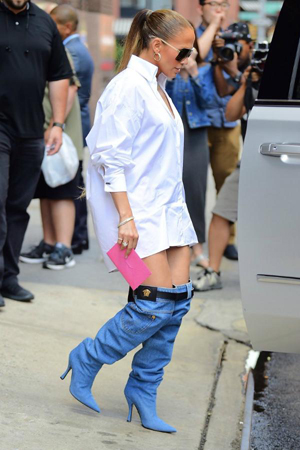 The "El Anillo" singer completed her look with diamond hoop earrings, neckpiece, bracelet, a huge ring, a pair of oversized sunglasses, and by carrying a black patent leather bag from her extensive Hermès Birkin collection. Jennifer wore a basic hair tie in her ponytail to top off her look. There was nothing that could take your eyes off the set of JLo's futuristic set of mini-jeans boots.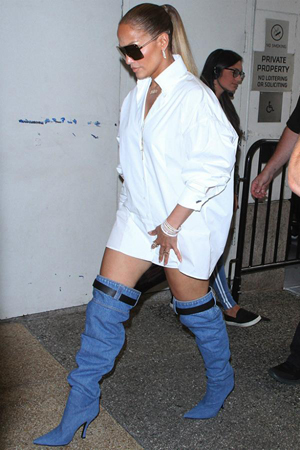 Everyone's having their take on Jennifer Lopez's twist to classic 'white on blue' combination. While many are going gaga over the new fashion piece in town, others are calling it ridiculous or poking fun at it. But "Ain't Your Mama" singer like always has zero f&*ks to give to her detractors.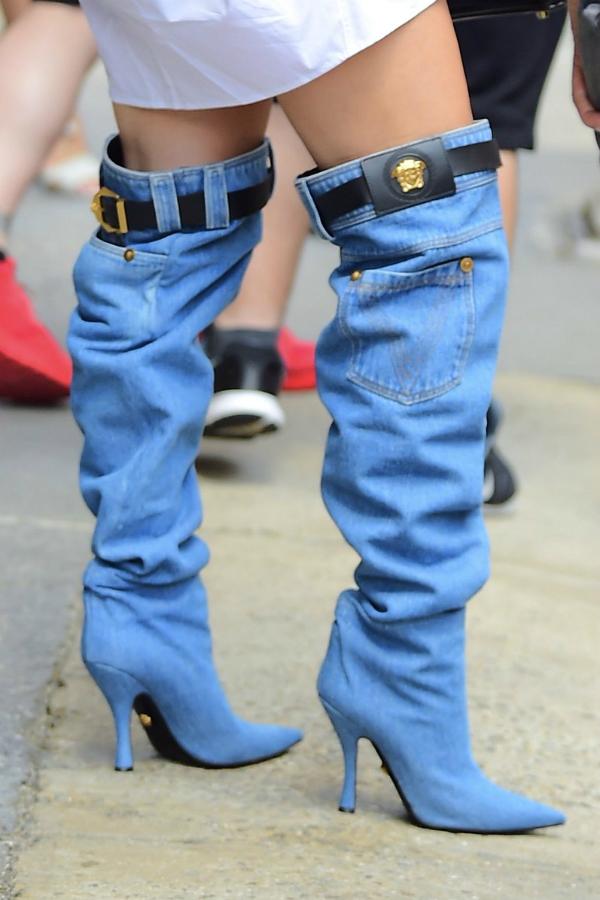 After all, it is not the first time Jennifer Lopez has stunned the world with her thigh-high boots style. Earlier, she had donned USD 4,350 thigh-high denim boots from Rihanna and Manolo Blahnik's collaboration in her feminist anthem, "Ain't Your Mama." The Hollywood star had revealed about how she thought they had to be in the track.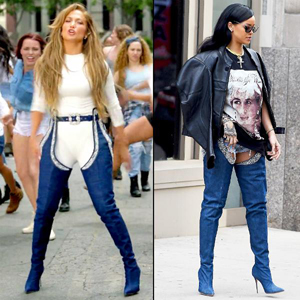 "Rihanna had sent me these amazing boots and I was like, 'These have to be in the video,'" JLo said. "I always saw all of the women kind of marching at the end in a group, you know, kind of starting this revolution, and I thought, 'Ok, maybe I'm just wearing them to dance.' They're just amazing. So that's what we did." Now, enjoy seeing the great fashion Jennifer Lopez has presented us mortals with. Why? Because she is a Queen!

Meanwhile, on Tuesday, it was announced that Jennifer Lopez will be honoured for her two-decade music career at the 2018 MTV Video Music Awards. She will be receiving the Michael Jackson Video Vanguard Award on August 20 at Radio City Music Hall in New York City. JLo will also be performing at the show, she had last performed at the VMAs in 2001.



courtesy:Yahoo