Indonesian Man Catches Cheating Girlfriend, Announces Breakup With Her on Ad Billboard
www.mangaloretoday.com
Mar 16, 2019 - Breakups are not easy and each person has their own way of dealing with the emotional turmoil that comes with it. People can go to any lengths when they are heartbroken. But while most people prefer to be low and keep the things to themselves, an Indonesian man decided to humiliate his cheating partner in public. No, we are not talking about couple fights in public. This man rented a billboard space and announced his breakup like an advertisement on a street. he put up his girlfriend's photo, her name and wrote, "I want to break up!" What's more, he also announced it on a megaphone that he is thus breaking up with her because she cheated on him. A picture and video of the couple arguing came up on social media and is being shared by fellow netizens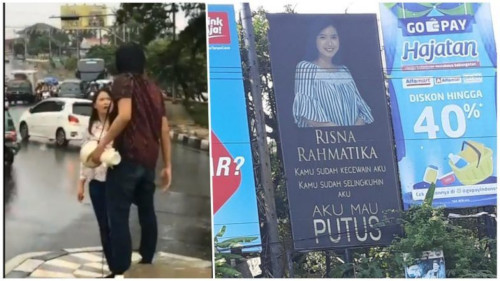 The video shows the couple arguing right in front of the billboard. The billboard has the girl's face and the text reads, "You have broken my heart. You cheated on me. I want to break up." What the couple is arguing over is not very audible, but it looks like the girl isn't obviously pleased to have her photo and being humiliated in public.

The tweet has got over 30,000 retweets and close to 19,000 likes. Meanwhile, some people online have called this guy's way of handling his breakup savagely! Check how some of the users reacted to this.

The guy has sure not taken his breakup well. Some of the users have also called it just a publicity stunt. Although it is not clear, the guy sure knows how to take revenge.
courtesy - Latestly