Emotions run high as Tendulkar farewell begins
mangaloretoday.com
By Rachel O'Brien

Mumbai, Nov 14, 2013: Indian cricket legend Sachin Tendulkar took to the pitch Thursday for his 200th and final Test, bidding farewell to his adoring public and basking in tributes from fellow players, politicians and fans.

The 40-year-old is ending an international career spanning nearly a quarter of a century during which he became the all-time leading Test and one-day batsman and the only man to score 100 international centuries.

The end of the "Little Master", who has almost god-like status in his cricket-mad country, has been met with nationwide nostalgia for his sporting feats since his international debut in 1989.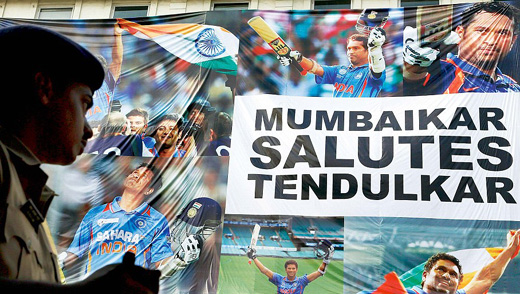 Tendulkar, who led the team out onto the field in his home city of Mumbai, said the last 20 years had been "marked by some of the most challenging, exhilarating, poignant and memorable moments of my life".

"The game has seen so much change over the last two decades -- from advances in technology, new formats, yet the basic spirit and passion surrounding the game remains the same," he wrote in a front-page Hindustan Times article.

"Sachin mania" ahead of the game against the West Indies has been building since he announced his intention to retire last month, with highlights of his innings and interviews looping on news channels.

"He's not just a cricketer. For me he's an ideal son, an ideal friend. The biggest thing about him is his humility," said fan Himanshu Kapadia, queueing for entry to the stadium with his two sons.

Among the spectators was Sudhir Gautam, Tendulkar's celebrity fan, who travels across the world to watch him while painted in the colours of the Indian flag -- with his idol's name written across his chest and back.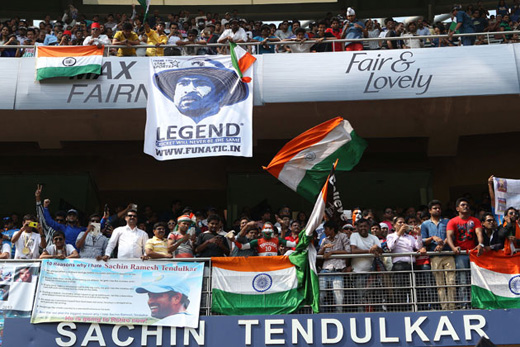 Many followers have expressed disappointment that only 5,000 out of 32,000 seats were for the general public, with the rest reserved for VIPs such as sponsors and cricket club members. About half were empty after the match began.

Such was the demand for the publicly available tickets that the main website selling them crashed within minutes of sales opening on Monday.

Before the match started, the Mumbai Cricket Association presented Tendulkar with a enlarged photograph of a postage stamp released by the government in his honour.

Footage broadcast on Indian television showed the toss taking place with a specially minted coin bearing his image on one side.

"We will be very fortunate if we get another Sachin," Indian captain Mahendra Singh Dhoni said at the toss. "So it is important that we learn from the great man."

Since 16-year-old Tendulkar made his debut in Karachi in 1989, he has racked up an astonishing 15,847 runs in 199 Tests, helping India win the 2011 World Cup and reach the top of the world rankings.

On the eve of his final match, he thanked his fans on Twitter "from the bottom of my heart for 24 years of support".

Along with Tendulkar murals, banners and billboards that have sprung up in the countdown to the match, Mumbai's tattoo parlours have reportedly seen a surge in requests for designs of the sporting icon.

On a beach in the eastern state of Odisha, an artist created a huge sand sculpture of 200 cricket bats and Tendulkar's face.

The star's wheelchair-bound mother Rajni is due to watch her son bat for the first time, after a special ramp was built for her at the south Mumbai stadium, despite her previous fears that her presence at matches could bring him bad luck.

Along with Indian politicians, businessmen and Bollywood stars, cricketing greats Brian Lara and Shane Warne have flown in for the game at Wankhede, where a huge security force has been deployed for the next five days.

"Sachin Tendulkar was the best batsman of my generation and it will be a privilege to be in Mumbai," wrote Australia's Warne, who is commentating on the match.

British Prime Minister David Cameron, on a visit to New Delhi, called him "absolutely an all-time great" and said he was an example and inspiration to cricket-lovers.

Father-of-two Tendulkar has steered clear of controversies despite his dazzling fame, earning a reputation for modesty and self-control.

Despite his glowing reputation, his cricketing powers have waned in recent years and some suggested that he should have retired earlier. The latest of his 51 Test centuries was back in January 2011 against South Africa.

Due to an ongoing dispute between media groups and the Board of Control for Cricket in India (BCCI), Agence France-Presse is unable to provide coverage of the match between India and the West Indies.