Dinesh Karthik, the Man Behind a History-Scripting Squash Champion
www.mangaloretoday.com
New Delhi, August 4, 2014 (NDTV): Lovebirds Dipika Pallikal and Dinesh Karthik were the talk of the Twitter world all through Saturday night after Dipika Pallikal and her squash partner Joshana Chinappa won gold for India in the women's doubles event in Glasgow-India's first medal ever in the racquet sport at the Commonwealth Games.

"So glad I could have my man with me on such a magical day!" tweeted a beaming Pallikal, who broke into the top 100 of the Women's International Squash Players Association rankings when she was just 15 years old.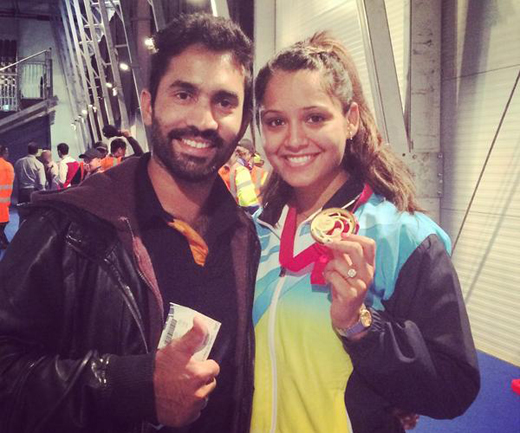 The post on Twitter also included a picture of the engaged couple together after the medal ceremony as former Team India wicketkeeper Dinesh Karthik shared it saying he was very proud of his future wife. In fact, Karthik's Delhi Daredevils captain Kevin Pietersen retweeted the post.

Karthik, who got engaged to Pallikal in November 2013, got close to the Chennai girl following their training sessions under the same fitness coach. The Indian cricketer even personally dropped her fiancee off at the airport as she left for the Games in Glasgow with strong hopes of getting at least one medal.

Karthik could be seen cheering for Pallikal since her first squash match at the Games. "Getting a ticket to watch cricket was hard, I thought, but getting to watch a final at CWG is a bigger task," he told the Bangalore Mirror.

A shock? "Not really," Chinappa and Pallikal were quoted as saying together by the New Indian Express when asked if beating the English pair of Jenny Duncalf and Laura Massaro in the final was a surprise win.

"We were determined to win the gold medal," said Dipika, who was more relieved than happy to be able to complete the win after the Indian pair fought back from a 6-1 deficit in the second game. "We have been practising together for six months and that worked in our favour. Somehow, we had a lot of confidence in us," Pallikal added.

The 22-year-old squash superstar was also full of praise for her fiancee Karthik and said getting engaged to him had added a new meaning to her life.

"He is a cool guy. He knows how to handle pressure and teaches me to do so. Even today (Saturday), he supported me in his own way. Being a professional sportsperson, he knows what it needs to be a champion. He always motivates me. Even today he was the loudest," said Pallikal.

They say there's a woman behind every man's success. However, in this case, it's safe to call Karthik the man behind Pallikal's success, who has been leading by example in proving the old adage wrong.