Bishop gropes Ariana Grande's breast at Aretha Franklin's funeral
Mangaloretoday News Network
Detroit, Aug 31, 2018 : Hundreds of people including dignitaries from presidents to pop stars gathered at Detroit church on Friday to pay respects to Aretha Franklin, the musical giant also known as 'Queen of Soul' who died at the age 76 as she succumbed to pancreatic cancer. Among the singers, present was 25-year-old Ariana Grande who performed on A Natural Woman. An instance occurred at the funeral when bishop who officiated Aretha Franklin's funeral awkwardly greeted Ariana on stage after she performed the song. Bishop Charles H. Ellis III 'groped' Ariana and is criticised for the way he touched her on stage. After the images of the moment surfaced on the net, the pastor has now apologised. Singer Aretha Franklin The Queen Of Soul Dies At 76 Due To Pancreatic Cancer.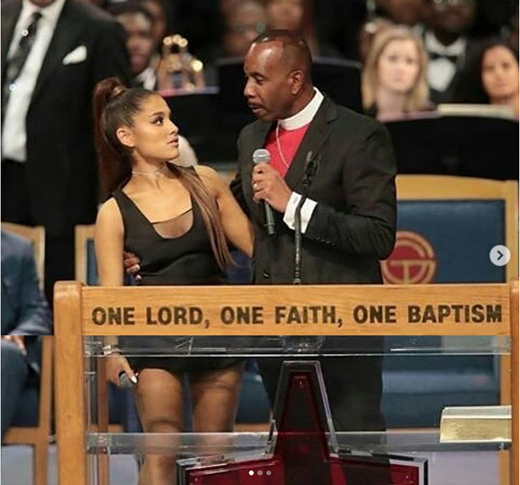 Images showed Ellis' right hand holding Ariana well above her waist with his fingers pressing against the side of her chest. As reported in The Sun, the preacher has now apologised for how he touched her onstage for joking that her name 'sounded like something new at Taco Bell'. He told the Associated Press, "It would never be my intention to touch any woman's breast…I don't know I guess I put my arm around her." Ariana looked completely uncomfortable when she was being pulled to the stage and netizens pointed it out rightly.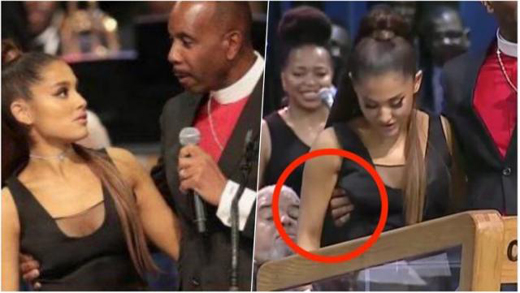 Ellis apologised to Ariana, her fans and Hispanic community for making a joke about her name. He said, "I personally and sincerely apologise to Ariana and to her fans and to the whole Hispanic community. When you're doing a program for nine hours you try to keep it lively, you try to insert some jokes here and there." But netizens were furious and posted on Twitter the close-up images of the moment, tagging it #RespectAriana.

Bishop's inappropriate gesture overshadowed all the comments that were earlier being made on how short Ariana Grande's dress was. Ariana was performing at the funeral alongside icons like Stevie Wonder and Chaka Khan. A Natural Woman was Queen of Soul's signature hits which was written in 1967. Ariana has not yet commented on the instance.