Aishwarya Rai Bachchan poses with Pharrell Williams for Vogue cover
Mangalore Today News Network
Apr 03, 2018: Aishwarya Rai Bachchan graces the cover of the April edition of the Vogue magazine with an unlikely partner: The 'Happy' hit-maker Pharrell Williams.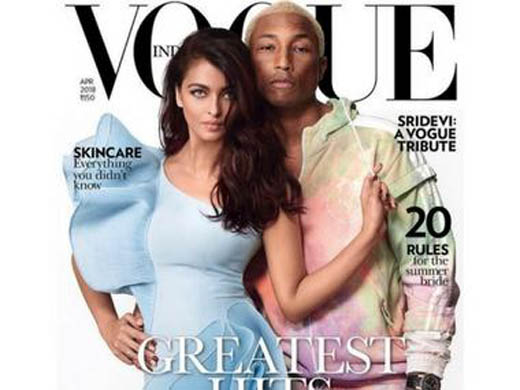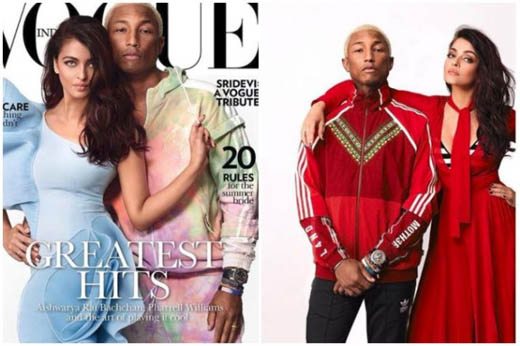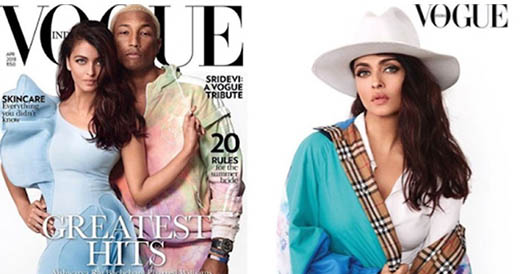 Williams, who was recently seen enjoying the festival of Holi with actor Ranveer Singh, has appeared alongside Aishwarya on the latest Vogue cover. The singer can be seen dressed in colourful sweats standing besides Aishwarya, who is wearing a blue bodycon dress with gigantic frills on one shoulder and at the bottom.

The official Vogue Instagram handle posted a number of images from the Aishwarya Rai Bachchan-Pharrell Williams shoot and they all look stunning. In a picture, the two are dressed in all-red. More solo photos feature Pharrell in a burgundy shirt and an achkan-style jacket while Aishwarya is in a blue jacket.

Aishwarya, in an interview to Vogue, talked at length about motherhood. She also talked about her upcoming project Fanney Khan and about other film offers she has recently received. It has been recently reported that Aishwarya was approaced for the remake of Raat Aur Din and Woh Kaun Thi?.

Speaking about the same, she said, "In Fanney Khan, I'm playing a chapter in the narrative that I believe is intrinsic to the story. I've been approached for the remake of Raat Aur Din, which is a great opportunity, and what's funny is while filming Shabd, Sanju Sir (Sanjay Dutt) said he'd have loved for me to play the part, and I was very touched. We're still working out the details. I've also been approached for a remake of Woh Kaun Thi?."