AIB Knockout Controversy: FIR against Deepika Padukone, Karan-Arjun and others
www.mangaloretoday.com
Mumbai, Feb 13, 2015: The controversy surrounding the All India Backchod Roast, and those associated with the show, refuses to die down. A social activist approached a Mumbai court on Thursday, which ordered the police to register an FIR, and also to submit an investigation report.

The court's order came after social activist Santosh Daundkar filed a petition, through his advocate Abha Singh, before additional chief metropolitan magistrate CS Baviskar.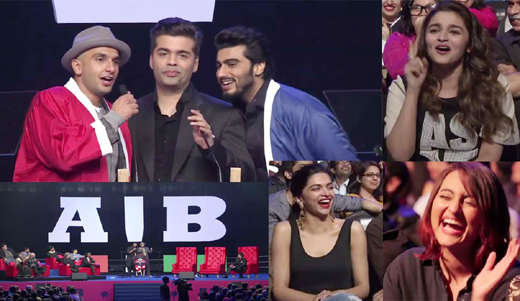 Following the order, the Mumbai police registered an FIR at Tardeo police station primarily against 14 people, including the president of the National Sports Club of India (NSCI) Jayantilal Shah, NSCI general secretary Ravinder Aggarwal, organisers of the AIB Roast, Karan Johar, Ranveer Singh, Rohan Joshi, Tanmay Bhat, Gursimran Khamba, Ashish Shakya, Aditi Mittal, Deepika Padukone, Alia Bhatt, Rajeev Masand and Arjun Kapoor.

"Apart from the IPC, they have broken many other laws . If they had done this only as a live show on the ground, then the issue would not have been so big, but they then uploaded it on the Internet and made crores of people watch it. When everyone is protesting crimes against women, these actors cannot be so irresponsible to talk about women using such vulgar words," Daundkar.

According to his complaint, the indoor stadium of Sardar Vallabhbhai Patel has been built on the land provided by the government on lease to the National Sports Club of India. The land has been designated primarily for sports activities and functions of the municipal corporation, the complaint said.

But in violation to such legally designated use of land, the complaint said a commercial, vulgar, obscene and pornographic show, by the name of All India Bakchod Roast, comprising several Bollywood personalities, was held.

In the show, the celebrities blurted out pre-scripted, vulgar, pornographic and obscene jokes, in front of a large number of women in open defiance to the laws that govern our country, the complaint claimed.

"The youth of our country looks up to these actors. If these actors themselves objectify women and abuse them like they did during the show, then they are just promoting crime against women. Freedom of speech is there, but section 294 of the IPC says obscene words and acts cannot be recited in public," Singh said.

The FIR evoked a mixed reaction from various sections of community. "If some people have chosen to move the court then they have done so because the constitution allows them to do so. It is within their right. Personally, I took the approach of meeting Vinod Tawde, cultural affairs minister to propose that a person from the community be appointed on the censor board where he can review and give his feedback for such as show before it is aired," said Judith Monterio, secretary, Association of Concerned Catholics.

Television anchor and comedian Cyrus Broacha said, "I think I am going to faint. Which was the last hate-spewing politician to go in? I mean there is serious crime out there. And we need to lock up a couple of comedians? Yes, that should go a long way in bringing parity in Indian society."

Samit Basu, author and graphic novelist also found the FIR disconcerting. "Even if we lived in a utopian society, where there were no real problems for the police and the courts to deal with, it would still be wrong and stupid to file an FIR over a piece of comedy. This is beyond ridiculous," said Basu.

Music producer Vishal Dadlani called the outrage against AIB a symptom of self-righteous hypocrisy, mixed with desperation for publicity. "Consenting adults should be able say what they like to each other, and consenting adults can choose to listen. The video had clear warnings that people who did not want to be exposed to foul language, should not watch it. Those who did, chose to watch it anyway, so how can they claim to have been surprised?" Dadlani said.

Gordon D'Souza, of Bombay Catholic Sabha, said in India, such acts can hurt religious sentiments. "Matters where such deep religious sentiments are involved could have been avoided. However, our group has not sought any legal recourse on the matter. But if a certain group is resorting to legal means, then I think the court would be in the best position to decide," he said.
Watch Video: