Sachin Lawrence - Exemplary Cop
Mangalore Today News Network
Mangaluru, April 24, 2016: Sincerity, Integrity and Commitment are vital for a police officer to leave a fine imprint in his service record. In Sachin Lawrence, Inspector in Mangaluru City Armed Reserve Police we have one such officer who places his profession above everything else. His exemplary service has now earned him the coveted Chief Minister's Medal.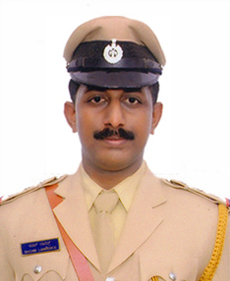 An alumnus of Rosario High School and St Aloysius College, Sachin has also done his Masters degree from Karnataka State Open University. He was a cadet captain in senior division of NCC during his college days.

Sachin joined the Police Service in 2002 as a constable after completing his training at the Police Training College at Gulbarga. Initially, he was posted at Chikkamagaluru and Uttara Kannada districts and was later elevated to the post of reserve sub-inspector upon transfer to Mangaluru. He even underwent a three-month commando course at the Centre for Counter Terrorism, Kudlu, while he was serving Uttara Kannada district.

Sachin is happily married to Divya and the couple is blessed with a child named Jeeval.