Sonia Gandhi and Priyanka step in to boost Congressís chances in Rahulís big test
www.mangaloretoday.com
New Delhi, Apr 5,2014: Just past 5 p.m. on March 21, Congress President Sonia Gandhi made a phone call. "Amarinder, I want you to contest from Amritsar," she told a somewhat surprised former Punjab chief minister, "I think you are the best man for the job. You have nothing to worry about. I will support you in every way." Parked on one side of National Highway 1 on his way from Delhi to Chandigarh, the Punjab strongman promptly acquiesced, though he was a trifle bewildered. Sonia Gandhi's request was most unusual, especially after she had concurred with his reservations about contesting for the Lok Sabha elections when he had met her three weeks earlier. Confident of her approval, Amarinder had declined the Amritsar ticket when Sonia's Political Secretary Ahmed Patel broached the possibility two days earlier on March 19 and publicly conveyed his reluctance in more than one TV interview. Notably, less than an hour after the call from his mother, an evidently delighted Rahul Gandhi sent Amarinder a text message: "Thanks. You stood and fought."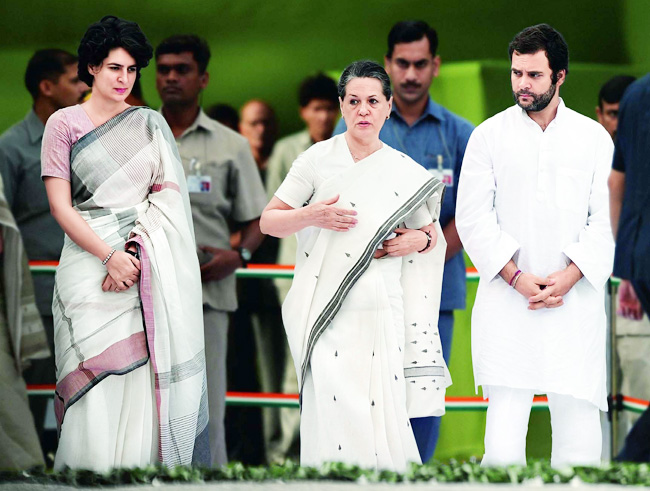 For many senior party leaders, direct phone calls from 10 Janpath signal a new resolve on the part of the Congress's first family, conveying a cohesiveness of strategy: Sonia and her children, Rahul and Priyanka, acting together while playing on their strengths to create a whole that is larger than the sum of its parts.

Sonia may have handed over the reins of the 2014 General Elections to her son Rahul, but she is still a party president in complete command and therefore, the supreme authority. Congressmen say the signals are clear: She is the boss when it matters most. From fielding senior leaders in this election to sending out a clear message to the minorities-do not let the secular vote get divided-Sonia is doing all that is expected of her as party president. And then, in what is perhaps one of the best-kept secrets of the party, Priyanka Gandhi Vadra has stepped in as a force multiplier. In this election, she has slowly taken over multiple roles: As Rahul's invisible manager-cum-principal adviser, a key election strategist, and most importantly, a bridge between Rahul's new Congress and the old guard. This role was missing in the Congress for a long time and among the principal reasons behind the party's decline. Besides, Priyanka continues to be the point person for the family's pocket boroughs of Amethi and Rae Bareli. With the Congress's own estimates suggesting that the party could be down to its worst showing in history, the dynasty is left with no other choice but to join hands and support Rahul's attempt to halt BJP prime ministerial candidate Narendra Modi's rise.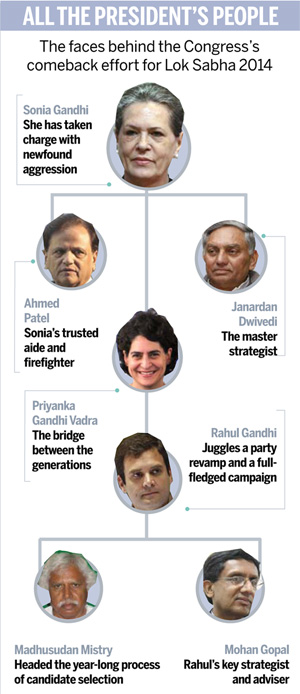 Following the call to Amarinder, the Congress president's secretary P.P. Madhavan put through several calls over two days starting March 21. Sonia asked former Union minister Ambika Soni to file her nomination from Anandpur Sahib in Punjab while the incumbent legislature party chief Sunil Jakhar was told to commence campaigning in the border constituency of Ferozepur. Sonia also got Union Health Minister Ghulam Nabi Azad to fight from Udhampur, Jammu and Kashmir, and asked Rahul to tell party General Secretary Madhusudhan Mistry to choose a tough seat. The latter is now the Congress's candidate against Narendra Modi in Vadodara.

Reports from the ground suggest that Sonia's ploy of fielding political heavyweights or leaders with a proven popular appeal is clearly taking effect. Even before he made an appearance in Amritsar on March 28, Amarinder Singh's nomination appeared to have provoked a measure of panic in the ruling Shiromani Akali Dal-BJP camp, which had been earlier lulled into relative complacency at the prospect of a virtual cakewalk for former Union minister Arun Jaitley. Sonia's strategy is seen as a masterstroke by many. A Congress general secretary reveals that in fielding Amarinder, the party hopes to tie down Jaitley (who Amarinder refers to as "our esteemed guest from Delhi" in his speeches) to Amritsar till April 30, by when seven phases out of nine of the elections will be over. Jaitley is a key strategist and his absence from the Centre is likely to hurt the party.

Despite the corruption taint on two other candidates, Sonia steered the decisions to field former Maharashtra chief minister Ashok Chavan from Nanded and former Union railway minister Pawan Kumar Bansal from Chandigarh. Avoiding giving them tickets would have meant an admission of guilt when the matter is sub judice. A report released by the Association of Democratic Reforms in March shows BJP has fielded more candidates with a criminal record-35 per cent as opposed to Congress's 27 per cent. If Rahul had had his way on the matter, Chavan would not have got a ticket. Sonia is learnt to have told the Congress Election Committee that a ticket to Chavan was necessary for the party to woo the Maratha vote bank and develop a new leader in him after the death of another former chief minister of the state, Vilasrao Deshmukh. The shrewd move also quelled the possibility of Chavan turning rebel. Fielding Bansal in Chandigarh, says a senior leader, has put the Congress back in the race where he is pitted against two outsiders and actors-BJP's Kirron Kher and Aam Aadmi Party's Gul Panag.

On March 26, at the party's manifesto release function, when a journalist asked about giving Chavan a ticket, Sonia jumped in with an "I'll take that" and went on to say: "As far as we know, Chavan is not barred from contesting the election by any law." The terse reply and her aggressive demeanour gave a clear message that many Congress leaders have been waiting for-that the party leadership will not only defend its own, it will also not sacrifice candidates who stand a chance to win in the name of cleaning up the party.

The approach is in sharp variance with the course Rahul has been following. A similar script played out in the case of the party's Saharanpur candidate, Imran Masood. Despite his arrest on March 29 over remarks on Modi, Sonia is learnt to have conveyed, through Patel, to the Uttar Pradesh unit that Rahul's rally in Saharanpur the same day would not be cancelled. The arrest had created a sympathy wave for Masood. Saharanpur is a seat with a 42 per cent Muslim population and this could affect the Muslim votes in nearby constituencies. Around 4 p.m. on the day of Masood's arrest, Rahul appeared in Saharanpur with Masood's wife on stage. Defending the candidate, Rahul said Masood had made the comment while he was in Samajwadi Party and it had nothing to do with the Congress. Party sources say Sonia's astuteness and reliance on local inputs turned the situation to Congress's favour.

Sonia Gandhi with Rahul and Priyanka at Rajiv Gandhi's 20th death anniversary
Congress leaders reveal that requests have been pouring in from party candidates for Sonia to campaign in their constituencies. She eventually launched the campaign from Delhi on March 30. "She has always been on the mark with her message while Rahul tends to get conceptual or talk of things from a larger perspective. Both have their own distinct styles," says a general secretary, his words underlining the contrast in how the mother and son approach politics.

With time and support both running out for the grand old party, Priyanka too has stepped forward not just to help in the campaign but take full charge of the backroom operations after Rahul was projected as the party's face, sources close to her confirmed to india today. "The (Gandhi) family has no other option. Rahul can't be looking at all details. In less than a week, he will be holding meetings in different parts of the country. Someone he can completely trust and who can take decisions in his absence has to be in charge," says an associate. Yet, both the family and the party are wary of making the development public knowledge or sharingdetails about it. So Priyanka's meetings with key Congress leaders and agencies involved in the election-from campaign to strategy-take place at different locations but never at her home, 35 Lodhi Estate, or at the party office, 24 Akbar Road. "There are times when she reaches 12 Tughlaq Lane (Rahul's official residence) at 10 in the morning and holds meetings till midnight. She is determined to enhance the party's and her brother's chances in the elections. From the party's slogans to even the points that Rahul will raise in his address in different public meetings-she has the last word on everything," reveals a senior party leader Priyanka often interacts with.

If not at her brother's official residence, she holds meetings at Jawahar Bhawan on Rajendra Prasad Road in New Delhi that houses the Rajiv Gandhi Foundation (RGF) office, or 6 Mahadev Road-the convergence point for voters from the family pocket boroughs of Amethi and Rae Bareli to register their concerns in New Delhi.

Priyanka's calibrated interventions started after the 2012 Assembly elections debacle in Uttar Pradesh but were confined to Amethi and Rae Bareli constituencies. She resumed regular visits to the two Lok Sabha constituencies after the party's poor showing in the Assembly elections. In the last six months, she has completely overhauled the organisation at the local level, appointing office-bearers in Amethi and Rae Bareli after personally scrutinising and interviewing all block presidents and coordinators for the party.

But she has now stepped into a bigger role beyond the two constituencies. "She calls Congress chief ministers and PCC presidents of the states where Rahul is travelling to ensure that everything goes according to plan," reveals a Union minister. Rahul's trusted aide Kanishka Singh has been put in charge of arranging her meetings and calls with various leaders. Right from planning the strategy to executing it on the ground, Priyanka is involved in different stages of the Lok Sabha poll preparations while maintaining a low profile.

"If there is one person Rahul listens to the most, it is Priyanka," says an aide. Rahul's aggressive speech at the AICC session in Delhi on January 17 was also at Priyanka's insistence. The speech went back and forth between Priyanka, Rahul, Sonia, Ahmed Patel and Kanishka and almost 15 corrections were made in the first draft. Two days before the session, Rahul rehearsed the speech in front of Priyanka late in the night at 12, Tughlaq Lane. Priyanka advised him to be more dramatic and aggressive in his speech. From then on, she makes sure that Rahul gets the talking points for his speeches well in advance.

There have been instances when the Congress party's best-kept secret was nearly revealed. Like on January 7, when Priyanka chaired a meeting of senior party leaders at Rahul's house in his absence. Among those present were Patel, party General Secretaries Mistry, Janardan Dwivedi, Ajay Maken and Mohan Gopal of RGF. Sources say Rahul had delayed his return from Europe after some "senior party leaders expressed serious concerns" on his plan to bulldoze changes following the party's debacle in the December 8 Assembly elections. It was left to Priyanka, widely perceived to be more adept than her brother at the art of the possible, to crease out the differences between the seniors and the party vice-president. Yet, word about the meeting getting out caused tremendous concern and near panic within the party. "Her acceptability in the party is very high. If at this stage the news of her increased engagement in party affairs gets out, there could be a clamour for her. That will undermine Rahul," says a Congress leader and Union minister. Earlier, Dwivedi had vehemently denied being present at the meeting. When he learnt that TV cameras had captured him leaving 12, Tughlaq Lane after the meeting, he issued a statement saying: "Priyanka Gandhi is an active political worker of the Congress and she has been meeting workers for a long time. What is so surprising if she met party leaders?" Dwivedi's nuanced statement is the only admission of the elevation in Priyanka's stature within the party.

Younger leaders involved with the party's election strategy are more open about her involvement. "She is not a sanyasin," quips Jairam Ramesh, the party's chief election strategist, on being asked about Priyanka's new role "She has a sharp political mind and is an important source of ideas and inputs. Some of her ideas are accepted." Ramesh has been deeply involved in three Lok Sabha elections since 2004 as a key strategist and says that while Priyanka has always been engaged with the elections, this one is tougher than any other. "The challenges are greater this time. We are up against 10 years of anti-incumbency and an aggressive opponent," he says.

Having Priyanka by his side in a tough election has boosted Rahul's confidence. Besides clearing his speeches, the ad campaigns and publicity material, Priyanka also keeps a watch on the performance of spokespersons on TV debates. Her feedback includes a critique of not just their communication abilities but even of the way they dress and their body language. Recently, a spokesperson was debating on a prime-time TV news show wearing a T-shirt. Priyanka mentioned this to Kanishka and the feedback reached the communication department. Rahul's associates Kanishka, Kaushal Vidyarthee, Alankar Sawai and K.B. Byju don't report to her but they keep her in the loop on anything related to Rahul. Priyanka often calls one of them for updates and information. Sometimes she guides them on strategy. She talks and meets only those party leaders she needs to. She doesn't get involved in the day-to-day activities of the party unless it has something to do with the election campaign, sources say.

The reasons for Priyanka's emergence as a key election strategist and Rahul's image manager are not hard to miss. Apart from the challenges the elections pose for the Congress, the dynasty's own ability as a vote- catcher is under severe strain. Rahul's repeated failures in the electoral arena and his long absence from the scene had left party workers confused. While Sonia constantly ceded space to him, Rahul remained reluctant to fill the void. The Government's failures on several fronts only catalysed the party's decline. Sonia also continued to hold back the more charismatic Priyanka from stepping in to prevent her from overshadowing her brother. This even as there is a sense in the party that the changes Rahul promised have not only taken too long to take effect but also threaten to upset too many applecarts.But Priyanka's more inclusive style of functioning makes her a bridge between Rahul and those leaders for whom Rahul displays a lower level of tolerance. "The Congress president took too long to decide that Priyanka needed to be involved," says a leader considered close to the Gandhi family, suggesting it might be too late to salvage the party in this election but keeping the hope alive for the future.

The Assembly results were a wake-up call for the family. Till early last year, internal party surveys showed the Congress on a losing streak but seat projections for the Lok Sabha hovered around 150. An internal survey in January 2014 showed the number had shrunk to 75. While Rahul continued to harp on bringing in systemic change and revamping the party for the long haul, the results brought the awakening that arresting the party's decline would have to be the immediate task. With Sonia and Priyanka stepping in rather belatedly, the moot point is how much damage can the family control. The party is up against not only a decade of anti-incumbency, it is also battling low morale within. If Rahul succeeds, he will bring in a new order that many fear will have no place for them.