Meals on wheels
Mangalore Today News Network
By Prashanth Nayak
Mangaluru, Nov 29, 2014: May it be the"Shatabdi" or Rajadhani express train, you always get service with a smile by the staff. Rajdhani express which runs from Hazrath Nizamuddin to Trivandrum covers a distance of 3149 kilometres in just 42 hours is considered to be the longest travelling distance by any train of its class. Every passenger will be greeted with a packaged drinking water bottle, a copy of "Rail Bandhu" the onboard railway magazine provided for onboard reading. Laundry provided to every passenger includes a towel, two bed sheets, a pillow and a camel fur blanket for cozy sleep n comfort in fully air conditioned environment.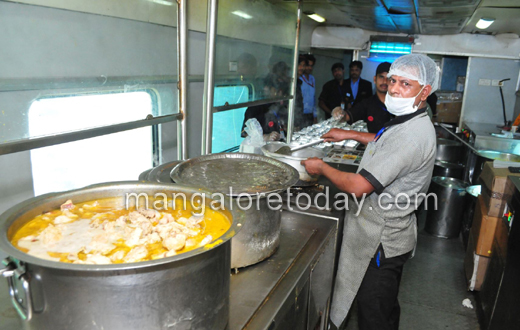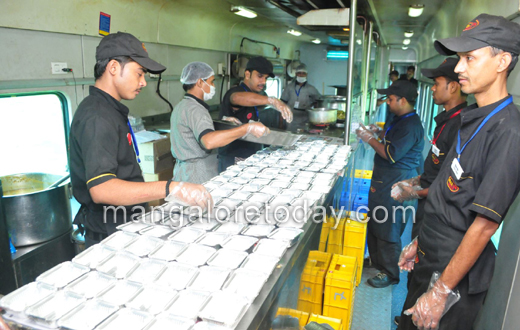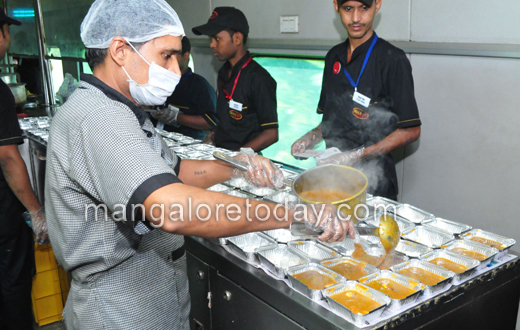 While the train stops only at a few selected stations during its travel, and passengers cannot alight from the train frequently for food and water, it becomes mandatory to serve food to the passengers on board regularly. While the food provided is selected and finalised with suggestions and inputs from dieticians, with precise weight and quantity, it is the task of food catering contractors to cook food for the entire train and pass it on to the on-board pantry at the pre selected stations.

While the passengers in the 1AC will be given a menu card where one can order their own choice of dish any time of the travel, the passengers in 2AC, and 3AC are provided with pre-selected diet during the travel.
Morning (bed tea) which arrives at 6.00 am includes, biscuits and coffee/tea. Tea bags are provided with hot water, sugar packed in pouches, and Skimmed milk power in pouches where the combination is decided by the passenger himself/ herself according to his / her choice. Tea is a highly demanded beverage, says the chief chef.

Morning breakfast at 8.30am includes Bread slices with Butter chiplet and Fruit jam in blister packs, Upma /kesaribath, Branded Fruit juice in tetra pack, Tea / coffee for vegetarian diet. In the Non-veg breakfast Omelette will be served in place of upma and kesaribath.

Lunch is served around 1.00pm and dinner is served around 9.00 pm.The dinner usually starts with a soup course,includes sweets or namkeens from reputed brand like "Bikanerwala" or the "Haldirams" along with a sip of piping hot tomato soup with bread sticks and butter chiplet.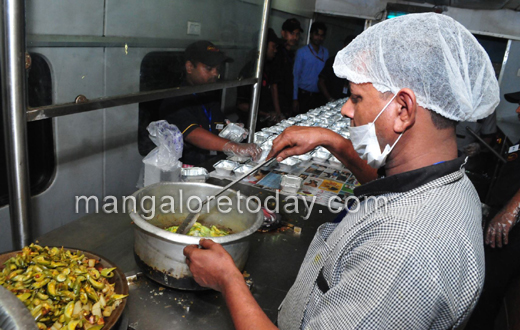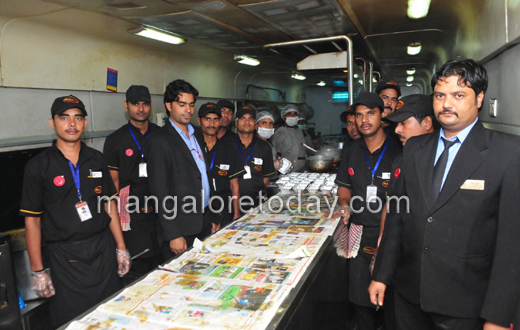 Menu for main course is picked up from a station and re-heated in the onboard pantry for serving hot. The main course includes oil based pickle in pouch, curds in heat sealed cups, Jeera rice / Pulao, Daal, Paneer / Veg Koftha, and chapathis.

Evening coffee is served around 5.00pm and apart from Tea/Coffee includes fruit drink in tetra pack, Samosa /Paneer pakora /Cheese Patties/Vegetable Patties pre-packed in butter paper bag, Cheese /vegetable sandwich triangle with tomato ketchup in sachet.

It's not an easy task to serve around 800 to 1000 passengers on board every time with the above mentioned menu. Waiters frequently take orders with individual choices regarding vegetarian or non vegetarian diet from every passenger and pass it over to the pantry manager who will be responsible for the procuring, packing and supply of all the ordered items. Generally the non veg - vegetarian orders will be roughly in a ratio of 60:40, say Pantry Managers Ankith Singh and Faisal Sohal.

Food for 1AC passengers are prepared onboard as per the orders, food for the rest passengers are hygienically packed and served at their respective seats. The packing process takes anywhere around 15-20 minutes for every item like Rice, and liquid items such as Daal and curries. The Chapathis are brought readymade from selected stations from contractors, packed in aluminium foil, and stored in heated chambers outside every compartment. Ice cream is stored in refrigerated chambers.

Once the purified Packaged Drinking water is provided while boarding the train, the next bottle of water will be provided 20 hours later. All passengers are given "Rail bandhu" the on board magazine of the Indian railways which covers the important tourist destinations, Festivals celebrated, and of course the way to reach there through the rail route. Columns on wild life experiences at Ranthambore, Sunderbans, Kaziranga, Nagarhole and others are regular in the magazine.Inputs and experiences from prominent wild life experts and authors like Valmik Thapar, and others is an eye catcher.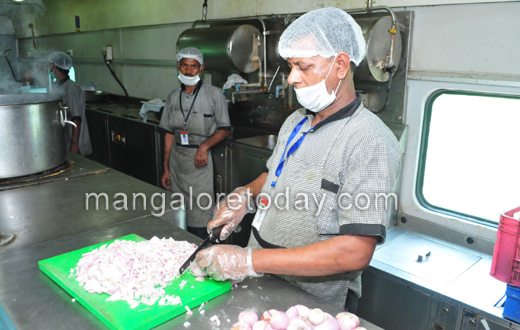 Woes of pantry staff: This write-up about Meals on Wheels cannot be complete without a mention of the pathetic working conditions of those men who toil throughout the day to cater to the food needs of the passengers. Every night one can see these men sleeping outside the stinking toilet by making their own beds using plastic bins in which they procure and supply food. The same place where these honest , hardworking, efficient and prompt guys sleep is used during the day time to prepare and pack food for everyone before it is served to the passengers.

Ultimately, a suggestion which these men would like to make to the railway minister is to convert the first section of eight berths into a cabin so that it can be used as preparation table during day time and later can be used by the waiters to sleep.

The pantry staff of Shatabdi and Rajadhani trains, work on temporary basis and are employed by the catering contractors. Without any option, they work round the clock but are paid only for eight hours of work by the contractor. "It is our bad luck that we have no other option but work here for those who depend on us no matter how we are treated. We serve meals on wheels with a smile hiding our sorrows and problems with a great hope that we'll see good days soon," they say sarcastically. Hoping that their wish comes true.

(Photos and Article: Prashanth Nayak)