I walked out of the broken plane, says Mangalore crash survivor
mangaloretoday.com / Blog | Pradeep Kotyan
Mangalore, March 13: Air India Express Flight 812 from Dubai to Mangalore crashed on May 22, 2010. Of the 160 passengers and crew on board, only eight survived. One of them was Pradeep G Kotyan, now 32, who used to work as a technical supervisor at a private company in Dubai. He now stays with his mother in Mangalore, and runs a real estate business.

I couldn't have been happier. I was about to fly to my hometown in Mangalore to attend my brother's wedding. I had been granted 15 days' leave.

At the Dubai airport, I struck up a conversation with one of my co-passengers, a friendly young fellow who was also from my hometown. Unhappy with his job, he was leaving Dubai for good.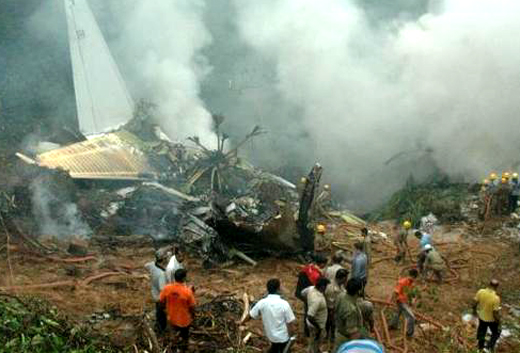 We got along quite well. So much, that after boarding, he requested the person sitting next to me, to exchange seats with him.

The flight was like any other - children moving around, a crying baby and so on - until 30 minutes before our arrival in Mangalore, when all of a sudden we felt as though the plane had dropped several feet. It was just for a moment, but a scary one.

Sometime later, when the announcement for landing was made, I fastened my seat belt, happy that I would meet my family soon.

But that happiness did not last long. Just as we landed, I knew something was wrong. The plane was moving way too fast for a landing. And then, all of a sudden, it started shaking violently.

The next thing I remember is hearing screams from every direction. Everything seemed out of control.

My seat had turned upside down. I couldn't see anything. There was smoke everywhere. It was really hot. My eyes were burning. There was a stench.

I somehow managed to get up, walk a bit, and luckily found an opening. The plane had broken.

I got out, and found myself in a jungle. There were a few others who managed to escape like me. But we could not save anyone. There was too much smoke.

Then, suddenly, there was a blast - the plane was burning really bad. Four years later, I still cannot believe it was for real.

At that time, I did not even realize how badly I was burnt - my forehead, my hair, my ears, my legs and hands were all burnt. I was almost naked.

I am grateful to the local people who took us to the hospital.

I just want to reach out to the relatives of the missing passengers of the Malaysia Airlines plane and tell them - you need to keep praying. You cannot do anything else. After all, nothing is in our hands.

I really hope they are alive and safe. I pray no one has to ever go through what we went through.

No one deserves it.

It is not easy to get over a plane crash. Planes fly over my house, reminding me daily. There is no getting away. I sometimes cannot even sleep. I can still see those children walking up and down the flight.

At the end of the day, I believe it was the good deeds of my father, who was a social worker, that saved my life, and I am grateful for that.