Doomappa Master
Mangalore Today News Network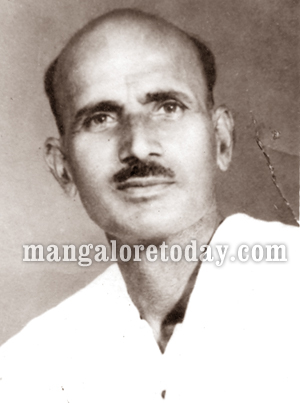 Mangalore, Jan 31, 2014: I frequently meet my elder sister, who is living in Manipal. Our casual chit chat usually ends up with discussion on members of our family, living and non-living. Non-living ones who had definite role in our lives are remembered the most. Our beloved Doomappa Master belonged to this category as he was considered a part of our family.
Our family's association with him started in the year 1950. He was my father's best friend. Their friendship perhaps started at the Ramakrishna Mission where they met daily. They would walk back home together. This daily routine resulted in intimate friendship. Our interaction with him regularly resulted in the creation of a family bond. This bond grew when he adorned the role of tuition teacher to the last four in the family. I was one among the four. He was more than a mere teacher. He was a well wisher, adviser, counselor. Being loving and good was his inherent nature. Gradually everyone in the family came closer to him. The bond that developed between his and our family has cherishable memories in it. We feel that he had a definite role in shaping our personalities.

He was a well known school teacher, scholar, poet with good heart. Why was he placed in such an intimate family circle? Was it because he was an ideal teacher who had no barriers between him and his pupils? Or was it because he was such a good person that accepting him as member of our family was an involuntary action. Answer to these questions is an affirmative yes.

I got finer details of his life, when I discussed about him with his daughters Smt. Jamuna and Smt. Jalaja who were teachers by profession.

He was recognized as one of the greats among the Billava community. He was born on 15-7-1908. His parents were farmers, and though not literate, wanted him to be a learned person. He lived up to their expectation. After studying up to 8th standard in St Thomas Elementary School at Bondanthila village he secured a teacher's job in the same school. The role played by a Christian priest is worth mentioning. The priest realized the talent possessed by his pupil Doomappa and encouraged him to be a teacher. Later, he served as teacher/head master in Mannagudda, Kapikad and Bockapatna schools. During his tenure in Ashoknagar School, he was instrumental in renaming the area as Ashoknagar. His style of teaching was unlike the usual type, in which the teacher would force his pupils to learn lessons by heart and make them recite it. He adopted methods like storytelling, poetry recitals, teaching through clay and paper models, dramatics and any other methods that would make his pupils more receptive to learning. He needed no readymade charts, pictures in the class room. He would draw them on the black board with extraordinary perfection. He resorted to having competitions in poetry recitals, storytelling, debates and model making.

His simple living and reserved nature was most respected. He would mingle with children and sometimes dance with them and make them feel at home. He was compassionate towards his students. He tried his best to help needy children. Apart from being an ideal teacher, he was a poet, artist, musician, doctor, attorney, actor and so on. Dramatics was his favourite activity. He not only wrote and directed the dramas; but acted in some of them. In a drama on the life of Sri Narayana Guru, which was written by him, he acted as Narayana Guru. He is remembered even now for these skills.

He wrote poems in Tulu and Kannada. Some of his Tulu creations are about Koti Chennayya and Agoli Manjanna legends. "Madirana Gade" was the most popular creation of Dhoomappa Master. His unpublished essays are "Ori Mage Shivanne," "Saleda Bhootha", " Matherla Barau Kalpodu". He wrote many inspiring poetries. In "Madirana Gade", he brought in gods, demigods, rain/harvest, pain/struggle, religious beliefs, self knowledge etc, which can be termed as an all-in-one panacea for understanding how to lead a good life. Another Tulu poetry "Girike Magal Giriayyamma Nattig Barod", went on to prove his creative writing skills.

His quest for knowledge was enormous. He learnt Hindi and passed in Hindi Exams of Hindi Prachar samithi. He also wrote examinations conducted by Kannada Sahitya Parishad.

For his contribution to Tulu literature, The Academy of General Education, Manipal awarded the title of "Tulu Vidvams" to him. Other organizations which recognized his Tulu literary talent were Urwa Friends Cultural Association, Tulu Koota Mangalore and Bangalore. Tulu Sahitya Academy has given him due recognition by publishing "Doomappa Master" booklet. His seventy five years of existence had been meaningful and one of inspiration to others. His life story is a model to be imbibed and followed by all sections of the society.
I would conclude by narrating an incidence relating to my eldest brother, to whom Doomappa Master was the closest and was his counselor and guide. Doomappa Master was admitted in Government Hospital on account of terminal illness which ended his life's sojourn on 18-5-1983. My brother would go to the hospital every evening and stand at the entrance of his room, unable to watch his Guru suffering but at the same time wanting to be with his Guru to share his oneness. The Master would say on his arrival "Here comes Ramu" and express his happiness. To both these souls it was an eternal meeting.
---
V. Shyamsundar Kamath
is a retired executive of Syndicate Bank