Bronto Sky Lift is here
Mangalore Today News Network
Photos & Report: Prashanth Nayak
Mangaluru, Feb 14, 2015: The arrival of the Bronto Sky Lift to the city recently has fulfilled one of the longstanding demands of the Fire and Safety Department in Mangaluru. Yes, the growing city with its increasing number of sky scrapers also necessitated the Fire and Safety Department to be equipped with the best and modern fire fighting equipment. One long drawn drawback is now a thing of past with the arrival of the Bronto Sky Lift which is positioned at the Pandeshwar Fire Station.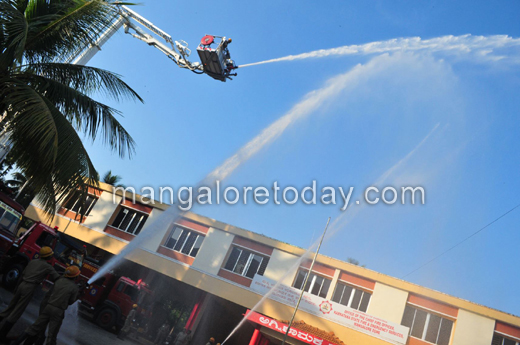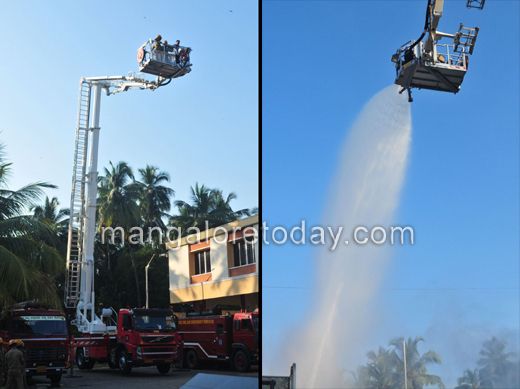 Built and maintained by "VOLVO", the Bronto Sky lift F32RLX is a completely a magic of computerized feather touch controls and hydraulics delivering highest degree of safety and endurance in safety and rescue operations. Capable of reaching 300 feet up in the air makes it easy to reach and rescue and evacuation in case of emergency situation up to 10 floors. Generally this Bronto Sky Lift is just a means to reach heights and to carry water and other rescue materials. This machine on its own is not equipped with tanks to carry water during rescue operations.

Once in place, the complete truck gets positioned over 4 hydraulic limbs with all tyres in the air about 6 inches from ground which makes it highly stable when reaching higher positions while also maintaining the centre of gravity. Other vehicles with water reservoirs are positioned besides. An operator table with wireless communications makes it convenient to control the lift and supply water from ground level in co-ordination with the operators. Choice of different sizes and shapes of nozzles make it possible to deliver water up to 20 meters in a straight line or a shower up to 10 meter radius. The same machine is also utilised to spray "foam" to extinguish fires originated from chemicals or highly inflammable materials.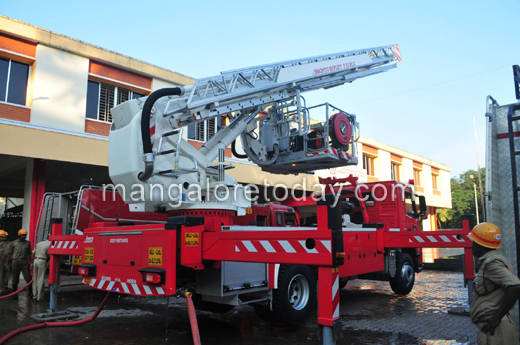 After Bengaluru and Hubballi, Mangaluru becomes the third city in Karnataka to be equipped with this Sky Lift. According to H.S Varadarajan said, Chief Fire Officer, the Sky Lift has fulfilled a major demand of the department and has made it better equipped.

In addition to this, the department has new entries of two Bullet bikes with sirens, Wireless communications, and fire fighting equipment loaded at its rear. These bikes will prove handy in case of small household fires or minor casualties.