Youngest 'girl-surfers' hail from Puttur, feature in international documentary
Mangalore Today News Network
Mangaluru, Oct 18, 2015 : The youngest surfers from India Aneesha Nayak and Sinchana D Gowda, students of Sudana Residential School, Puttur will feature in the documentary by Doerthe Eickelberg, a journalist and surfer from Germany.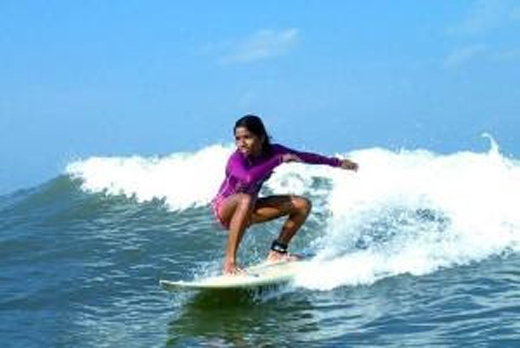 The high school students from our own town of Puttur are all set to depict the odds faced by Indian women surfers, educate more women to come forward and urge them to make a foray in the male-dominated sports through an international documentary, 'Chicks on Board'.

Young Aneesha told media that the docu is all about women surfers across the world. Four girls including Sinchana and me, a girl from Afghan and Indonesia will tell the world how difficult it is to be a surfer in these male 'stereotyped' countries.

Journo Doerthe gave a view on how the idea was born and his discouvery of of Aneesha and Sinchana, she said that it all happened in 2014 when she noticed the duo surfing at the Covelong Point Surf Classic. She talked to them about the obstacles while pursuing surfing. Sharing experiences, she was shocked learn about the mindset in Indian society towards women surfers. With a view to educate the world about these issues, she created a film on girl surfers across the world. The Afghan girl has to cover herself fully to surf and it is impossible.

The trailer of the documentary 'Chicks on Boards" is already out and the film is likely to be released by the year-end. The Indian part was shot at Covelong Beach between Chennai and Mahabalipuram.

Aneesha's mother Shaila Bhatka, a lecturer of English literature and also a swimming instructor, says Doerthe was impressed because the 13-year-olds had been into surfing for only six months and yet had won the second and third places at the Covelong Point Surf Classic 2014. Abroad, most expert surfers are aged about 25 and usually hail from sea towns where they can practice regularly. Aneesha and Sinchana received their initial training in surfing in a swimming pool. Every weekend they travelled to Mulki, Panambur, Kaup and other beaches to practice...all these places are at least 80 km away. Sea waves India aren't as rough as those in other coasts.

Youngest Indian surfers : Aneesha and Sinchana are the youngest Indians to have represented India at the Asian Surfing Championship which had 20 other surfers, 16 men and 4 women. The girls said it was an honour to be the youngest surfers to represent the country.

Financial strain : The young surfers are now knocking at the doors of sponsors to achieve their dream, a good bit of funding is needed. They need further training and wish to move abroad for surfing in seas that have powerful waves. "Only sponsorships can make our children's dream come true. We urge people to come forward," urged Meenakshi D Gowda and T D Gowda, Sinchana's parents.

Write Comment
|

E-Mail
|
Facebook
|

Twitter
|

Print