Yogi accuses state Govt. of collusion with Jihadis
Mangalore Today News Network
Mangaluru, Mar 07, 2018: Speaking at the valedictory programme of the 'Jana Suraksha Yatre' organised by the BJP at Nehru Maidan on March 6, Tuesday Uttar Pradesh chief minister Yogi Adityanath said that Karnataka government is hand in-hand with Jihadi elements and the state has become a haven for anti-national forces. Adityanath started his speech by saying "Mangalurina Nanna Bandhugalige Namaskaragalu".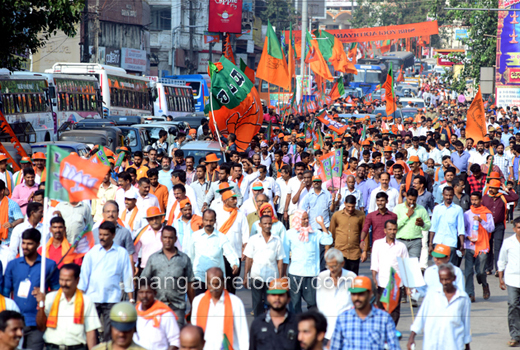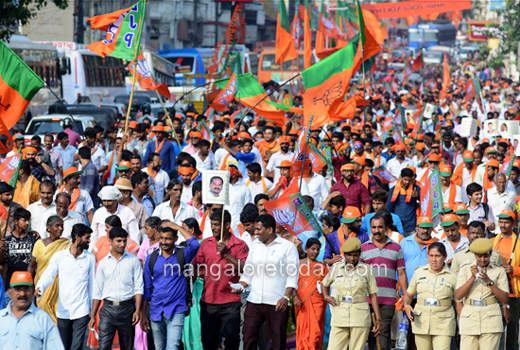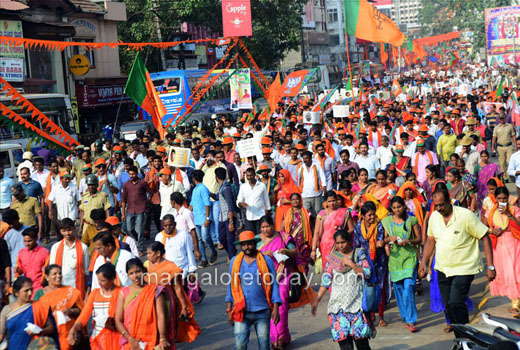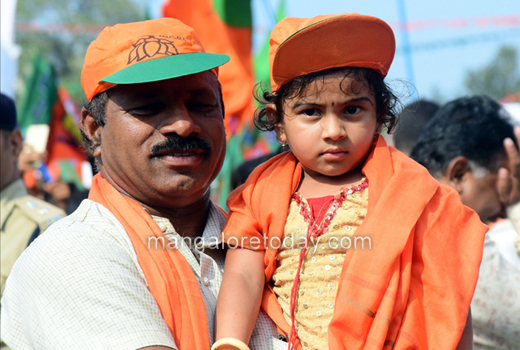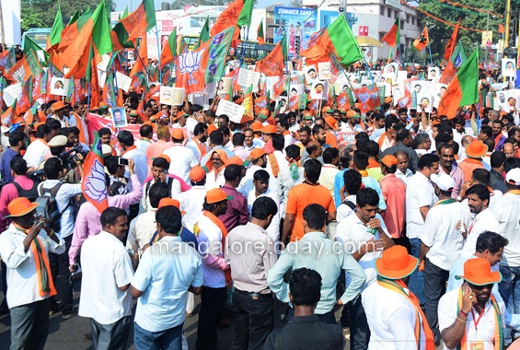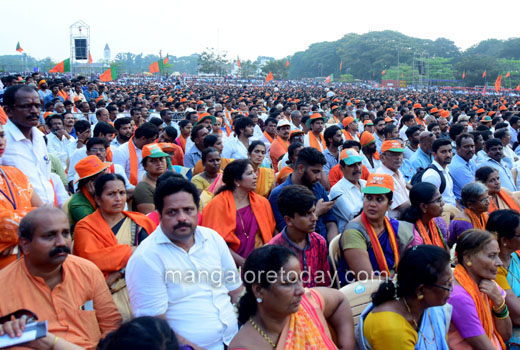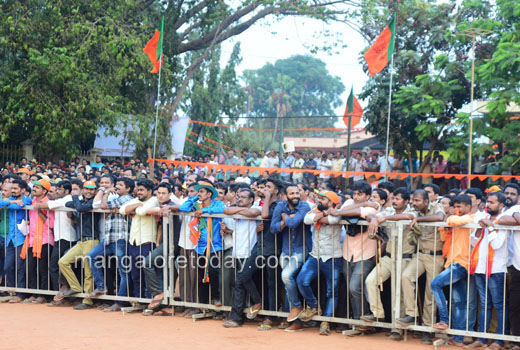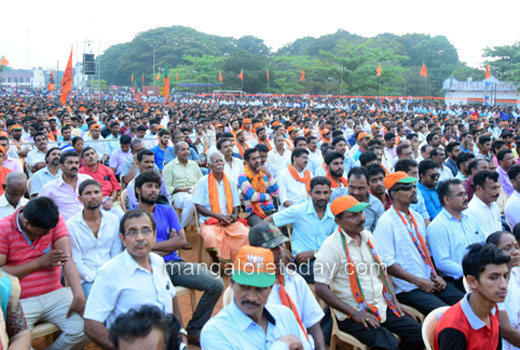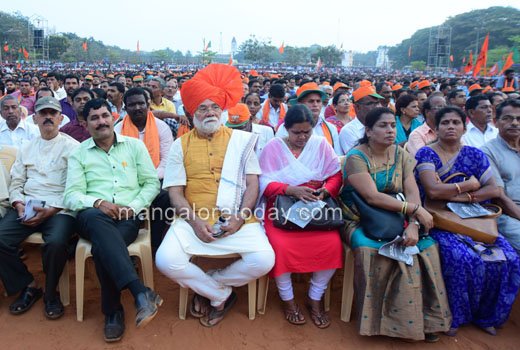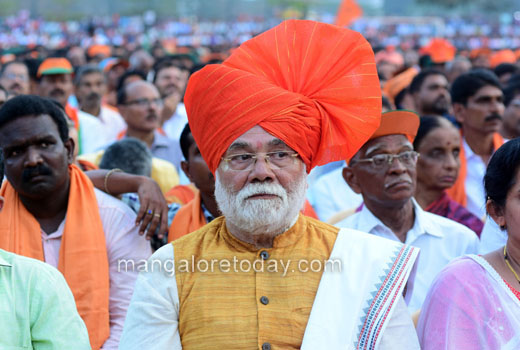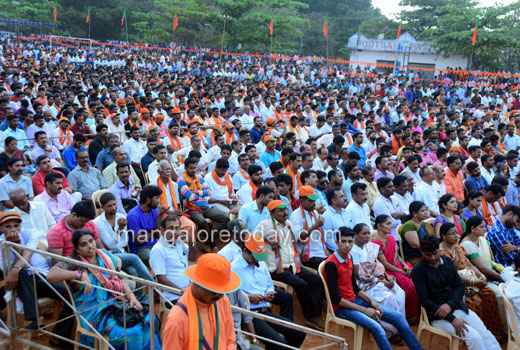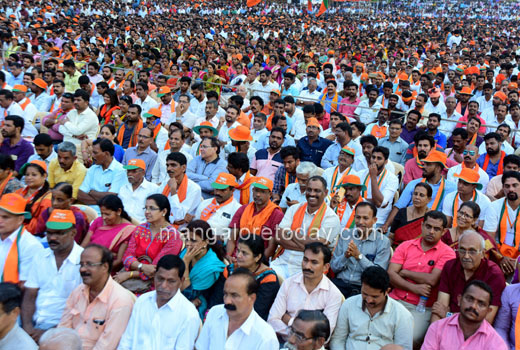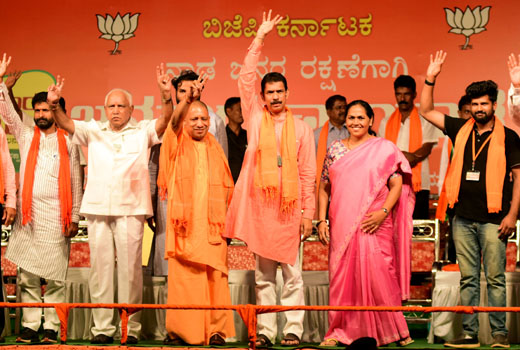 The Yogi added that a BJP government alone can provide feeling of security among people, by curbing anti-national forces. The Congress government encouraged such forces by withdrawing the cases against the activists of KFD and PFI. As a result, the Hindu activists were butchered mercilessly.

Referring to Chief Minister Siddaramaiah's remarks on Uttar Pradesh governance, Adityanath said that Uttar Pradesh government has waived the loans of 86 lakh farmers without any aid from the Central government and by cutting down unnecessary expenditure. If UP government can do it, why not Karnataka government, he asked and said that honest officials and farmers have committed suicide in the state.

Welcome BJP govt : "The BJP has formed governments in Tripura, Nagaland and Meghalaya. The Congress' achievement in these states has been zero. If North East can bring BJP to power, why not Karnataka," Yogi asked and called upon the people to install BJP in power in the state to make a crime-free and corruption-free Karnataka a reality.

"During the UP elections, BJP took a vow to make the state corruption-free and crime-free and within 11 months of coming to power, the government has made a remarkable achievement by considerably bringing down the crime rate and the corruption rate. Uttar Pradesh has now become a favoured destination of investors and MoUs have been signed with the UP government, with an investment of Rs 4,70,000 crore coming into the state," he stated.

At the beginning of his speech, he recalled the connection of seer Gorakshanath of Gorakhpur with Kadali Yogeshwar Mutt and Manjunath Temple, Kadri. He also paid tribute to Goddess Mangaladevi and Goddess Kateel Durgaparameshwari.

Adityanath also honoured the family members of 24 Hindu activists who were murdered.

BJP state president Yeddyurappa said that the cases against Hindu activists will be withdrawn within 24 hours of BJP coming to power in the state. Also PFI, KDF and SDPI will be banned. The sacrifice of Hindu workers will not go waste.

Union Minister for Skill Development Anantkumar Hegde dared the chief minister to acquire Hindu mutts and temples. The 80% Hindus will not keep quiet if the Chief Minister acquires Hindu shrines, he said.

Kadali Yogeshwar Mutt Pontiff Nirmalanathji, MPs Shobha Karandlaje, Nalin Kumar Kateel, and Sriramulu, MLAs Sunil Kumar, Angara and C T Ravi, and BJP district president Sanjiv Mathandur were present.

CM responsible for Hindu activists' murder:

Kodagu-Chikkamagaluru MP Prathap Simha has called Chief Minister Siddaramaiah a 'murderer.'

"By withdrawing 175 cases against PFI, SDPI and KFD activists, Siddaramaiah has become responsible for the murder of Hindu activists in the state," said Simha.

Speaking at the valedictory of Jana Suraksha Yatre at Nehru Maidan on Tuesday, he said, "The lineage of Tipu Sultan and Afzal Khan is increasing in the state. If we fail to wake up, we will face the same fate as Kashmiri Pandits in Jammu and Kashmir."

Stating that encounters are taking place in Uttar Pradesh, he said the accused are scared to come out of prison on bail in UP. Unfortunately in Karnataka the accused are taken out in a procession.

"During the Tripura election results were being declared, Congress president Rahul Gandhi remembered his grandmother and went to Italy. He should come to Karnataka. We will send him to Italy and Siddaramaiah home," he said.

Former CM Jagadish Shettar said, "Karnataka tops the states in corruption and crime. The development works are highlighted only through advertisements. No development work has been initiated in the state. The time has come to remove the Congress-led government. Siddaramaiah will be the last Congress CM in Karnataka." He added, "Prof M M Kalburgi and journalist Gauri Lankesh were murdered, but the accused have not been arrested yet. Mohammed Nalapad Haris, son of MLA Haris and associates of MLA Somshekar are displaying goonda culture."

Jana Suraksha Yatre padayatre : The padayatre held as a part of Jana Suraksha Yatre from Ambedkar Circle in Mangaluru was inaugurated by former chief minister Jagadish Shettar. MPs Shobha Karandlaje and Prathap Simha, MLAs C T Ravi and Sunil Kumar and others offered floral tribute to the portraits of Hindu activists who were murdered in the recent past.

A digital board with messages that, owing to the anti-Hindu policy of Chief Minister Siddaramaiah, Hindu activists were killed in the state was put up. It also said that the government has been engaged in appeasing Muslim community members and supporting fundamentalist organisations like PFI and SDPI.

The BJP workers carried portraits of Prashanth Poojary, Sharath Madiwala, Paresh Mesta, Kuttappa and placards, highlighting the anti-Hindu policy of the government. Nasik Band and Kalladka dolls were added attractions to the padayatre. The police had tightened the security to ensure that no untoward incident occured during the yatre.

Write Comment
|

E-Mail
|
Facebook
|

Twitter
|

Print