Yet again coastal region in the lead in PU 2 exam results
Mangalore Today News Network
Mangaluru, May 11,2017: Priliminary reports yet again indicate that coastal districts of Udupi and Dakshina Kannada have taken the lead in performing well in the II pre-university examination, results were announced on May 11. While Udupi (90.01%) topped this year, Dakshina Kannada (89.92%) and Uttara Kannada (71.99%) ranked second and fourth respectively. Kodagu occupied the third slot.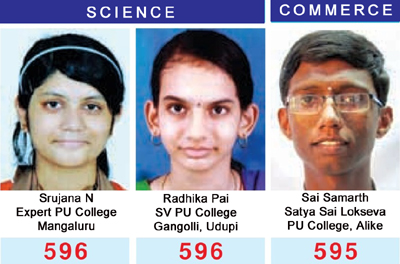 Srujana N of Expert PU College, Mangaluru and Radhika Pai of SV PU College, Udupi both topped the science stream securing 596/600 marks each, Shrinidhi P G of RNS Comp College, Bangalore topped the commerce stream securing 595/600 while B Chaitra of INDU PU College, Bellary from the Arts stream stood first securing 589/600. Last year, Dakshina Kannada stood first (90.48%) followed by Udupi (90.35%); Uttara Kannada was ranked fourth (76.44%).
Principal of the Government PU College, Gurupura, who worked in several government colleges in the coastal region for over two decades, said the primary reason for the good performance has been the uniformity in teaching and training of students. The other reason, he said, was the presence of more number of institutions providing professional courses.

Deputy Director of PU Education, said as in the past this year too all lecturers in PU colleges in Dakshina Kannnada and other districts in the Mysuru division were given an orientation in teaching. Slow learners, students from Scheduled Castes, Scheduled Tribes and minority communities underwent an elaborate preparatory exercise in the last few weeks before the examination.

A lecturer from a government PU college said performance of students in government colleges in the region continued to be good even though they did not have permanent lecturers and principals.

Tribal youth take first honours in family: It is note worthy that Mohandas Gouda and Devananda Gouda, who belong to Kudubi tribe (which comes under the Scheduled Tribes category), have both scored 519 out of 600 in the Science stream of II PU. They are among the first generation of literates in their family.

Devananda, 17, aspires to become a lecturer, while his classmate Mohandas wants to become an engineer and support his family. Both of them studied at the Government PU College in Gurupura. Devananda's father, Krishna Gouda, works as a labourer while his mother, Kusuma, earns a living by rolling beedis. "I want to pursue degree and master's in science and then become a lecturer," he said.

As for Mohandas, he is one of the five children of agriculturist Narayana Gouda and homemaker Bhavani. "It was tough for us in the first year. But with support of our lecturers and good reading material, we could do well this year," Mohandas said, and added that they did not feel the need of extra coaching for II PU. May they do well in times to come after their historic suffrings.


Alva's PU College students shine in II PUC exams

Moodbidri: Priliminary reports say that 5 students from Alva's PU College, Moodbidri (two from Science and three from Commerce), have been placed in the Top 10 in second PUC examination results announced on May 11, Thursday.

Mahagundayya Vastrad and Niharika H R (594 marks - Science), Spandana (594 marks - Commerce), Anita Hegde and Swathi (593 marks - Commerce) are the achievers, Alva's Education Foundation Chairman Dr M Mohan Alva said at a press conference in Moodbidri on Thursday. The college has secured 98.66% results, he added. Mahagundayya Vastrad, who has secured state-level third rank, he said that he is happy as he expected a rank within 10. He said he used to be attentive in the class and would utilise the study hours without fail. Apart from this, he took no external coaching.

A native of Bagalkot district, Vastrad thanked his lecturers for supporting him and his parents Basayya Vastrad, a clerical staff and Sangamma Vastrad, a homemaker. He aspires to be a doctor and is currently awaiting NEET results. Vastrad has shared the third rank with five others.

Niharika H R has shared the third rank (594 marks) in Science stream with Vastrad and four others. She had secured third rank in SSLC examination in 2015. Her father Rajesh H L and Savitha S V are into teaching. She is from Mandya and was selected under the adoption scheme at Alva's College. She added that classroom teaching was sufficient and no outside coaching was required. She said she prepared for around four hours in the hostel daily, apart from the study hours in the class. She said she is happy with the results though she expected 586 marks. She wants to pursue MBBS and later wants to be an IAS officer.

The college has secured another rank with Spandana securing second rank in Commerce (594 marks). She has shared the rank with two others. She is a native of Raichur. Her father D Vijaykumar is an entrepreneur and mother V Bharathi a homemaker. Being a hostellite at Alva's PU College, she studied for five hours daily. Spandana is currently preparing for CA entrance tests to be held in June.

Anita Hegde and Swathi have bagged the third rank in Commerce with 593 marks. Meanwhile, Utphala Shenoy from Poorna Prajna College, Udupi, who has scored 593 marks in Commerce steam (for 600 marks), said she is overwhelmed by the success and credited it to her teachers and parents.

She said it was a great journey. "I strictly committed myself for studies. But I did not follow any well-planned time table.I studied randomly. But I ensured that I learnt everything taught in the college on a daily basis. I spent hours together on preparations only during exams," she said. She is also into vocals and violin at senior level. "It helped me to concentrate a lot on studies," she added.

Utphala said interest is the main component of success. Her elder sister is pursuing MTech. Her father K Umesh Shenoy is a chief manager in Syndicate Bank, Delhi and mother Aruna is a homemaker. Utphala plans to pursue CA.

Raksha N K of the same college, who has scored 592 in Commerce stream, said she utilised her study holidays to the maximum. "I did not study everyday. I concentrated a lot when teachers taught in the class. I want to do CA. as I admire the profession," she said. She hails from Kodagu.

Variation in other districts: Some districts have made a huge change, terms of pass percentage. Koppal's ranking has improved from 26 last year to 16 this time. The pass percentage of Belagavi and Vijayapura has dipped drastically. Belagavi, with a pass percentage of 44.25 has bagged the 28th spot, while its last year's ranking was 16. The ranking of Vijayapura has fallen from 19 last year to 29, with the district registering 43% passes this year.

Write Comment
|

E-Mail
|
Facebook
|

Twitter
|

Print