Women and graduates most affected by unemployment: Survey
Mangalore Today News Network
Delhi, Jun 18, 2019 : Data from the recently released Periodic Labour Force Survey Report has shown that employment has become inversely proportional to education with a higher level of education implying lower employability. As per the survey report, while the unemployment levels among illiterate rural and urban population is 1.7 percent and 2.1 percent, respectively, among rural and urban males with education above secondary level, the rate is a much higher 10.5 percent and 9.2 percent, respectively, Yahoo reported.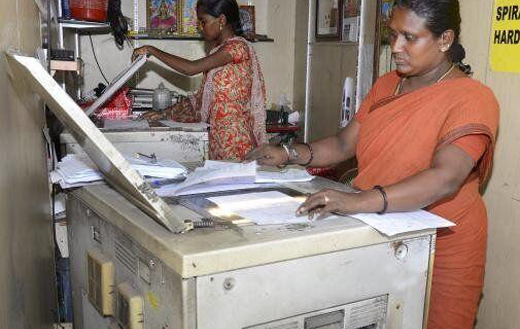 A Kotak Institutional Equities report, citing data from the survey, added, "Unemployment rate is highest among youth with education until diploma (37 per cent), graduate (36 per cent) and post graduate and above (36 per cent), suggesting the lack of opportunities for a higher skilled workforce'. This is a major source of concern given that half of the country's 1.3 billion people are below the age of 25.

As per the National Sample Survey Office (NSSO) job survey for 2017-18, unemployment has reached a 45 year high of 6 percent. Unemployment was also higher in urban areas (7.8 per cent) when compared with the rural areas (5.3 percent). The data also showed that unemployment rates increased sharply among educated youth aged 15-29 years, at 17.8 percent for the whole of India. Further, in the urban areas nearly 27 percent of women and nearly 19 percent of men in 15-29 age group were looking for work. Rural areas, however, fared better with 14 percent for women and 17 percent for men.

Corresponding with the increasing unemployment rate is the falling of labour participation rate (proportion of working class people that is either employed or actively seeking a job.)

The report also reveals that labour is moving from being agriculture based to being service sector based, with a decline of 12 percentage points from 67 per cent to 55 per cent, between 2005 and 2018. At the same time, there was a spike in the manufacturing sector from 15 per cent to 23 per cent. Rural male employment has increased in the tertiary sector by 4 percentage points from 18 per cent to 22 per cent. The main reason for this, states the Kotak report, could be possibly due to better opportunities in non-agriculture areas in rural India given the easier availability of credit and improved rural infrastructure.

A widening gender gap

The PLFS also showed deep gender biases in India's employment rate with a increasingly masculine workforce. As per the report, only nine other countries have a lower proportion of women in the workforce, and this includes countries such as Yemen, Syria, Iran, Somalia and Egypt.

The percentage of working women has declined drastically since 2004-5 from 41.6 per cent to 22 per cent. In the past six years alone, 13 million women have exited the workforce. A major reason for this drop is the number of women exiting the workforce for domestic and personal reasons. In India, the burden of unpaid work falls on women, and as per a report by the Organisation for Economic Co-operation and Development (OECD), women spend as much as 352 minutes per day on unpaid work – as opposed to men who spend only 52 minutes – amongst the least.

In addition, in a country where the task of rearing children falls primarily on women, marriage, motherhood and lack of opportunities become some of the primary reasons why, as per data from the International Labour Organisation, more women are leaving the workforce in India.

Further, among the women who do go out to work, gender inequality in pay is strikingly high. While among the salary earners, women's monthly earnings are 34 percent less than men in rural areas and 20 per cent less in urban areas, among those in the self-employed sector, the difference is starker – at 50 percent in rural areas and 60 percent less in urban areas. In the self employment category, the bulk of the employment comes in the personal and services sector where women go out to work as maids, ayahs, housekeepers, sanitation workers, among others. This amounts to 44 per cent in urban areas and 9 per cent in rural areas.

Released by the Ministry of Statistics and Program Implementation (MoSPI), the assessment was conducted by the National Sample Survey Office between July 2017 and June 2018, with the results being withheld by the poll-bound government. This had then led to the resignation of two members of the National Statistical Commission P.C. Mohanan and JV Meenakshi.


Write Comment
|

E-Mail
|
Facebook
|

Twitter
|

Print