With monsoons coming, Western Ghats roads given a better look
Mangalore Today News Network
Mangaluru, May 09, 2017: Reports indicate that the ghat roads connecting coastal Karnataka with Bangalore, Agumbe Ghat and Shiradi Ghat, have got a new look that seems to offer hassle-free travel during the impending monsoon.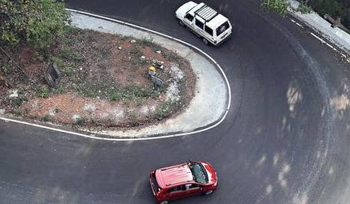 The Agumbe Ghat, did get a concrete topping a couple of years ago in the stretch in Shivamogga district, had been in a shambles with the perennial water springs damaging the road surface during the monsoon. With driving on this 3-km stretch becoming arduous, the Public Works Department (PWD) decided to give a facelift to the stretch.

The road was completely closed for traffic for a month from January 1 to January 31 this year. According to PWD Shivamogga Circle's Superintending Engineer B.S. Balakrishna, the department spent Rs. 3.92 crore to lay a fresh bitumen surface on the stretch.

Bitumen was laid on the concrete surface itself while concrete was removed where the surface had got completely deteriorated, Mr. Balakrishna told The Hindu . The department also widened the road wherever permissible and restored the shoulder drains so that rainwater did not damage the road surface, he said.

Though the proposal was to lay fresh concrete surface, the department opted for bitumen as the road would be widened as part of an upgrade into a National Highway. The department has improved road surfaces at Balebare (Hulikal). Also, Kollur (Kodachadri) Ghat has been readied for the monsoon, he added.

At the same time, the National Highways Division of PWD, Mangaluru, got the potholes and craters on the 13-km stretch of Shiradi Ghat — a vital stretch connecting Mangaluru and Hassan and Bengaluru — from Gundya to Kempu Hole Guest House filled. The work should last till after the monsoon, said Executive Engineer M.O. Ramesh.

The PWD had to cancel the tender for concreting the stretch this January as the contractor did not commence work even 13 months after getting the work order. As the department did not repair the battered stretch of the ghat road expecting commencement of concreting work, the road had been in a shambles thereby becoming a nightmare for drivers, particularly of small vehicles.

The department has improved the surface of Charmadi Ghat, another vital link between the coast and state capital. Sharp inner and outer curves have been softened to facilitate negotiation by heavier vehicles too.

Write Comment
|

E-Mail
|
Facebook
|

Twitter
|

Print