Widespread violence on Hartal day against women's entry in Sabarimala
mangaloretoday network
Kasargod, Kerala,Jan 03, 2019: Stone pelting, lathi charge, tear gas shelling, molotov cocktails… Kerala saw widespread violence on Thursday across several districts, as the Sabarimala Karma Samithi called for a dawn to dusk hartal protesting the entry of two women into the temple on Wednesday. Shops were shut across the state – some voluntarily and others forcefully. Groups including CPI, CPI (M), SNDP, BJP, DYFI, Sabarimala Karma Samithi etc clashed in several parts of the state.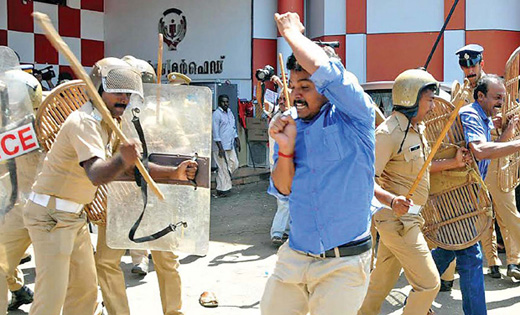 In Kasaragod, former councillor and BJP member Ganesh Parakata was stabbed when he was on a bike. In Thrissur, the SNDP threw stones when members of the BJP reached the location, and violence ensued. In the clashes, three BJP measures — Sujith, Sreejith and Rathish — were stabbed in Ganeshamangalam, and have been admitted to Thrissur Ashwini Hospital.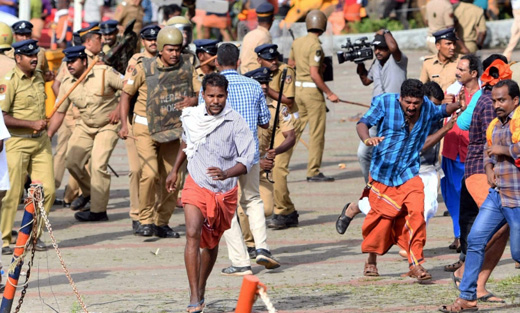 Kerala has been consistently making news on women's entry into the temple. Tension intensified further when on Wednesday, Kerala woke up to the news of two women under the age of 50 having entered Sabarimala and offered prayers. Registering its protest, Sabarimala Karma Samithi had called for a state-wide hartal against the women's entry into the temple on Thursday. While the hartal started out peacefully, as the day progressed, there were several incidents of violent clashes, stone pelting and vandalism across the state.

Several people were injured in the attacks, including the Palakkad Superintendent of Police Pathanamthitta Harishankar. Police personnel tried to prevent and disperse DYFI, BJP, SNDP, CPI(M) and Sabarimala Karma Samithi members who were clashing in various places in Kerala.

Palakkad district saw widespread protests. DYFI and CPI (M) members clashed with BJP and Sabarimala Karma Samithi in front of the Government Victoria College Hostel. Members of Samithi were walking on the road to the College when CPI (M) and DYFI workers who were in the CPI(M) office, started throwing stones at them. After massive stone pelting which continued for several hours, the police was unable to bring the violence under control. Tear gas was used to disperse the crowds.

During the melee, some of the protesters had entered Government Victoria College where more stone pelting took place. Police and protesters continued to clash, both inside and outside the college. Meanwhile, some of the protesters separated from these groups and went to the CPI office, and vandalised it.

CPI and CPI(M) offices in various districts have come under attack in the state. There have been several stone pelting incidents around the party offices, and martyr statues of the two parties have also been destroyed in these attacks.

Twelve journalists have been also been injured in in the violence in the state, allegedly by BJP workers. Scores of journalists were attacked and cameras were vandalised while they were covering the protest by the hartal supporters. The attacks happened in Thiruvananthapuram, Thrissur, Palakkad and Kozhikode.

Write Comment
|

E-Mail
|
Facebook
|

Twitter
|

Print