Who will win 2019 elections as per astrology? Congress has more chances!
mangaloretoday network
Jalandhar, May 09: In the 2019 election, Congress / UPA has more chances to come to power according to Harsh Mehta, an Astrologer from Jalandhar.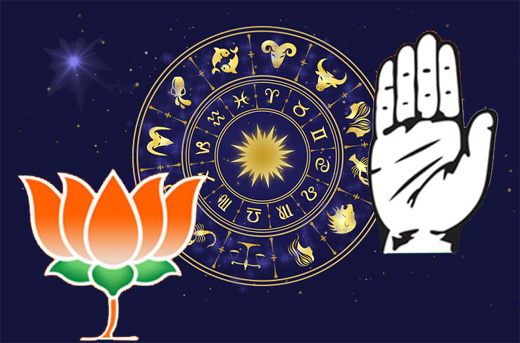 According to him, Congress plus at no.1, BJP at no.2, Gathbandan at no.3. However no.1 and 2 shall have negligible difference. As per Indian astrology The lagna of Congress is 12. The venus at present is in no.12 _meen rashi which is uchh rashi. The 10th lord of Congress is dhanu rashi no 9 The Saturn king of year is in dhanu rashi in transit and thus shani is in 10th house which is justice house. Shani is in good state for Congress. Sun uptil 15 may is in mesh rashi and it will go in Taurus and on day of result the minister of year sun will be in third house. Which is good position for success.

The lord of lagna Jupiter is in vrishchik rashi in transit which means 9th house. So Jupiter the lord of lagna is in bhagya sthan. Even Jupiter in 9th house looks at lagna which makes lagna more powerful. So when head, 10 th lord, 9th house, Saturn, sun and venus are strong for Congress it will give very good results.

For BJP the lagna is no.3 . The tenth lord no.12 which is Jupiter is now in 6th house in transit. The sadhus and sants and religious dera votes will not come in its favour. The lagna lord Gemini is now in 11th house in transit. It remained in neech rashi for 4 charans of votes. Mercury in neech rashi uptil 4 may 2019 had been in fall.

So there is every possibility that the voter who was impressed by BJP changed his mind at last moment while reaching near EVM because EVM is rahu and budh. Rahu is at present in Gemini and rahu has to go as per mercury. From 5th charan ,the mercury and rahu are in good position to benefit the party. Saturn which is the lord of 8th and 9th house is in 7th house in transit. 7th Saturn creates difference of opinion interse the family. So the BJP leaders who left the party or who are otherwise annoyed will create dent in party. Sun is in 11 th house of transit which gives favour from government officials and as a result majority government employees vote will go in favour of BJP. For 6th and 7th charan voting the sun will be in 12 th house.

Some decisions from government servants will create confusion in mind of voters and in these 2 charans, there will be fall in voting share from government employees. The venus is now in 12 th house and majority of women will try to support. Equally venus is in house of Saturn because 10th house is house of Saturn. The leader of the party if will speak against women or annoy women, not only the venus but also Saturn will give negative effect. It must be kept into mind that this year king is Saturn. Still it is the time for BJP to win the game in last two charans by not using any derogatory words against the women or not to hurt the women, failing which the results will be that there will be tremendous decrease in voting share.

"So net result is that astrologically Congress is in better position. It is mere prediction and not with any intention to promote any party" says the Astrologer.

Harsh Mehta- Jalandharharshmehta0469@gmail.com

Write Comment
|

E-Mail
|
Facebook
|

Twitter
|

Print