White arecanut prices go up to Rs. 255 per kg
Mangalore Today News Network
Mangaluru, March 02, 2015: Prices of white arecanut, harvested during 2014-15, has gone up by 63 per cent compared to the prices during the corresponding period last season.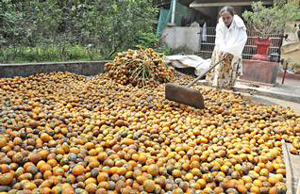 White arecanut harvested, from November to March and released to the market immediately, is called 'hosa adike' (fresh arrival) and it currently fetches Rs. 255 per kg compared to the Rs. 156 per kg during last season.

Ramesh Kainthaje, an areca nut grower and observer of the arecanut market, said that the prices of 'hosa adike' posted a 27 per cent jump within the last two months. Market trends indicate that prices are likely to go up , he added.

Sources in the Central Arecanut and Cocoa Marketing and Processing Cooperative Ltd. said that farmers in Sirsi (Uttara Kannada) and Sagar (Shivamogga) areas did not have white arecanut this year. Instead they went for red arecanut.

Hence there is a shortage of white arecanut in the market which is pushing the demand up. In addition, there was shortage of old stocks of white arecanut which has also resulted in the escalation in prices.

Old stocks command Rs. 315 per kg in the market and currently bulk purchasers prefer fresh arrivals which cost about Rs. 60 less per kg.

Last year, the prices of 'hosa adike' reached a peak of about Rs. 315 per kg in July, 2014. It dropped to Rs. 230 per kg and it has picked up since December, 2014. Now growers are hoping that 'hosa adike" prices might reach Rs. 300 per kg before July, Mr. Kainthaje said.

When tender arecanut is harvested, immersed in natural colours from the peels of tender arecanut and dried, it becomes red areca nut. If the tender arecanut is allowed to mature and then harvested, it becomes white arecanut.

Mr. Kainthaje, who was also a member of the G.V. Joshi Committee on Production Cost of Arecanut, said that white arecanut prices have been maintaining an upward trend for the past four years. 'Hosa adike' prices stood between Rs. 65 to Rs. 70 per kg in the beginning of 2011, he said.
Courtesy: The hindu


Write Comment
|

E-Mail
|
Facebook
|

Twitter
|

Print