What is happening in Nirbhaya case?: Justice Santhosh Hegde
mangaloretoday.com/yahoo
Bengaluru, Jan 25, 2020: Every loophole in the system has been used by the killers in the Nirbhaya case to delay their execution.

This prompted the Centre to move the Supreme Court for fixing a seven-day deadline for executing the death penalty of condemned prisoners. The plea of the Ministry of Home Affairs (MHA) assumes significance in view of the death row convicts in the sensational Nirbhaya gangrape and murder case of 2012 filing review, curative and mercy petitions, which has delayed their hanging.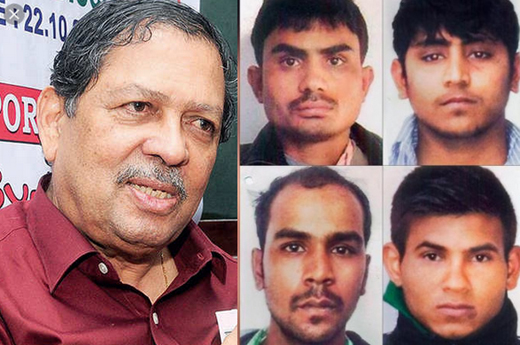 Former judge of the Supreme Court, Justice Santhosh Hegde feels that this a mockery of the system. There is a Supreme Court judgment, which says that delaying the punishment itself is a ground for reduction of sentence. This is why we see multiple petitions being filed clearly with an intention of delaying the execution, Justice Hegde tells OneIndia.

He also says that he is surprised that the courts are entertaining the petitions and passing orders, withdrawing orders etc. I am however happy that the Supreme Court has now taken note of it and is looking into such matters.

Justice Hegde asks why should the system be mocked in such a manner. I am a proponent of the death sentence and one of the very few judges who reversed the order of life imprisonment to death.

Sessions judge who issued death warrants in Nirbhaya case transferred

It was a case in which a family was murdered in a brutal manner at UP over a property dispute. It was a brutal and well-planned murder. The trial court had awarded death sentence, but the High Court reduced it to life. When it came in appeal to the Supreme Court I struck down the High Court order while confirming the sentence awarded by the trial court, Justice Hegde says.

My question is why to talk about the rights of prisoners. Don't the victims and their families also have rights. What is happening is difficult to digest. I understand it must be a torture for those on the death row also to wait for the sentence, but then they are responsible for it, Justice Hegde also says.

Write Comment
|

E-Mail
|
Facebook
|

Twitter
|

Print