Wenlock blood bank unit out of service for months
Mangalore Today News Network
Mangaluru, Dec 02, 2015: Wenlock Hospital which more than a century and half old and treats patients from districts including Dakshina Kannada, Udupi, Uttara Kannada, Haveri, Gadag, Davangere, Shivamogga, Chikkamagaluru, Kodagu, Hassan, Shivamogga, and a few districts from Kerala, and is seen as a great hope for common people here.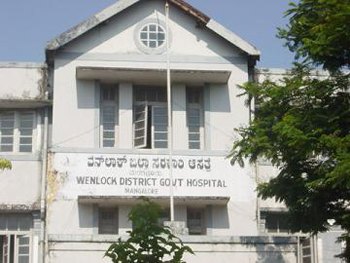 In 2015, at least 32,000 patients have received treatment as in-patients while more than one lakh patients have availed treatment from out-patient departments. However, the centrifuge (blood component separation unit) at the Blood Bank in the hospital has not been working for the last three months. As a result, the blood bank in the hospital is unable to supply the required quantity of packed cells, platelets and plasma among other components to the needy patients for the last three months. Lack of blood components one of the reasons for rise in number of mortality cases, says blood bank medical officer

While platelets are used to treat Dengue, Malaria and babies with low count of platelets, packed cells are used to treat patients suffering from anemia and those with excessive bleeding. Plasma is also used to treat burn patients, those suffering from renal failure and those suffering from Hepatitis B.

As the blood component separation unit is out of service here, the biggest hospital in the South Karnataka, doctors are trying their best to manage emergencies, but in vain.

When contacted, Wenlock Hospital Superintendent Dr H R Rajeshwari Devi said she has brought the same to the notice of authorities concerned, including Directorate of Health Department, National Health Mission as well as Health Minister U T Khader.

"As the equipment costs more than Rs 25 lakh, the department has asked us to check with all the hospitals and blood banks and if such equipment is lying idle anywhere, steps will be taken to locate the same to Wenlock," she said and added that she checked with all the hospital blood banks, and no such possibility was seen.

To a query on how the hospital is managing treatment as the hospital requires more than 1,200 to 1,500 units of blood every month on an average, she said that as of now, she has requested private hospitals to separate the blood components and provide the same and private hospitals have been co-operating.

Meanwhile, Wenlock Blood Bank Medical Officer Dr Sharath Kumar said lack of Centrifuge has been a cause for concern though the hospital has been organising 10 to 15 blood donation camps every month.

"It is unfortunate that we have to depend on private hospitals for blood components," he said and added that lack of blood components is also one of the reasons for rise in number of mortality cases in the district. Apparently, he was referring to the meeting on health mission chaired by DK Dc Adoor B Ibrahim on Dec1.

It may be noted that the deputy commissioner had directed the Health Department officials to find out reasons for the rise in number of mortality cases in the district. A total of 161 infants died in Dakshina Kannada district between April and October this year.

Besides, the regular blood donation camps being organised by Wenlock Hospital, the hospital also gets 25 per cent of the blood collected by all the 14 blood banks in the district, as it is mandatory for blood banks to give 25 per cent of blood collected during camps to the hospital. (Wenlock is the only hospital in the district authorised by KSAPS to permit any blood bank to conduct voluntary blood donation camps).

To add to the existing woes, the refrigerator in the Wenlock Blood Bank, that is used to store the collected blood, has also not serviceable since the last one month. The hospital has six lab technicians, including three appointed by the NACO.

But, here a question is to be posed are these facilities/equipment available in the Dist Red Cross Blood bank at the nearby Lady Goshen Hospital? What is the position in this blood bank to augment services?

Write Comment
|

E-Mail
|
Facebook
|

Twitter
|

Print