Week 32 of 'Shramadan for Swacchata' by RKM enthusiastic on July 14
Mangalore Today News Network
Mangaluru, July 15, 2019: Ramakrishna Mission (RKM) Swacchata Abhiyan's 32nd week was observed with great enthusiasm in spite of the messy conditions created by rains on Mission Street and Nellikai Road, July 14, Sunday. The shramadan was jointly launched by Smt. Reshma Mallya, General Manager, Campco Ltd and Sri Yogish Prabhu, Assistant Manager, Corporation Bank.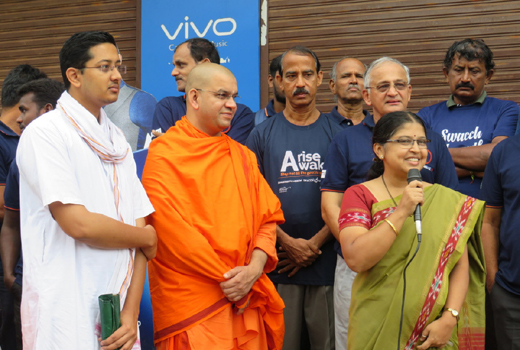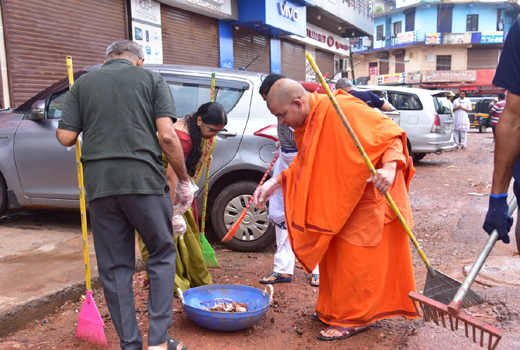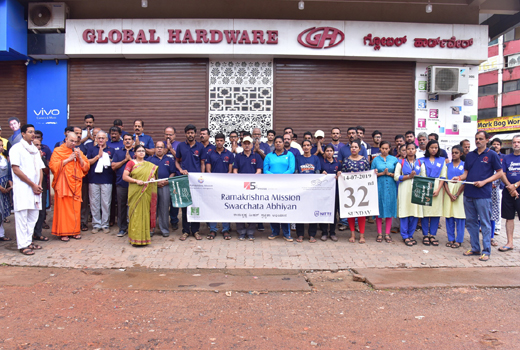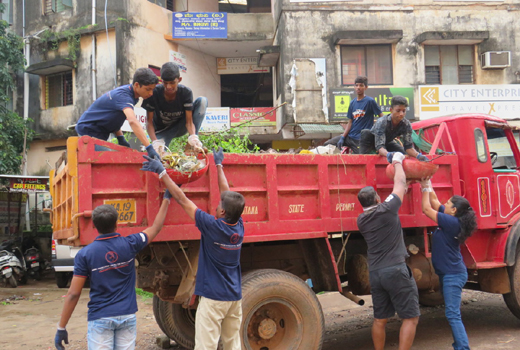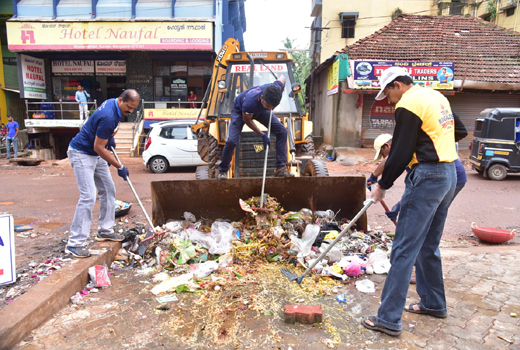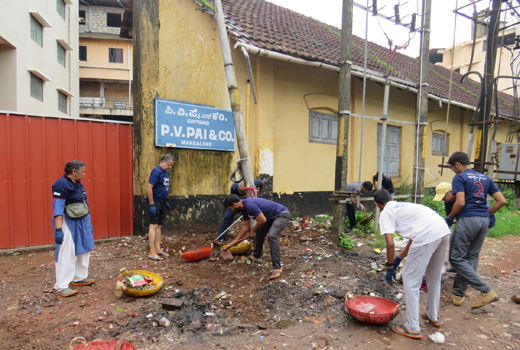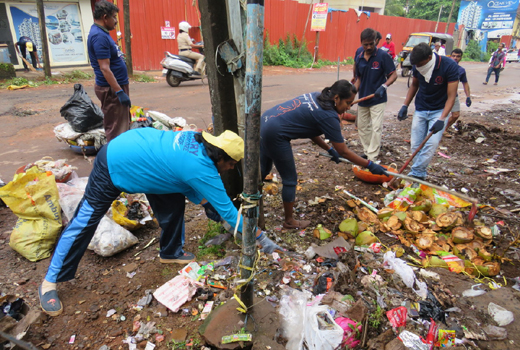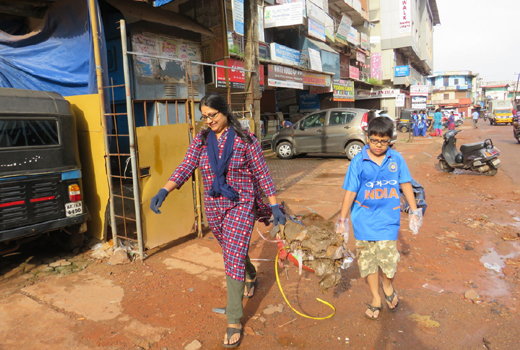 Mentors of the Abhiyan Captain Ganesh Karnik, Subhash Pai, Chief General Manager of MRPL, Subraya Nayak, Lathamani Rai, Dinesh Karkera, Sunanda Shivaram, Santosh Suvarna, Mohan Bhat, Umanath Kotekar and others spear headed the days efforts.

Sharing her thoughts on the occasion, Smt. Reshma Mallya said, "Discouragements have no place here, in spite of giving importance to cleanliness in the rich Indian culture and heritage since ancient times, we are not able to keep our surroundings clean. Though most of us keep our households clean we don't care about keeping our surroundings and public places clean. It's a welcome sign that slowly because of such Abhiyans as this, awareness is slowly coming. Today's children are more awakened than elders and we have seen several instances where children are preventing elders from littering in public places. Hence with the help of awareness programmes the future citizens will definitely be able to preserve cleanliness and nature by being more socially responsible."

Day's cleaning efforts : After flagging off, the volunteers were divided into 4 teams by Swami Ekagamyanandaji and were allotted works. First team led by Madhuchandra Adyanthaya cleaned the Mission Street and cleared an unclean spot there by removing heaps of rain soaked stinking garbage. Second team led by Sandeep Kodikal and Yogish Kayarthadka cleaned Nellikai Road and using JCB removed heaps of garbage from a corner in the road. The spot was levelled using good materials. Third team of volunteers under Aniruddh Nayak and Avinash Anchan cleaned a dirty black spot at the junction of Mission Street and Nellikai Road by removing garbage and construction debris. Fourth team of students of Sharada Vidyalaya led by Smt Saritha Shetty, Smt Shreeja Srikanth and Vidhatri, after Shramadan, visited houses and shops and urging them to keep the area clean and distributed awareness handbills with suggestions. Rest of the volunteers cleaned the nearby streets, footpaths and drains. Senior volunteers removed illegal hoardings, banners and posters making a serious contribution.

Team of Swacchata Yodhas: On July 14, volunteers cleared three filthy black spots on Nellikai Road and Mission Street and have provided decorative flower pots and made the spot aesthetic. As is regularly done, they will keep watch over the spots to motivate public from littering in the same spot. Jagan Kodikal, Sudhir Vamanjur and the team of Swachata Yodhas have been making public aware not to litter in public places by identifying the persons and changing their attitudes by counselling. This method has proved very effective.

Distribution of Dustbins: Last month Ramakrishna Mission (RKM) had initiated the campaign, "Use Dustbins and keep your city Clean". Under this initiative small street vendors and shops were given Plastic dustbins to be used and they were asked to urge their customers in using these bins. Till date about 300 such dustbins were distributed at State Bank, Baikampady, Bejai, Hampankatta, Bokkapatna,
Kulashekara, Nandigudda, Bundar, Urwa Stores, Ashok Nagar, Kavoor and many other areas.
Kamalaksha Pai guided the volunteers in this initiative who were joined by Punith Poojary, Satish Kenkanaje, Shivu Puttur, Ravi K R, Krishna G, Prashanth Uppinangady with others. MRPL is sponsoring these drives.

***Contact – 9448353162 - Swami Ekagamyananda, convener, Ramakrishna Mission Swacchata Abhiyan.

Write Comment
|

E-Mail
|
Facebook
|

Twitter
|

Print