Week 31 'Shramadan for Swacchata Abhiyan' in city by RKM on July 7
Mangalore Today News Network
Mangaluru, July 08, 2019: The 31st Shramadan of Ramakrishna Mission (RKM) Swacchata Abhiyan's 5 th phase was carried out in Panjimogaru area on July 7, Sunday. Jointly launched by the officials of MRPL, Sri Manjunath H V and Sri Shreesha Karmaran.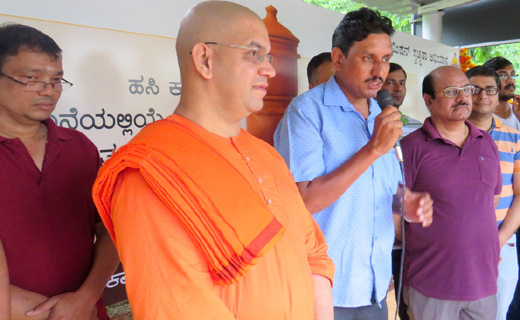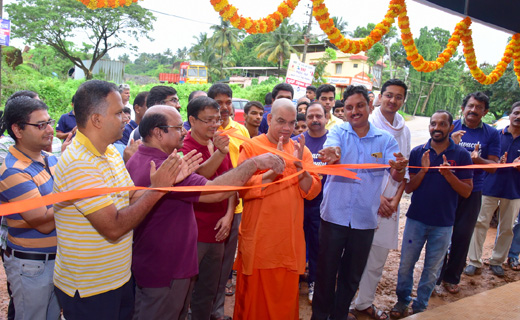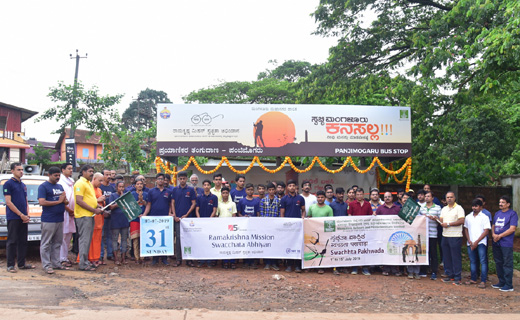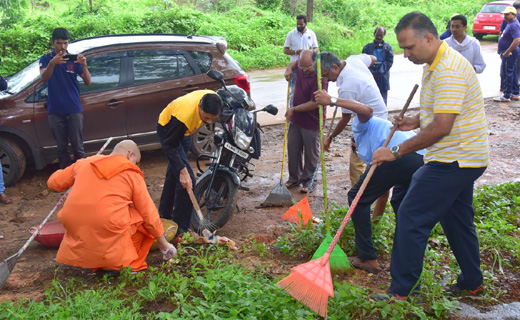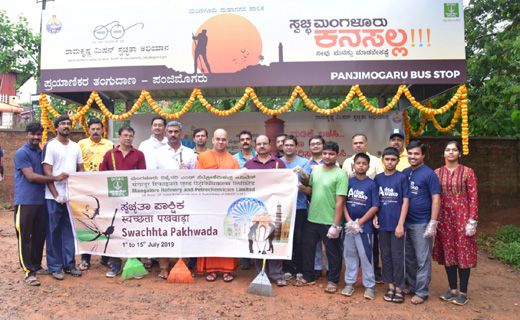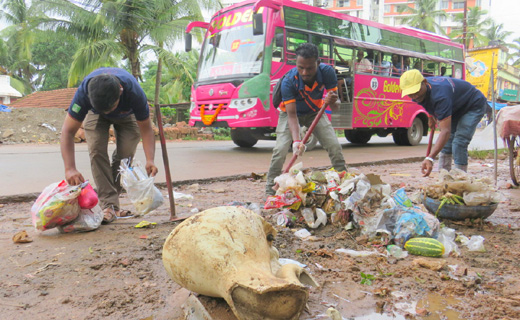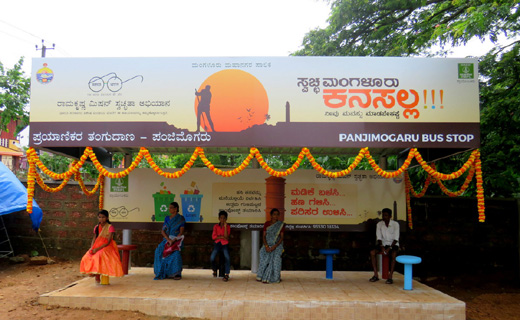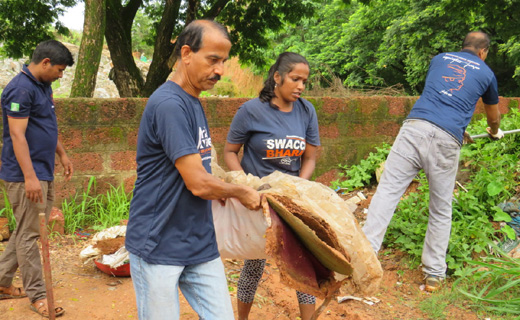 On this occasion a new bus shelter erected at Panjimogaru Vidyanagara, under Ramakrishna Mission Swacchata Abhiyan, was also dedicated by Sri Dayananda Shetty, Former councillor of Mangalore City Corporation. Group General Manager of MRPL Sri B H V Prasad, Chief General Manager Sri Subhash Pai, Swami Ekagamyanandaji, Satish Alva, Ramasubramanyam, Prakash Amin, Sudhakar Kavoor, Sunil Pandeshwara, Ramakrishna Kottari and others participated.

Speaking on the occasion, Sri Manjunath said, "Keeping our surroundings clean and urging fellow beings to keep it clean is our major responsibility. Today it has become a big challenge. But due to the Abhiyans such as this, people are awakening to their responsibility. This has to be speeded up and everyone should join hands to make it more effective. MRPL under its CSR initiative is supporting Ramakrishna Mission Swachata Abhiyan in realising the dream of making Mangaluru a model for cleanest city."

Dedicating the newly erected bus shelter, Sri Dayananda Shetty spoke, "While executing bigger and grander projects we tend to forget to focus on fundamental needs of the public. While expanding the road, under city development initiatives, bus shelters are disappearing. Even after road expansions, due to lack of will power, the need for bus shelters are forgotten and this is seriously discomforting. There was such a necessity of bus stand in this region and today thanks to Ramakrishna Mission's initiative, it has seen the light of the day. We are proud of Ramakrishna Mission for its many people-friendly initiatives and guidance."

Shramadan: Cleanliness work was taken up at Panjimogaru-Vidyanagara area. Staff and employees of MRPL under Subhash Pai cleaned the surroundings of Vidyanagar Bus stand. Sachin Kamath and Sooraj Solanki guided the volunteers in removing heaps of garbage in front of M V Shetty College and cleaning the area. Three Black spots prone to be littered by the public were identified and care is taken to discourage them from littering in those spots from hereafter. Drains were cleaned by removing mud and dirt helping in easy flow of water during rainy season. Big potholes beside the roads were filled up and levelled by using JCB. Gandhinagar Bus Stand was thoroughly cleaned and the nameplate was washed.

Erection of Bus Shelter and Dedication: Localites had erected a temporary shed to serve as the bus shelter in Panjimogaru-Vidyanagara area which was lacking facilities. They had urged Ramakrishna Mission to erect a new shelter. Hence the same was planned and erected with beautiful and attractive
seats, tiled flooring, Iron and sound roofing and hoarding with the message of awareness about cleanliness. Dilraj Alva & Rakesh took the initiative of erection of the bus shelter. MRPL sponsored the Bus shelter and today it was dedicated for the public use during 31 st Shramadan. Staff and Employees of MRPL, Mohan Kottari, Bharat Chandra, Jagan Kodikal, Avinash Anchan, and others actively participated in the Shramadan. Volunteers were provided with tiffin in M V Shetty College campus. MRPL is sponsoring these drives.

*** Contact – 9448353162.Swami Ekagamyananda, convener, Ramakrishna Mission Swacchata Abhiyan.

Write Comment
|

E-Mail
|
Facebook
|

Twitter
|

Print