Week 29 of 'Shramadan for Swacchata Abhiyan' by RKM at Kulashekar
Mangalore Today News Network
Mangaluru, June 24, 2019: Ramakrishna Mission (RKM) Swacchata Abhiyan held the 29th week 'Shramadan for Swacchata Abhiyan' around Kulashekar area June 23, Sunday. The shramadan was ceremoniously flagged off by Rev Victor Machado, Parish Priest, Cordell, near the entrance gate of Holy Cross Church at Kulshekara.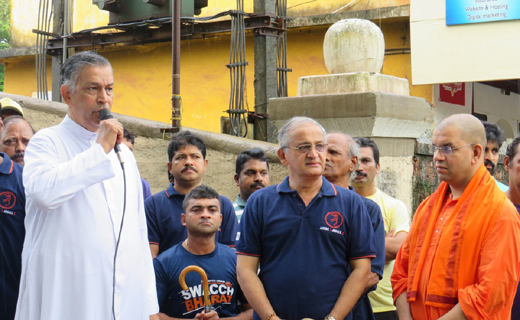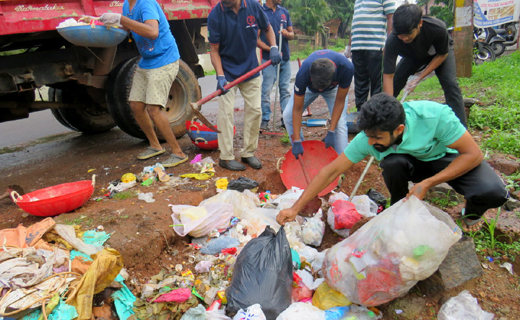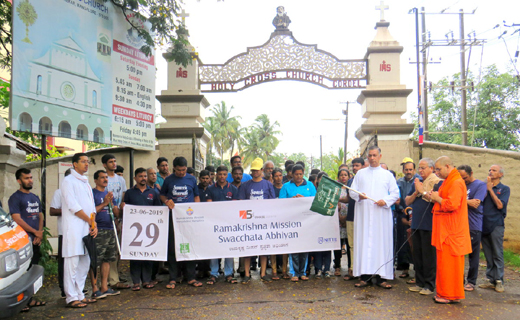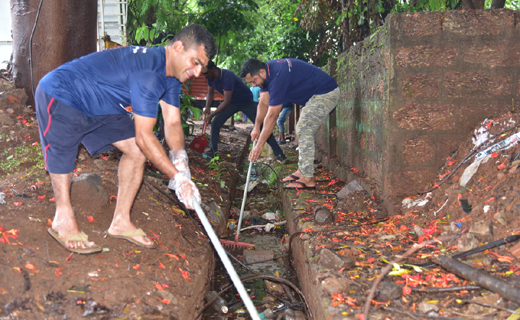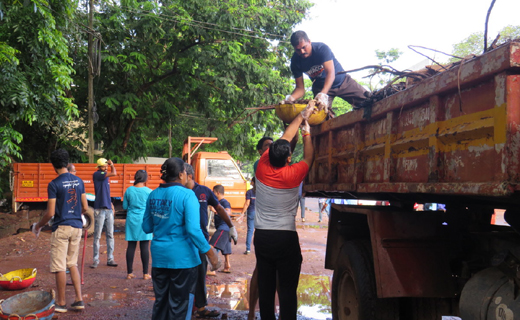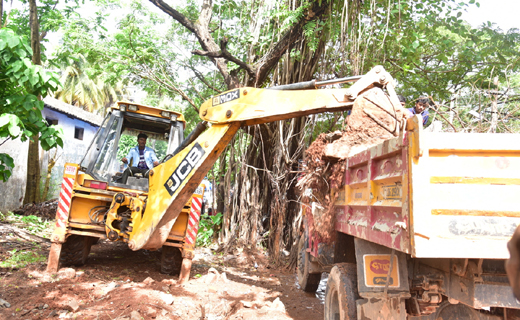 Speaking on the occasion, Capt Ganesh Karnik, mentor of the Abhiyan said, "Any great work is possible only if its backed by strong resolve and dedication. Today if the streets of Mangalore are cleaner it's because of the dedicated labour of volunteers of this Abhiyan. In spite of a rainy Sunday, so many volunteers assembled, irrespective of caste-creed or status, here to clean Mangalore shows that New India is emerging. I, on behalf of enlightened citizens of Mangalore thank Swamijis of Ramakrishna Math for their constant inspiration and support.".
Rev Machoado said, "If the minds and thoughts of citizens are clean and pure, outer surroundings too will get cleaner. If our surroundings are clean and pure, our lives become healthier and better. Since RamakrishnaMission is leading and guiding this initiative, this Abhiyan is moving in a disciplined and sustained manner." On this occasion, Swami Ekagamyanandaji, Shubhoday Alva, Prof. Satish Bhat, Ranjan Bellarpady, Mehboob Khan, Satyanarayana Bhat, Taranath Alva, Shivaraj Poojari, Lokesh Kottaraand others were present.

Shramadana: Cleaning thoroughly was carried out on the roadsides of National Highway in Kulshekar area. Four teams were formed under Umanath Kotekar to carry out Shramadan. Sachin Kamath and team of volunteers cleared heaps of garbage, dirt and debris near a bus stand in front of Cordell church and placed pots with flowering plants. Another team of volunteers under Prof. Sheshappa Amin cleared construction debris from roadsides and cleared drains using JCB and tippers. Third team of volunteers led by Sunder Kamalaksha Pai cleaned the surroundings of a bus shelter in the road leading towards Shakti Nagar. Surroundings of a huge tree near Kulashekar Market was very cluttered and emitting foul smell. Sudhir Noronha and Umakanth Marnamikatta led a team of volunteers in cleaning the area and placing decorative pots with flower plants. Several illegal banners in Bikarnakatta, Nanthur, Kadri, Hampankatta, Pandeshwara, Mangaladevi area have been cleared.

Clearing Drains: Drains opposite Cordell Church Hall, blocked with dirt and garbage, it allowed no scope for rain water to flow through. Here, volunteers got into the drains and cleared the sand, dirt/ garbage making a clear way for the rain water to flow smoothly. Vittaldas Prabhu, Punith Kumar Shetty and many other volunteers took part in this work.

Awareness Programme: Students of Sharada Vidyalaya under guidance of Saritha Shetty and Smitha Hebbar carried awareness programme by visiting several shops and households in Kulshekar area urging them to keep their surroundings clean and distributed awareness handbills. On request from District Health Officer, Dilraj Alva and members of Goraksha Dandu created awareness among the public about cleanliness and Malaria, Dengue hazards in Arekerbail area. MRPL is sponsoring these drives. mContact – 9448353162 - Swami Ekagamyananda, convener, Ramakrishna Mission Swacchata Abhiyan.


Write Comment
|

E-Mail
|
Facebook
|

Twitter
|

Print