Week 17, 'Shramadan of RK Mission Swacchata Abhiyan' at Attavara March 31
Mangalore Today News Network
Mangaluru, Apr 01, 2019: Ramakrishna (RK) Mission Swacchata Abhiyan's 17 th Shramadan of 5 th phase was carried out in Attavara area with renewed vigor on March 31, Sunday.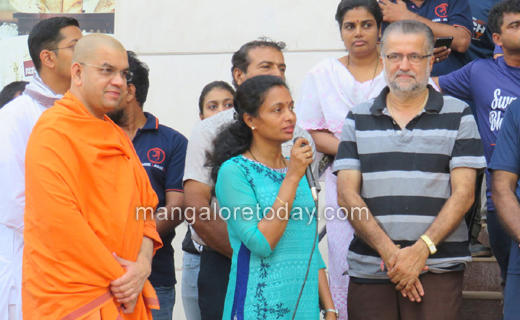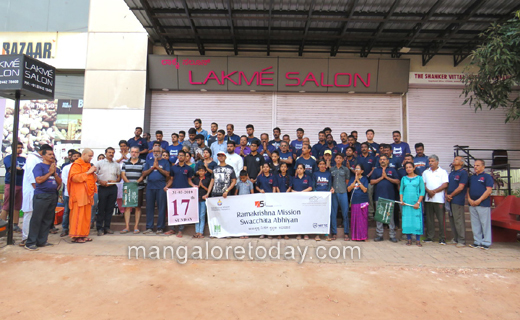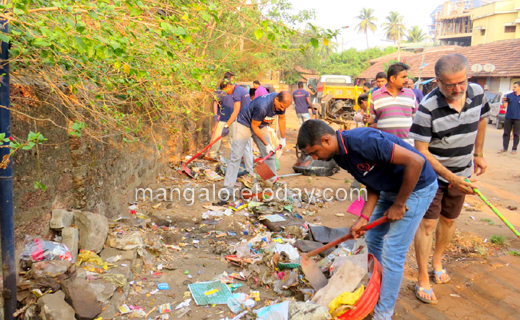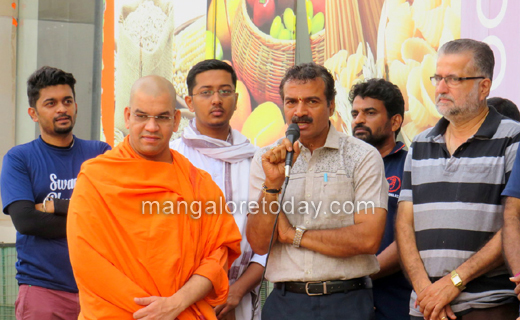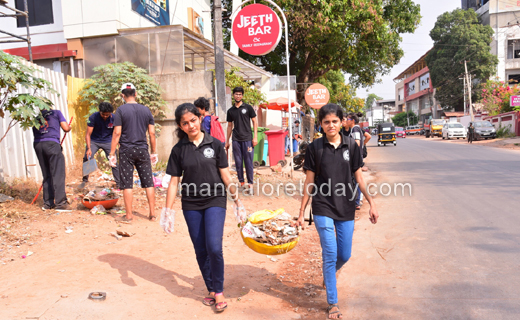 The Shramadan was jointly commenced by Yogacharya Dr Jagadish Shetty and Prof. Ramya Shetty of SDM Management College, Kodialbail. The effort was launched opposite of Big Bazar at Attavara. Speaking on the occasion, Dr Jagadish Shetty said, "Our mother nature supports entire human race. Selfish greed of human beings, is ruining this very mother nature. This Abhiyan is awakening men to the importance of nature and its preservation is a positive development. I urge all to inculcate cleanliness, both internal and external, in their life." Prof. Ramya Shetty said, " 'Arise! Awake! and Stop not till the goal is reached, to quote Swami Vivekananda. We should not stop this till we achieve a clean Mangalore. It is a pleasure to see more and more youth getting associated with such Abhiyans. Mangalore is becoming cleaner day after day, thanks to the effort of volunteers of Ramakrishna Mission.

" Umanath Kotelkar, Pramila Shetty, Dr Rajendra Prasad, Narendra Kumar, Aniruddha Nayak, Taranath Alva, Subraya Nayak, Masa Hiro, Sandip Kodikal and others were present on the occasion. Shramadan: Volunteers formed different groups after flagging off. The road leading towards Madhusudan Kushe School was cleaned. Heaps of mud lying by the side of the road for years together was removed using JCB. Dirt and garbage heaped was also removed. Old and unused motor vehicles were removed and the over grown weeds and grass was removed. Umakanth Suvarna guided the volunteers in this initiative. Students of SDM College of Management took up cleanliness work in Ananda Shetty Circle. A park used by senior citizens was in dilapidated condition due to poor management and maintenance. Kamalaksha Pai and team of volunteers cleaned the park and removed the filth and weeds in the park. Fourth team of volunteers cleaned the road by the side of Chakrapani Temple and cleaned a garbage dump in the area, pots with flowering plants were placed, beautifying it. Subhadra Bhat, Krithika Shetty, Mohan Kottari and others joined hands.

Another team of volunteers under Suresh Shetty visited hundreds of houses in Attavara area and distributed awareness handbills. Dilraj Alva, Souraj Mangalore, Kodange Balakishna Naik also participated in Shramadan.

50 th Swacch Soch Seminar and Concluding Programme: Concluding Programme of Swacch Soch Seminars initiated 3 months before as an offshoot of Swacch Bharath Abhiyan was held in Sahyadri Engineering and Management College on 27 th March at 3.30 pm. Swami Jitakamanandaji, Adhyaksha of Ramakrishna Math presided over the programme and Dr Manjunath Bhandary, Chairman of Sahyadri College was the chief Guest. Prof. S S Balakrishna was special invitee. Speaking on the occasion, Swami Jitakamanandaji said, "Awakening young minds to the importance of cleanliness is the need of the hour and hence Mission planned to organise 50 seminars addressing the youngsters about the importance of waste segregation and managing household waste etc." Dr Manjunath Bhandary said, "Swacchta Abhiyan has played an important role in instilling a sense of patriotism; social concern in the youngsters." On this occasion all the resource persons of 50 Swacch Soch Seminars were honoured and given certificates. Prof. Rajamohan Rao, Rajamani Ramakunja, Suresh Shetty, Gopinath Rao, Subhadra Bhat, Satish Sadananda, Rahul T G, Vishal, Nivedita Kamath, Saritha Shetty and others were present. Ranjan Bellarpady gave a report of the Swacch Soch programme. Sreelatha U anchored the programme. MRPL is sponsoring these drives.

Contact – 9448353162 - Swami Ekagamyananda, convener, Ramakrishna Mission Swacchata
Abhiyan.

Write Comment
|

E-Mail
|
Facebook
|

Twitter
|

Print