Week 10 'Shramadan, RK Mission Swacchata Abhiyan' effort, February 10
Mangalore Today News Network
Mangaluru, Feb 11 2019: The 10th week of Shramadan of 5th phase of Ramakrishna (RK) Mission Swacchata Abhiyan took full force at the Service Bus Stand and immediate areas from early hours on February 10, Sunday. The Shramadan was launched by Roshan Rocco, Secretary, Bharatiya Catholic Yuva Sanchalan and Gurudatta Shenoy, President of Paint Dealers Association. Mohan Kottari, Mahesh Kamath, Rajendra Shetty, Ramesh Shenoy, Sridhar Kamath, Imtiyaz Sheikh, Denzil, Sapna Neermarga and many others were present on the occasion to create better momentum.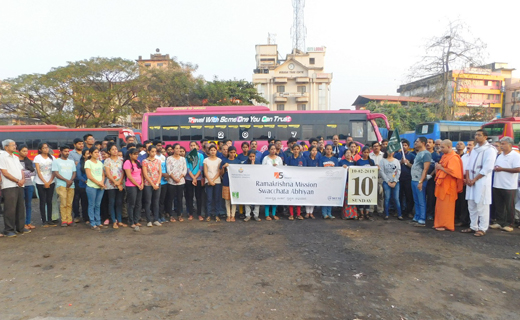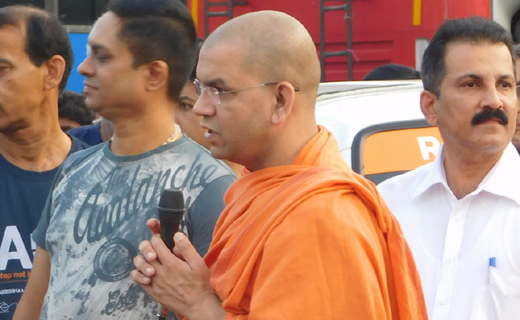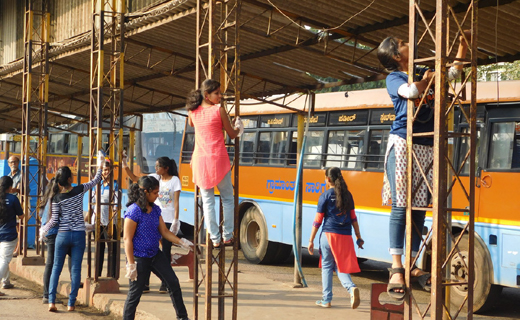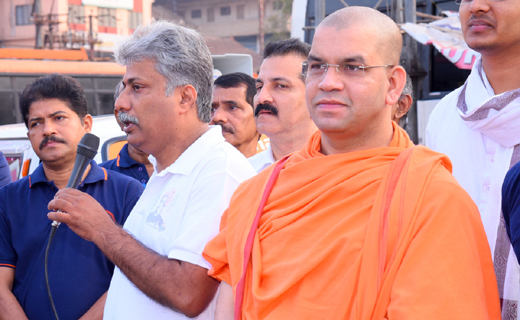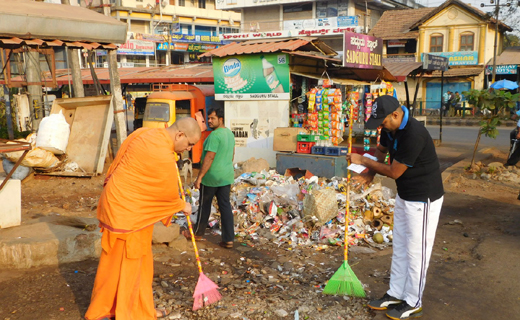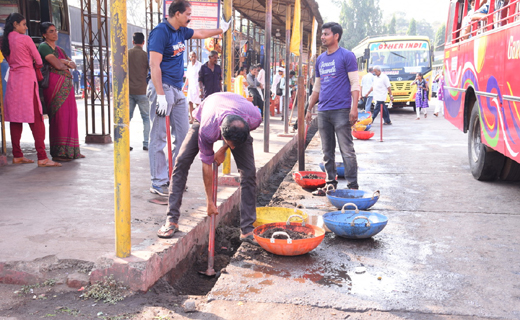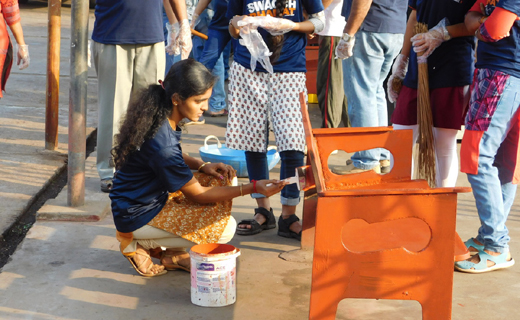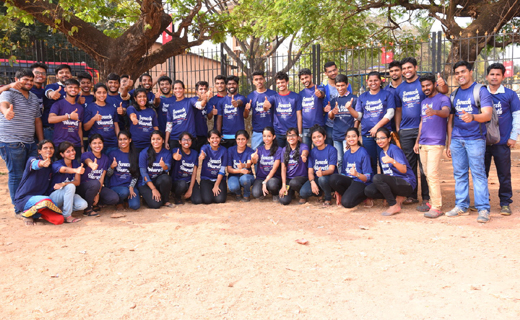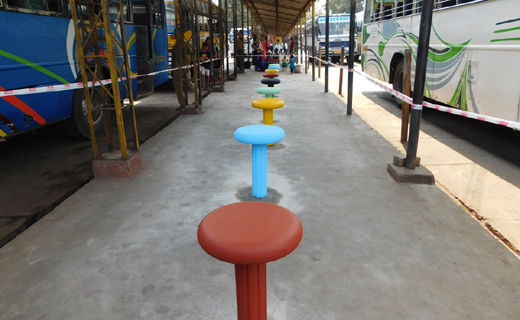 Speaking on the occasion, Umanath Kotekar, Coordinator of Swacchata Abhiyan said, "It is a positive development to see that Swacchata Abhiyan is not just sweeping an area clean but a noble cause to bring together different people of similar noble intention and acting in unison for the good of the society. Bringing together these noble minds is a constant requisite for a noble society and Ramakrishna Mission here leading such initiatives is noteworthy."

Sri Hanumantharayappa, Deputy Police Commissioner, Mangalore City participated as a chief Guest spoke, "It is significant to note that all people without the least discrimination of caste-creed or colour are participating in Swacchata Abhiyan. All should inculcate cleanliness in their households and then only we can dream of clean India."

After flagging off, volunteers cleaned the Service Bus stand. About 50 members of Bharatiya Catholic Yuva Sanchalan under Adlin Jyothsna cleaned the areas where passengers wait for buses. Members of Nivedita Balaga and Sharada Mahila Vrinda cleaned the outer premises of the service bus stand. Members of Paint Dealers Association cleaned the market and surrounding areas near the bus stand. Large heaps of garbage lying on the road leading towards Rao & Rao Circle was removed and cleared. Building debris lying in a corner of the service bus stand were removed using JCB by Dinesh Karkera and other volunteers. Suresh Shetty and volunteers visited the street vendors selling fish and urged them to keep the area clean.

Special Works: Several special works were carried out in the 10th drive along with cleanliness drive. Pillars in the area where passengers sit were cleaned and were painted by 12 expert painters using 50 litres of paint. Some of the seats there were in very bad shape and trouble to public; Several newly designed seats were set up in the place for passengers by Uday K P, Preetham Mugil and others. Old usable seats were painted and a facelift by members of Paint Dealers Association. Sowarj Mangalore and associates cleaned the spot illegally used as urinals by public using water from tanker. Members of Hindu Warriors, Bharatiya Catholic Yuva Sanchalan, Paint Dealers
Association, Nivedita Balaga, Sharada Mahila Vrinda and some other groups were present and joined hands.

Swacch Puttur: Volunteers of Ramakrishna Mission Swacch Puttur team carried out cleanliness drive in front of Mottethadka Fire station and premises of Kemminje Govt. Primary School. Umesh D K and Subrahmanya Shastri were guests of honour and spoke on the occasion. Ganesh Acharya, Chandrashekar Bhat, Sandeep Lobo, M G Nayak, Seetharamacharya and many others actively participated in the cleanliness drive.

G Krisha coordinated the cleanliness drive. MRPL is sponsoring these drives.

**Contact – 9448353162 - Swami Ekagamyananda, convener, Ramakrishna Mission Swacchata Abhiyan.....

Write Comment
|

E-Mail
|
Facebook
|

Twitter
|

Print