Volunteer all facts at 'Caste census' - Varthabharathi Editor
Mangalore Today News Network
Mangaluru, Mar 6, 2015: Speaking at an interaction programme on caste-based census organised by Karnataka Beary Sahitya Academy and Talent Research Foundation at the foundation hall here on March 5, Varthabharathi Editor-in-Chief Abdussalam Puttige said, People should understand that the government programmes are related to them and beneficial. They should not be prejudiced about this census. He exorted the Muslim community volunteers to create awareness about the facts of caste-based census programme which would commence on April 11. He went to stress that this is not a caste census, but collection of overall information of the community.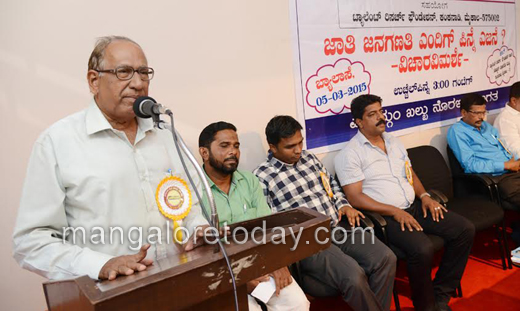 Stating that Muslims do not follow a caste system in the community, he said that the government can design schemes for the community only when truth is upheld. Former higher education minister B A Moideen alleged that efforts are going to make caste-based census, which is first of its kind in the nation, a failure. With public effort the census can be a huge success. It will stop domination of rich over poor even in backward classes. Organisations can play effective roles in creating awareness.

Give correct details confidently : District Statistical Officer Pradeep D'Souza said that in the caste-based census, there will 55 columns including 39 columns for personal information and 16 columns for family information. Census officers will collect information on caste, social, political and employment status, about annual income, income tax, on family asset, livestock, loan and many. There will be a code for each answer. Aaadhar and EPIC numbers will be collected. People have the right to deny information, but census is for their benefit. The information collected will be kept confidential, he said.

In Dakshina Kannada there are 3930 blocks. In a form, no column can be left blank. There will be question on school dropout in the census. NRIs who are at foreign countries for more than six months will not be considered. The information of hostellers will be collected in their houses, he said.

Karnataka Beary Sahitya Academy President B A Mohammed Haneef hoped that Bearys would get more reservation in education and employment in future. AHINDA District President Vasudeva Boloor said that the caste-based census is more beneficial to backward classes. The meet is said to have created a better understanding and co-operation.

Write Comment
|

E-Mail
|
Facebook
|

Twitter
|

Print