Vinayak Baliga Murder: Family seeks answers from Amit Shah
Mangalore Today News Network
Mangaluru, May 7, 2018: Amidst the heated campaigning for the forthcoming Karnataka assembly elections, the family of slain BJP party worker Vinayak Baliga seems to have turned the heat on BPJ top boss Amit Shah himself. In an 'Open Letter' addressed to Amit Shah released to the media at a specially convened press meet today, the family has addressed a set of eight questions to BJP National President and sought his explanation for the alleged apathy and double standards shown by his party to Vinayak Baliga's murder.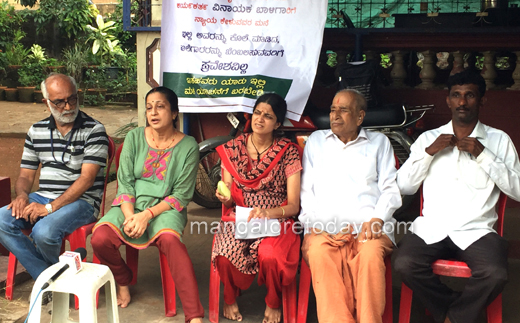 Baliga, a BJP party booth level worker was brutally hacked to death in the wee hours of March 21, 2016. Subsequently the investigations revealed an elaborate plot for a well planned murder and seven persons have been identified as the accused in the case.

Addressing the media, Anuradha Baliga, sister of Vinayak Baliga said the family has been pursuing justice for her brother from all angles. "We suspect that my brother's activism regarding Venkatramana Temple, Car Street and Kashi Math are the reasons behind the murder. Shortly before he was murdered my brother had written a letter to the Swamiji of Kashi Math and we have been unable to find a reply to the letter. We want to know the truth about who is actually involved in the crime. We have already approached the government agencies relating to temple managements for their intervention," she said, adding that the family has now decided to approach the party forums also.

"We have written this open letter to Amit Shah as my brother was a dedicated party worker. We are disappointed that though my brother gave his all to the party, BJP has been taking it easy in responding to his brutal murder," she said. The letter poses questions like why BJP has not included Vinayak Baliga's name in the list of party worker who have been killed in the state, why the party has never protested against the murder, why no BJP leader has made a condolence visit to the bereaved family and if elected in the state would a BJP government appoint a Special Investigation Team (SIT) to probe the murder. Supporting the last mentioned demand, Anuradha Baliga revealed that responding to the Baliga family's appeal for appointing an SIT, the Union Home Ministry has written to the Home Secretary of Karnataka to look into the matter.

The letter is signed by Baliga family members including his 88 year old father Ramachandra Baliga and sisters Shweta, Usha, Anuradha and Harsha. Apart from the family Raghu Ekkar, Convener, DSS (Prof. Krishnappa Group) and rationalist leader Narendra Nayak of Rashtrapremi Sanghatanegala Okkuta are the signatories to the letter.

Baliga family residence at Kodialbail in the city, which was the venue of the press meet, was dominated by a large banner put up outside the house prohibiting 'all those who are supporting the murderers of Vinayak Baliga' from visiting them seeking votes. She accused the BJP candidate Vedavyas Kamath of being close to those accused in the murder case.

To a question on how she plans to deliver the letter to Amit Shah, Anuradha Baliga said they would consider handing over the letter in person during Amit Shah's proposed visit to the city. "As Vinayak Baliga was a dedicated party worker, we expect the BJP to arrange for Amit Shah to meet the family," Prof. Narendra Nayak added with a smirk.

An open letter to Amit Shah, President of BJP from the family of Vinayak Baliga

Dear Sir,
Since you are the president of the Bharatiya Janata Party of which Vinayak Baliga who was brutally murdered on 21 March,2016 was an active member and a worker, we have the following questions for you, we have tried to meet any one possible in your party who can help us, we had written to the ministers one of whom had responded and written to the Karnataka Home secretary to constitute a special investigation team to go into the causes behind his murder in which the names of the present Mangalore South MLA candidate Sri Vedavyas Kamath and his associate Naresh Shenoy had been mentioned.
1.You have been running campaigns about BJP workers being murdered in Karnataka but my brother's name has not been mentioned any where in your campaign.
2.Why is that your party has not protested about it so far despite him having been an active member of BJP RSS all his life?
3.Why is it that your local MP Nalin Kumar Katil or any other office bearers of your party have not visited us even once to express condolences or support for us?
4.When we tried to bring this to the attention of your Mahila Morcha Convenor Meenakshi Lekhi she said it was a local issue. So, Is murder only a local issue? But, when we tried to inform the local MP why did he just brushed us aside and went away?
5.Your party claims to offer great support to women and down trodden here but why no sympathy towards us ,for we four sisters of Vinayak Baliga and our 88 year old father have been struggling for justice for our cruelly murdered brother. How will you help us?
6.If your party comes to power in Karnataka, Are you going to constitute a special investigation team to probe into our brother's murder?
7.Your party is a great supporter of Narco analysis and brain mapping. You have demanded for that in the case of the accused in the Kathua murder and rape case to prove their innocence. In our brother's case the accused no 1 Naresh Shenoy has opposed it despite claiming that he is not involved at all in the crime. Will you direct him to subject himself to narco analysis and will you support us in our demand?
8.As the president of the BJP what steps will you take to help us?

Grieving members of the family of BJP member Vinayak Baliga.
Shweta, Usha, Anuradha and Harsha- Sisters of Vinayak Baliga
Ramachandra Baliga - Vinayak Baliga's father
And Raghu Ekkar Convenor, DSS (Prof. Krishnappa group), Narendra Nayak, Rashtrapremi Sanghatanegala Okkuta.


Write Comment
|

E-Mail
|
Facebook
|

Twitter
|

Print