Venue changed for White Doves 25th anniversary 'Christmas Show' on Dec 8
Mangalore Today News Network
Mangaluru, Dec 06, 2019: A communique from White Doves, indicates a venue change for it's final 'Christmas Mobile Act ' on December 8, Sunday. It will be at St,Agnes Special School open ground - at 6 pm, and not Nehru Central Maidaan as announced earlier. White Doves, the well known social action group in Mangaluru led by it's Director Corrine Rasquinha will present the 25th Christmas mega truck show 2019 in Mangaluru in lieu of the December 1 show, on Sunday December 8 at 6 pm at St,Agnes Special School open ground and NOT Nehru Central Maidan.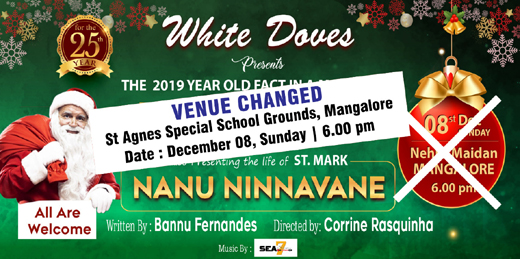 It's traditional "Christmas fact in a mobile act." will also include the life of St.Mark, one of the Bible authors, in Kannada "NANU NINNAVANE" written by : Bannu Fernandes. Entrance free- all are welcome. Don't miss this special show by popular demand.

"The mobile shows will be performed on several trailer trucks. The stage will measure over 185 square feet. The 150 artistes include actors, musicians, dancers and technical managers. They will present the song-and-act show for two hours' duration," she said.

White Doves Secretary and Treasurer Jerome Coelho, Trustee Vitus Rasquinha and Manager Jerald Fernandes are key members of the effort are among many who have generously worked and contributed. Please make best use of this opportunity and witness at least one show in your life if not more. A lifetime experience indeed according to many.

The Story of St.Mark :

"NANU NINNAVANE" in Kannada is on the life of St.Mark is traditionally ascribed author of the Gospel of Mark. Mark is said to have founded the Church of Alexandria, one of the most important episcopal sees of early Christianity. His symbol is the winged lion. An "unbroken tradition" identifies Mark the Evangelist with John Mark, and John Mark as the cousin of Barnabas, and he belonged to the "Seventy Disciples" who were sent out by Jesus to disseminate the gospel (Luke 10:1ff.) in Judea. Mark the Evangelist wrote down the sermons of Peter, thus composing the Gospel according to Mark (Eccl. Hist. 15–16), before he left for Alexandria in the third year of Claudius.

According to the Acts 15:39, Mark went to Cyprus with Barnabas after the Council of Jerusalem. In AD 49, about 19 years after the Ascension of Jesus, Mark travelled to Alexandria and founded the Church of Alexandria – today, the Coptic Orthodox Church, the Greek Orthodox Church of Alexandria, and the Coptic Catholic Church claim to be successors to this original community. Aspects of the Coptic liturgy can be traced back to Mark himself. He became the first bishop of Alexandria and he is honored as the founder of Christianity in Africa.

Mark was succeeded by Annianus as the bishop of Alexandria. Coptic tradition says that he was martyred in 68 AD.

Write Comment
|

E-Mail
|
Facebook
|

Twitter
|

Print