Varahi irrigation second phase within two years: Siddaramaiah
Mangalore Today News Network
Udupi, May 4, 2015: It is shot in the arm for Udupi District incharge minister Vinay Kumar Sorake as much awaited first phase of Varahi Irrigation Project has inaugurated by Chief Minister Siddaramaiah and CM assured that second phase will be ready within two years.

CM Siddaramaiah inaugurated the first phase of the Varahi Irrigation Project, which will provide irrigation to 3,000 hectares of land, here in Siddapura village, Kundapura taluka in Udupi on 04 May 2015, Monday.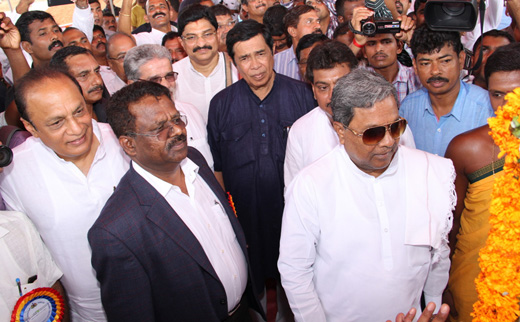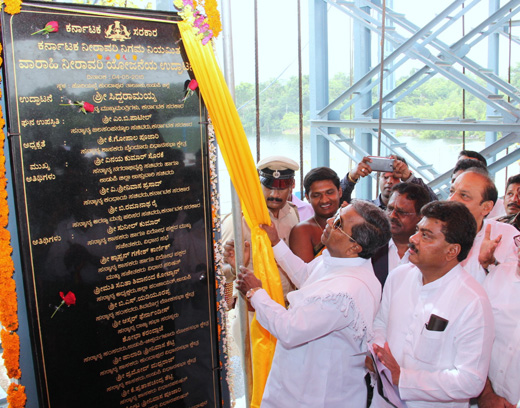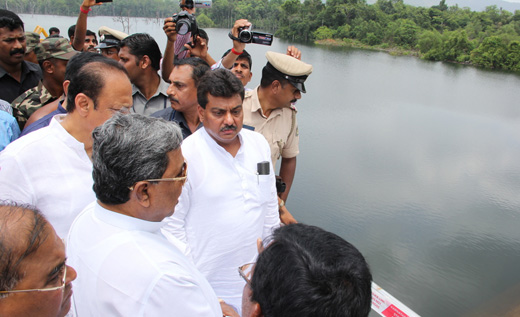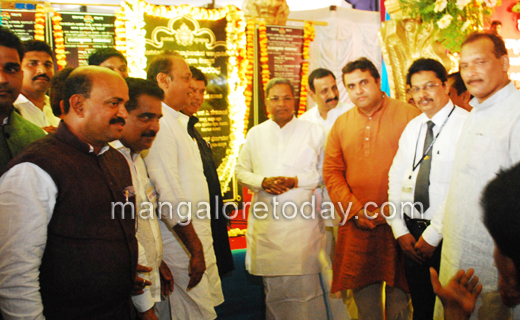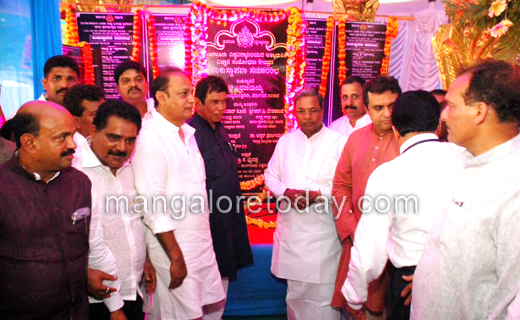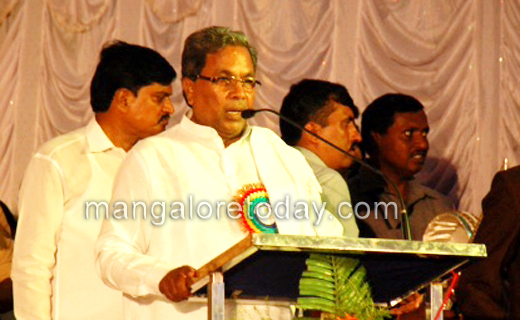 The foundation stone for the project was laid 35 years ago by the then Chief Minister late R. Gundu Rao in 1980. Since then, the project has progressed at snail's pace. Water from Varahi River has started flowing in to Varahi Irrigation Project canals after three and a half decades.

After Siddaramaiah came to power Sorake has taken interest in speeding up implementation of project and nail the corruption going on in the name of Varahi project.

As much as 60 percent of the work on Varahi project was done after Congress came to power in the state in 2013.When I had undertaken Padayatra at Kudalasangama I had announced that I would release Rs 50,000 crore for 75 incomplete irrigation projects, and the opposition had criticized it. But ever since I became CM, I released Rs 10,000 crore in the first year, Rs 11,300 crore in second year and Rs 13,000 crore in the third year of my tenure for irrigation projects, and Varahi is one of them. And, within two years next phase will be completed, Siddaramaiah said addressing the gathering at Siddapur government high school premises.

"It will cost the government one lac crore rupees to complete all the ongoing irrigation projects in the state. The government has already spent 19 percent of this on irrigation. Being from an agricultural family, I understand the problems of the farmers and I am able to respond to their needs," Siddaramaiah added.

"We will hold gram panchayat elections without any postponement" Cm said reacting to Udupi-Chikkamagaluru MP Shobha Karandlaje remarks that the state government was deliberately trying to postpone the gram panchayat polls.

"But, we have brought two amendments to Karnataka Panchayat Raj Act - that is making voting in gram panchayat elections compulsory and full term for president's post from two-and-a-half-years to five years. The reservation criteria will be reviewed to make it 50:50 for men and women." Siddaramaiah added.

"Members of the opposition party should have attended this historic event. There is no meaning in criticizing without any substance. They could have given their opinions on this platform; instead they want to only make false allegations". Siddaramaiah taunted the BJP without mentioning their name.

"Congress government walks the talk. We will also be providing rice to APL card holders at concessional rates from June 1. Any deserving individual who does not have BPL or APL card should apply for it. BPL cards have been distributed to 1.8 lakh families and they are being given free rice from May 1. The state government has taken this initiative to ensure that no one goes hungry and Karnataka becomes a hunger-free state, he explained.

"We have already sanctioned Rs 12 crore for the revival of Brahmavar sugar factory and in the coming days, we will look at other similar factories that need revival and come to a decision after discussions", He assured.

There is no confusion regarding Kasturirangan report. We have recommended the government to leave out human habitats from the report. Regarding Kumki land issue, a decision will be taken by the cabinet and suitable amendments will be made if required in regard to title of kumki land - is defined as government wasteland adjacent to title land where certain privileges like right to collect minor produces like timber for domestic use and to raise fodder for cattle are enjoyed by the kumkidars, who do not have land ownership rights per se or to use it for non-agricultural purposes, he added.

Historic Day for Udupi
"This is a historic day for Udupi district. The Varahi project which began 35 years ago saw only debate for the first 25 of those years. In 2003, it was handed over to the Karnataka Irrigation Commission, and now the first phase of the project is completed and around 2,500 hectares of land has been provided water. In the next two years, remaining work will be completed", Minister for water resources M B Patil said.

The Udupi district farmers' association submitted a memorandum to the CM urging speedy completion of Varahi project. The CM was honoured by various committees.

Byndoor MLA Gopal Bhandary presided over the programme. District incharge minister Vinay Kumar Sorake, Rajya Sabha MP Oscar Fernandes, MLC Pratapchandra Shetty, ZP member Mamatha R Shetty, Siddapur gram panchayat president Sudhakar Shetty and many others were present.



Write Comment
|

E-Mail
|
Facebook
|

Twitter
|

Print