VVPAT helps transparent voting: Udupi DC
Mangalore Today News Network
Udupi, April 1, 2018: The Udupi district administration held a demonstration on Voter Verifiable Paper Audit Trail (VVPAT), a method of providing feedback to voters using a ballotless voting system.

Speaking to media persons here on March 31, Saturday, Udupi DC Priyanka Mary Francis said VVPAT ensures transparency and if at all there is any doubt, the ballot papers inside VVPAT clarify the doubts.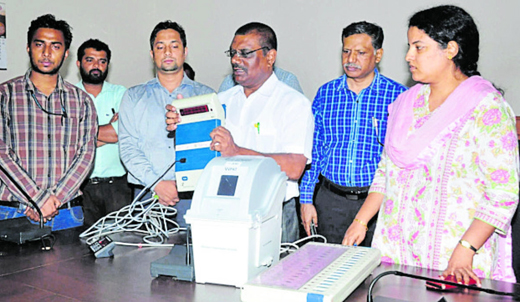 She said the date and timing of polling along with the candidates for whom a voter casts vote are all mentioned in the ballot paper inside VVPAT. A mock polling has been done and it will be conducted in front of the political party leaders on the election day. This system cannot be tampered with, she explained.

On the day of counting, one randomly selected VVPAT will be opened in each Assembly constituency. If a politcal party demands for the opening up of other VVPAT units, the returning officer (DC) should pass a written order.

A VVPAT is intended as an independent verification system for voting machines designed to allow voters to verify that their vote was cast correctly, to detect possible election fraud or malfunction, and to provide a means to audit the stored electronic results.

It contains name of the candidate (for whom a vote has been casted) and the symbol of the party/ individual candidate and serial number. A VVPAT allows voters to verify that their votes are cast as intended and can serve as an additional barrier to changing or destroying votes.

The VVPAT offers some fundamental differences as a paper, rather than electronic recording medium when storing votes. A paper VVPAT is readable by the human eye and voters can directly interpret their vote. Computer memory requires a device and software which potentially is proprietary and the details will be visible for seven seconds. Insecure voting machine records can potentially be changed quickly without detection by the voting machine itself.

In case of errors, the VVPATS wil be replaced immediately and counting will be done of both, if need arises. It will be more difficult for voting (EVMs) machines to corrupt records without human intervention. The ballot paper is thermal sensitive paper and can be read under light and preserved for six months.

The VVPAT includes a direct recording electronic voting system (DRE), to assure voters that their votes have been recorded as intended. It is intended, and some agree necessary, as a means by which to detect fraud and equipment malfunction. The set-up also includes a control unit, a ballot unit and a VVPAT unit with displays. The programming cannot be changed, she
said.

She added that voters should also keep in mind that they are not given the voters slip in hand as currently being publicised.

Write Comment
|

E-Mail
|
Facebook
|

Twitter
|

Print