Urwa Parish receives Hore Kanike for post-centenary jubilee finale
Mangalore Today News Network
Mangaluru, April 27, 2015 : Reviving old traditions the people of Urwa parish observed the nostalgic and meaningful local custom of 'Horekanike'. This also exists among Konkani Catholics of the bygone era particularly for weddings, when it helped both families to sustain the celebrations. A ceremonial social obligation and not a religious ceremony; contributions in kind and cash were welcomed.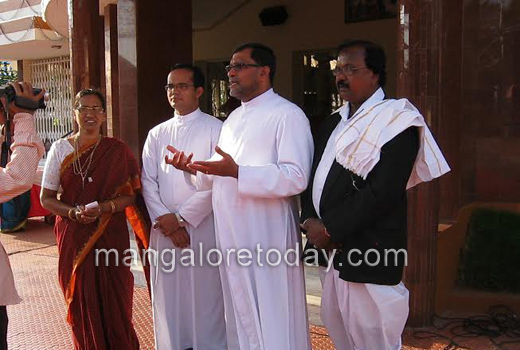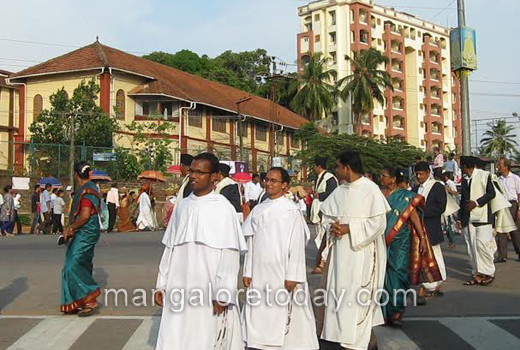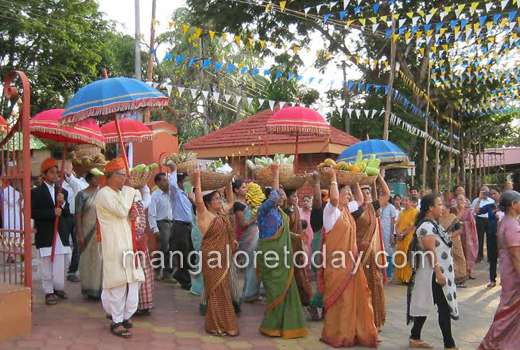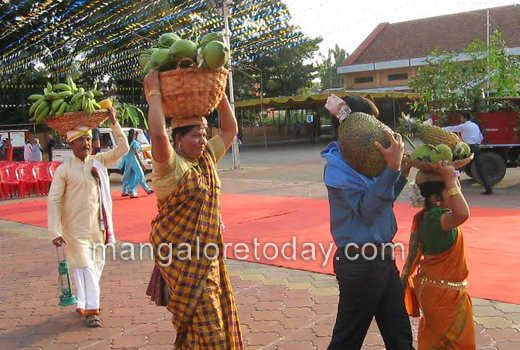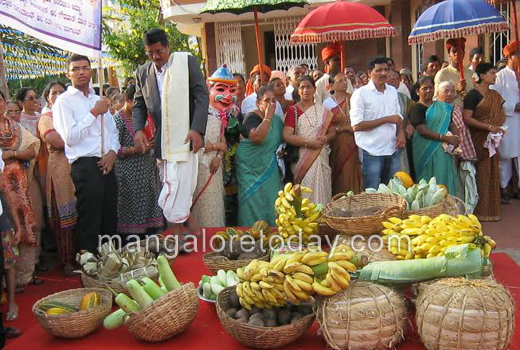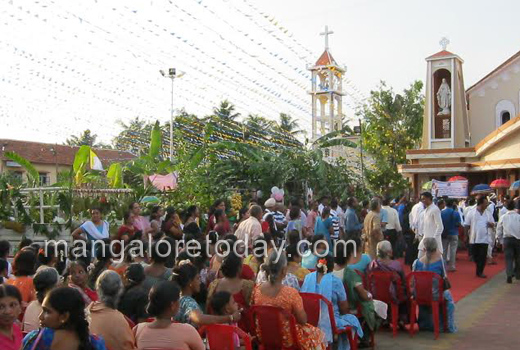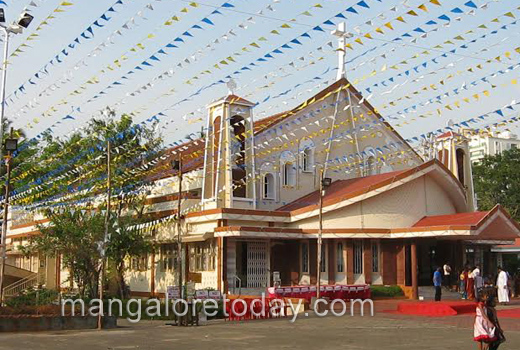 The name in Konkani is 'Voje' means a sharing of the 'burden'. In this circumstance it was a meaningful gesture as the grand finale of the 150 years Jubilee (1865-2015) of Urwa as a parish approaches on May 1, Friday.

Urwa parish came into being from Rosario parish in 1865. In 1912 a portion of Urwa went to form Bijey. In 1971 the North portion became 'Ashok Nagar' parish under the Dominican Fathers. Urwa parish with 640 catholic families is divided into 14 sub-areas called 'Varados' (wards). People from each of the 14 wards and the 'Ashok Nagar' parish people brought their own contributions in a colouful procession to the church. They were received with due tradition by the dynamic parish priest Fr. Victor D'Mello, the Asst priests and parish council members with a 'chembu' of water local jagerry considered as a mark of social respect and regard.

It was indeed very amusing with children, women and men in traditional attire carrying all kinds of fruits, vegetables, rice moodas and so on with the heavy items in decorated tempos. One could see plantain bunches, jack fruits, mangoes, coconuts, pickles, all varieties of fresh vegetables and much more in abundance carried and handed over to the Urwa church with great love and affection amid a band and traditional music and dance.

The parish priest and his council received the 'Horekanike' contributions as a treasure and thanked the people with due regard. A special prayer and blessing was bestowed on all present, the gifts which will be used for the festive finale valedictory occasion.

PROGRAMME :

Urwa Church Post Centennial Jubilee Finale – At Church Grounds . May 1, 2015.


4.15pm: Welcoming the Bishop.

4.30pm: Inauguration and Blessing of the New Belfry and Grotto.

5.00pm: Thanksgiving Eucharist : Chief Celebrant- Rev.Dr.Aloysius P D'Souza.Bishop of Mangalore.

Homily : Rev.Dr.Francis Serrao . Bishop of Shivamogga.


6.45pm: Grand Finale :

President - Rev.Dr.Aloysius P D'Souza.Bishop of Mangalore.

Guests of Honour : Rev.Dr.Francis Serrao . Bishop of Shivamogga, Rev Dr. Robert Miranda Bishop of Gulbarga, Rev Dr Oius Thomas D'Souza Bishop of Ajmer, V Rev Sr Linette AC Provincial Apostolic Carmel Mangaluru Province. Shri J R Lobo MLA Mangaluru, Shri Ivan D'Souza MLC Govt of Karnataka, V Rev Fr. J B Crasta Vicar Forane, Episcopal City Deanery, Mrs. Jacintha Alfred. Mayor City Corporation Mangalore.



Write Comment
|

E-Mail
|
Facebook
|

Twitter
|

Print