Udupi: Permission denied for 'Kanaka Nade,' 'Swabhimani Nade'
Mangalore Today News Network
Udupi, Oct 22, 2016: Superintendent of Police K.T. Balakrishna said on Oct 21, Friday said that the district police had denied permission to the 'Kanaka Nade' cleanliness campaign planned by the Yuva Brigade led by writer Chakravarti Sulibele and the 'Swabhimani Nade' by progressive groups, scheduled for Sunday, Oct 23 (tomorrow).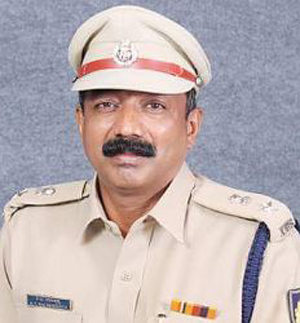 SP Balakrishna told media that the district police had submitted a report to the Deputy Commissioner T. Venkatesh to deny permission to 'Kanaka Nade' and 'Swabhimani Nade' in the interests of maintaining law and order. "The district administration goes by the opinion given by the district police on these matters," he said.

He said that the Yuva Brigade had submitted a letter to him and also DC Venkatesh seeking permission to hold 'Kanaka Nade' on Oct 23, Sunday morning. Members of the Dalit-Damanitara Swabhimani Horata Samiti too had sought permission to hold 'bhajans' near the Kanakadasa Road on Oct 23, Sunday afternoon.

Members of the samiti also submitted a memorandum to the district police urging it not to give permission to 'Kanaka Nade' as it was tantamount to practising untouchability.

Dinakar Bengre, a member of the samiti, is reported to have said, the police had denied permission to the samiti to hold its programme on Oct 23, Sunday afternoon. "We are thinking of approaching the Deputy Commissioner today, Saturday," he said.

The Samiti's Bengre said that the Yuva Brigade had earlier said that it would clean Udupi after the samiti had concluded its 'Chalo Udupi' campaign here on October 9, as the campaign by Dalits and progressive groups had "polluted" the city. The brigade had backtracked and changed its tune only after the controversy its move generated, he said.

However, Sulibele, mentor of the Yuva Brigade, said the brigade had never claimed to clean Udupi. The brigade only wanted to clean the surroundings of Sri Krishna Mutt as part of its Swachh Bharat campaign and to promote cleanliness in general, he said.

Meanwhile, a press note issued here said that nearly 100 local youth leaders had met Vishwesha Tirtha Swami of Pejawar Mutt and promised to protect the Sri Krishna Mutt/Temple if any attempt was made to lay siege to it in the name of 'Swabhimani Nade.' But, Bengre made it clear that there was no programme of laying siege to Sri Krishna Mutt/Temple.


Write Comment
|

E-Mail
|
Facebook
|

Twitter
|

Print