Udupi Pejawar seer brought in ceremonial procession, felicitated
Mangalore Today News Network
Mangaluru, Jan 4, 2016 : On Jan 3, Sunday evening, Vishwesha Tirtha Swami of Pejawar Mutt, who will ascend the Sarvajna Peetha for the record fifth time during this Udupi Paryaya, was felicitated at a public function at the Town Hall. The seer's "pura pravesha" is scheduled in Udupi Jan 4, today. Vishwa Prasanna Tirtha, the junior seer of the mutt, was present.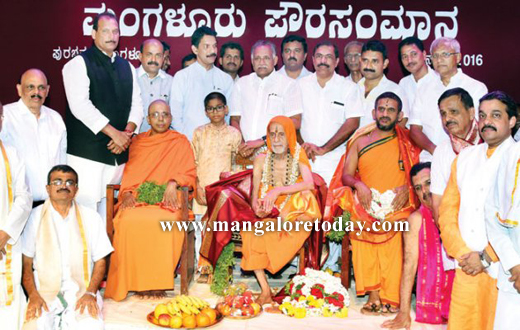 The two seers were brought to the Town Hall from Sharavu Mahaganapathi temple in a ceremonial procession. A two-hour cultural programme, including music and dance, had been arranged at the Town Hall on the occasion.

In regard to the felicitation, the seer said that all communities and religions in the country should maintain cordial relations. The Krishna Mutt would strive for the welfare of all, irrespective of religions, during the paryaya. Minister of State for Youth Empowerment, Sports and Fisheries K. Abhayachandra Jain, J.R. Lobo, B.A. Mohiuddin Bava, MLAs, Ivan D'Souza, MLC, Nalin Kumar Kateel, MP, were present. Deputy Mayor Purushothama Chitrapura presided over the function.
Seer for welfare of all communities, lists priorities

Mangaluru : Speaking after receiving the civic honour offered to him by the Poura Sanmana Samithi and MCC -Mangaluru City Corporation, on behalf of the people of Mangaluru, in connection with his fifth Paryaya at the Town Hall in the city on Jan 3, Sunday. Pejavar Adhokshaja Mutt seer Sri Vishwesha Theertha Swami said his aim is to create social harmony and he will strive for the welfare of all communities.

He said that ascending the Paryaya Sarvajna Peetha for the fifth time is not a personal achievement. He was able to maintain good health and longevity by the blessings of the Lord. He added that he hopes for a prosperous country and a society with no clashes.

The seer said service to the Lord (Bhakthi Seve), service to the people who want to acquire knowledge (Jnana Seve) and service to the people (Loka Seve) will be his objectives for the next two years after ascending the Paryaya Sarvajna Peetha.

He said the Krishna Mutt would conduct various development programmes as part of 'Bhakthi Seve' during his Paryaya period. Lectures and discourses by scholars would be part of 'Jnana Seve' and he would carry out social activities as part of 'Loka Seve', he added.

Junior seer of the mutt Sri Vishwaprasanna Theertha Swami called upon the people to carry out their duties with all sincerity.

Ramakrishna Mutt President Jithakamanandaji Swami graced the occasion.

Deputy Mayor Purushottam Chitrapur presided over the programme.

Minister for Youth Empowerment, Sports and Fisheries K Abhayachandra Jain, MP Nalin Kumar Kateel, MLAs J R Lobo, B A Mohiyuddin Bava and MLC Ivan D'Souza were among those present on the occasion.

A rousing welcome was accorded to the seer and he was brought in a procession from Sharavu Sri Mahaganapathi Temple to the Town Hall on Jan 3, Sunday evening.


Write Comment
|

E-Mail
|
Facebook
|

Twitter
|

Print